Few things are as effective at getting brand recognition than high quality and useful promotional products, due to today's consumer-based world. The key is to choose a useful promotional product , something that will fill a void and be used over and over - like protective computer glasses. Here's why blue light blocking glasses are one of the most useful promotional products this year, are likely to stay around for a while.
Daily Use of Promo Products
Impressions are key when it comes to marketing. Promotional products have one of the lowest CPI, making them the perfect choice for brand recognition. Wondering how the CPI of promo products is so low? These products have tremendous staying power - the more useful a product is, the longer someone will keep it.
Today's Consumers' Problem: Blue Light
Naturally occurring blue light is beneficial. Your body uses the natural form of blue light to maintain and regulate your sleep cycle, called your circadian rhythm. The human eye was designed to process small amounts of blue light - the natural form provides just enough to be easily digestible. But for the millions of us who are plugged-in more often than fully powered-down, it's a real problem.
Blue light is a harmful wavelength of light that deteriorates eye strength, causes headaches, and is a major problem for anyone who works in front of a computer or constantly uses a smartphone or tablet. That's basically anyone in the B2B world, right?

You might be familiar with UV light, which causes sunburns, and UV filter or protectants (like sunblock or sunscreen). It's a similar concept, but the blue light is harming the back of the eyes instead of the outside of the skin. Yikes.
The Health Effects
Unnaturally occurring blue light can have long-term adverse effects. The blue light emitted from a smartphone or computer screen have more energy than non-visible (natural) light due to intense wavelengths. Prolonged exposure can cause eye strain and a disruption to your circadian rhythm. Worst of all, the damage from blue light is cumulative.
The Solution
The best way to prevent against further blue light eye damage is to limit your screen time, especially at bedtime. However, that may not be a viable option for most, especially if your workday revolves around staring at a screen.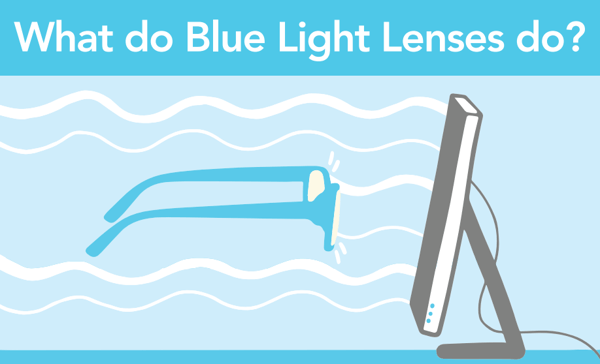 Blue light blocking glasses can help protect against further eye damage. These lenses limit the amount of blue light that filter through and decrease the amount of blue light your eyes have to process.
My favorite products are useful, durable and ideally, customizable. That's what makes blue light blocking glasses a triple threat - the frames are completely customizable, tailored to your brand for wearable and trendy eye protection.
Whether you're looking for a unique trade show giveaway or an employee appreciation gift, chances are the recipient will find them wildly useful and will outlast the pen or notepad on their desk at the office. And chances are they travel more than the average promo product, from office to conference to offsite presentation and beyond, protecting eyes wherever they go.