Design is all about creativity. UX design is all about creatively presenting a good user experience. When embarking upon a web design project, it can be easy to get caught up in what looks flashy, pretty, or just plain cool. But good web designers know that it's the human using the website you're really designing for. Designing for the sake of design is a waste of time. A human-centric website designed with intention will produce results.
Everyone loves inspiration. But in a world of over-designed websites, it can be tough to know exactly who you should look to model your business site after. There are a ton of different resources out there offering design inspiration. But not all keep a human-centric approach to web design. That's why we compiled a list of some of the best places to find UX design inspiration.
6 Sources for UX Design Inspiration
When looking for UX design inspiration, we typically look for two different elements: strategic purpose and web design trends. Combined, this creates a forward-thinking UX design.
Inspiration for Strategy
Before you even start thinking about web design trends, it's important to determine the strategic purpose of the page that's being designed. Next, look for inspiration from sites with similar goals and study how they are accomplishing them with their layout. Design is secondary. It should always support the goal of your page. So usually we start our UX design inspiration search with the following tools:
1. SaaS Websites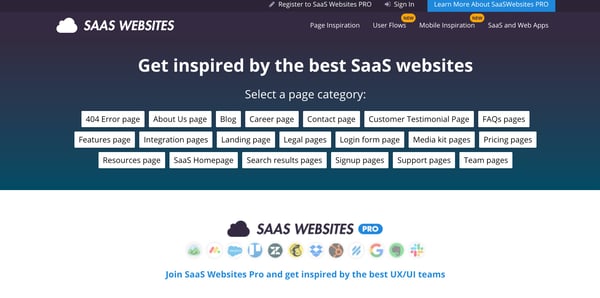 This is a free tool that offers a library of pages designed with a strategic purpose. As the name infers, it's a page focused on sites within the SaaS industry. As the SaaS industry has skyrocketed in the past few years, it's made it harder than ever for businesses to stand out as many companies have mastered UX design.
SaaS Websites offers a collection of thousands of different sites, all designed with the user in mind. The site breaks down its inspiration by different pages making it easy to identify creative layouts that maintain a human-centric design. You can find all the following UX design inspiration on their site:
404 Error page
About Us page
Blog
Career page
Contact page
Customer Testimonial Page
FAQs pages
Features page
Integration pages
Landing page
Legal pages
Login form page
Media kit pages
Pricing pages
Resources page
SaaS Homepage
Search results pages
Signup pages
Support pages
Team pages
We usually start out our search here. SaaS Websites offers a great foundation for inspiration on designing with purpose.
2. Landing Folio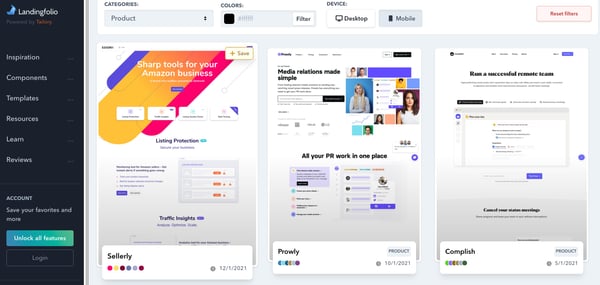 This site is another resource that offers strategic UX design inspiration. All the designs on this website are landing pages or website pages focused on conversion. The site also offers free resources such as sample wireframe kits, or mockup templates, to make the planning and design process simpler. Landing Folio filters their UX design inspiration by industry, which is especially helpful if you're looking for ideas based on your own vertical. Here are just some of the categories they offer:
Accounting
Business
Corporate
Event
Real Estate
SaaS
Software
Store
Technology
Users
WordPress
This is especially helpful if you're trying to outsmart your competition with your web design. Get a glimpse of some of the businesses in your industry that are getting UX design right, and then create something even better for your own company.
3. Really Good Emails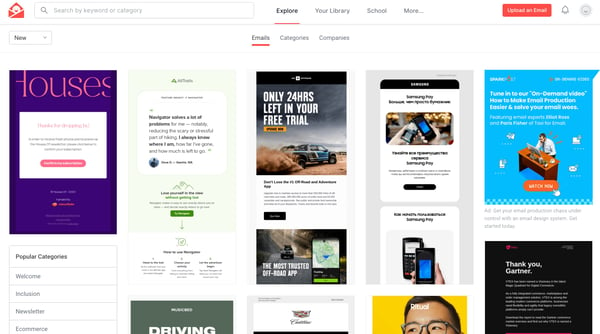 Good UX design focuses on getting a user to perform a desired action, a common goal also found in email marketing. As a result, we discover many UX design ideas from strategically designed emails aimed at converting. Really Good Emails is a curated directory of thousands of examples of emails that aren't just beautifully designed, but strategically laid out to get users to convert.
One of the things we love about this resource is that it also breaks things down by desired action. For instance, if you're looking to create a "thank you" page, you can glean some insights from their collection of "thank you" emails. This resource even goes beyond just UX design inspiration. You can also find great content ideas for both the language on your site and within your own email marketing.
Inspiration for Design
Once you have a solid idea of how to layout your design and get a user to perform a desired action, it's time to start researching web design trends. Remember the design you choose needs to support the goal of your page. The following sites are great tools to find fun elements to support your overall UX design.
4. WebDesign Inspiration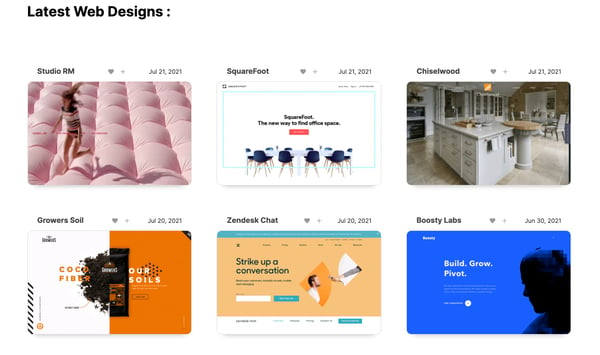 What we love about this resource is that you can filter your designs by color and style. If you're looking for specific trends in your brand colors or just curious about popular design styles, WebDesign Inspiration offers an easy way to filter through some of the most popular and unique site designs.
5. HubSpot CMS Themes from Envato Market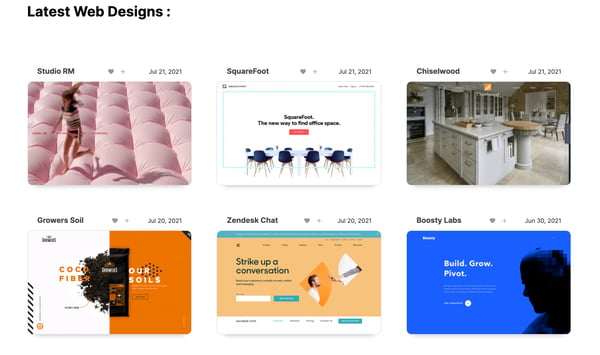 Recently, Envato Elements partnered with HubSpot to release hundreds of themes designed specifically for their CMS hub. All of these themes are data-driven and designed with the intention of giving customers the best digital experience possible. Even if you're not using HubSpot currently, this is a great place to explore different user experiences available — like hover states, animations, and organization.
The wide variety of website themes can be customized to your own site. Under the "categories" tab, you'll notice you can filter themes by industry. From here, you'll be able to "preview" the template with a live example, and if you like the way it looks, buy it. But even if you don't want to actually use this template, it's a great place to find HubSpot-specific design inspiration for your own site.
6. Awwwards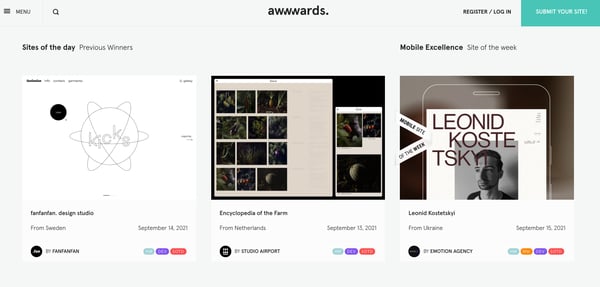 This site attracts some of the highest quality design ideas, but its "jury" of judges is where most of its value comes from. Featuring some of web design's most reputable names, this jury evaluates each site submission based on design, usability, creativity, and content. The inspiration you find on this site will combine beautiful design with a very functional yet insanely creative user experience. The website "scores'' are even listed right on the page. You can see how the jury ranked different pages, and evaluate why some score higher than others. Awwwards also offers a breakdown of each site which includes design elements such as platforms used, dominant colors, and industry details.
Other Tips to Keep in Mind While Looking for UX Design Inspiration
When browsing some of the sites above, and analyzing sites for inspiration, keep the following tips in mind.
1. Analyze the Intention Behind the Design
Sure, the design has meaning. But the main purpose of a site is lead generation. Designing just for the sake of design really is a waste of time. Every element on your site should be done with intention. Keep in mind that if someone doesn't understand what to do on your site within 15 seconds, they're going to leave it. A good UX design should grab a user by the hand and walk them with baby steps towards a desired action.
When you're looking at sites for inspiration, always analyze the intention behind the design. As the user, do you understand what the site creator wants you to do? Is there a roadmap for you to follow? These are things every UX design should prioritize.
2. Think about the Mobile Experience
Given that mobile devices account for 61 percent of all web visits, it would be pretty silly to not even consider the mobile experience of your site. But because the majority of B2B websites see their traffic from desktop users, there's often some speculation about whether mobile-first design is right for B2B companies. Even if the mobile experience isn't typically where you make your first impression with new prospects, we'd still recommend placing a high priority on your mobile experience. Not only will this approach help with search engine rankings, it will also help you to stay competitive as the mobile trend increases.
3. Peek Behind the Curtain
Finally, while looking for UX design inspiration, don't forget to peek behind the curtain and inspect how others are building the designs that you see. With just a basic understanding of code, you can "inspect" a page and gain valuable insights on how they are implementing the design that you see. We're not advocating directly copying what other sites are doing, but you can use this knowledge as a jumping-off point to develop something even better.
Design with UX in Mind
When you first start looking for UX design inspiration, you'll do a lot of clicking through. There's really no right answer to how many sites you should look at or where you should look for inspiration. Honestly, the more places and the more sites you look at the better. You'll begin to feel like you're piecing together a puzzle — gleaning insights from various pages to inspire the best site experience for your personas.
But always keep in mind that the best design is unseen. It's all about creating an excellent experience for the human on the other side of the page. And in the design world, that's what we call a human-centric design.