Want to level up traditional company-branded gifts this year? How about pairing swag with delicious, unique, and exclusive food items from artisan makers? Custom gift boxes from Batch and Bodega offers companies a way to create unforgettable gifting experiences that recipients will love.
Behind the Batch and Bodega Brand
Launched in 2020, the Batch & Bodega product line bundles exclusive, award-winning snacks from small, artisan shops all across the United States, with some of the top trending promotional swag items on the market. The result is a unique giftable kit that the brand nicknamed "batches."
The Batch & Bodega product line gives businesses an opportunity to support fellow small businesses in the U.S. when investing in corporate gifts. Each small-batch maker has a unique story that matches their one-of-a-kind food options. Here's a quick glimpse of just a few:
Poppy Popcorn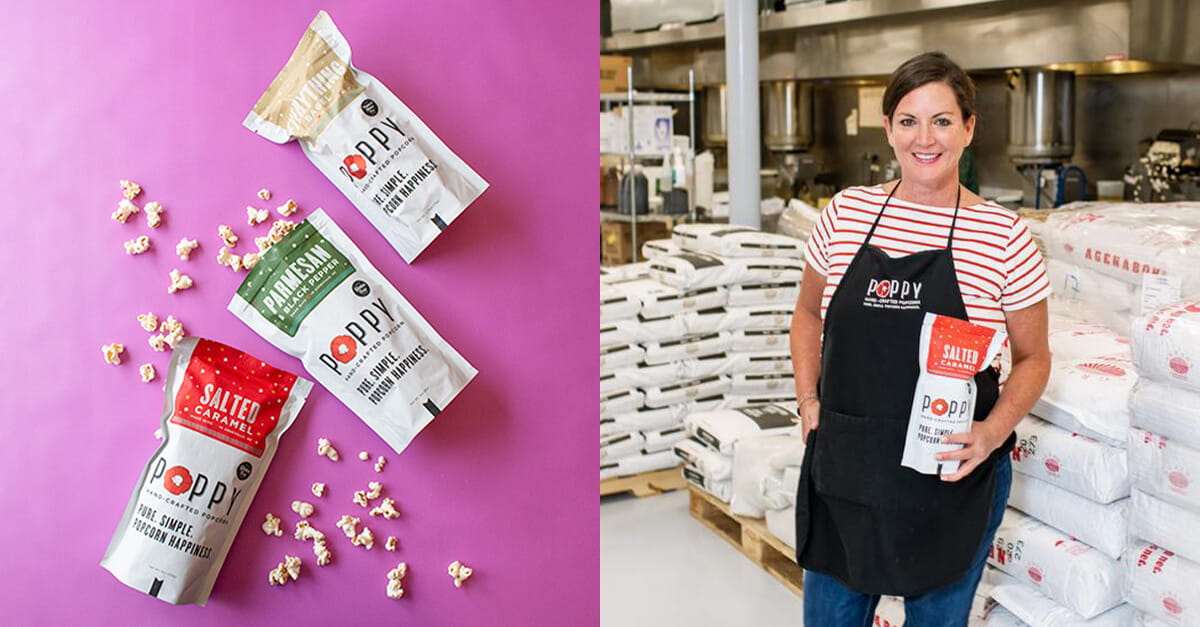 A Mom founded this local, homegrown and fresh popcorn brand in 2014 for one simple reason: she wanted to be there for her kids' school programs, baseball games, and performances. Ginger Franks opened up shop with one popcorn machine and a strong work ethic. She made it her goal to keep her business fresh and close to home, still hand-crafted with love in Asheville, North Carolina.
Nene's Treats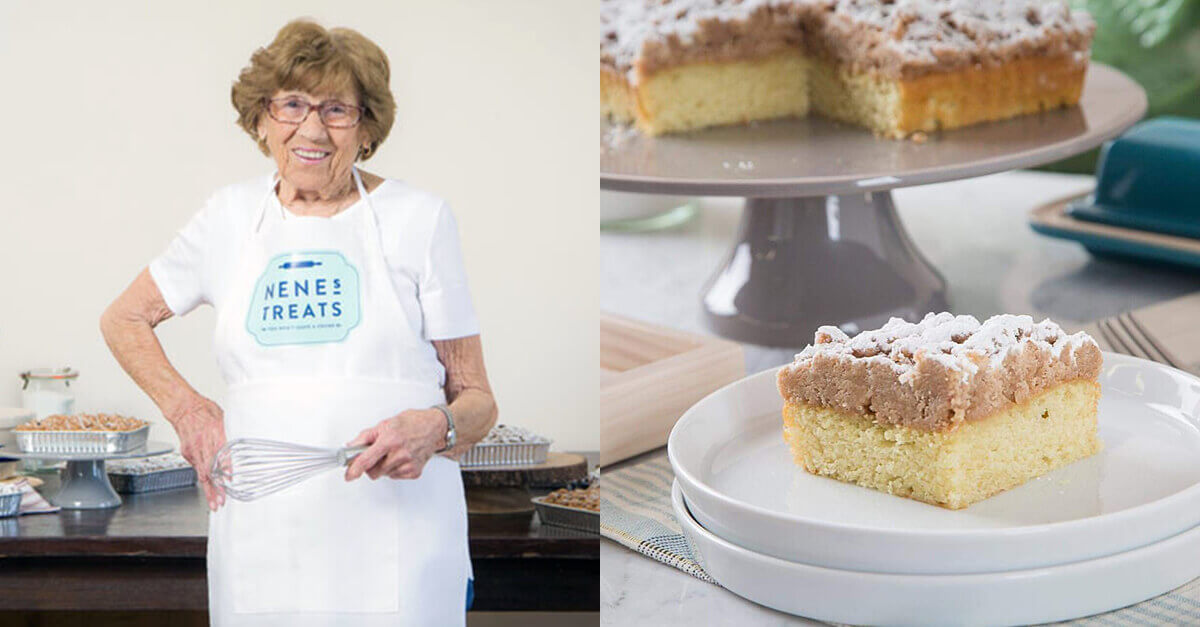 These scrumptious, preservative-free crumb cakes were developed by an 85-year-old grandmother in Charleston, South Caroline. Marie Felice, better known as Nene, created her secrete recipe over 50 years ago, and it has withstood the test of time. Now Nene's grandchildren continue her legacy by rolling up their sleeves in the kitchen and churning out delectable treats with laugher and love.
Byrd Cookie Company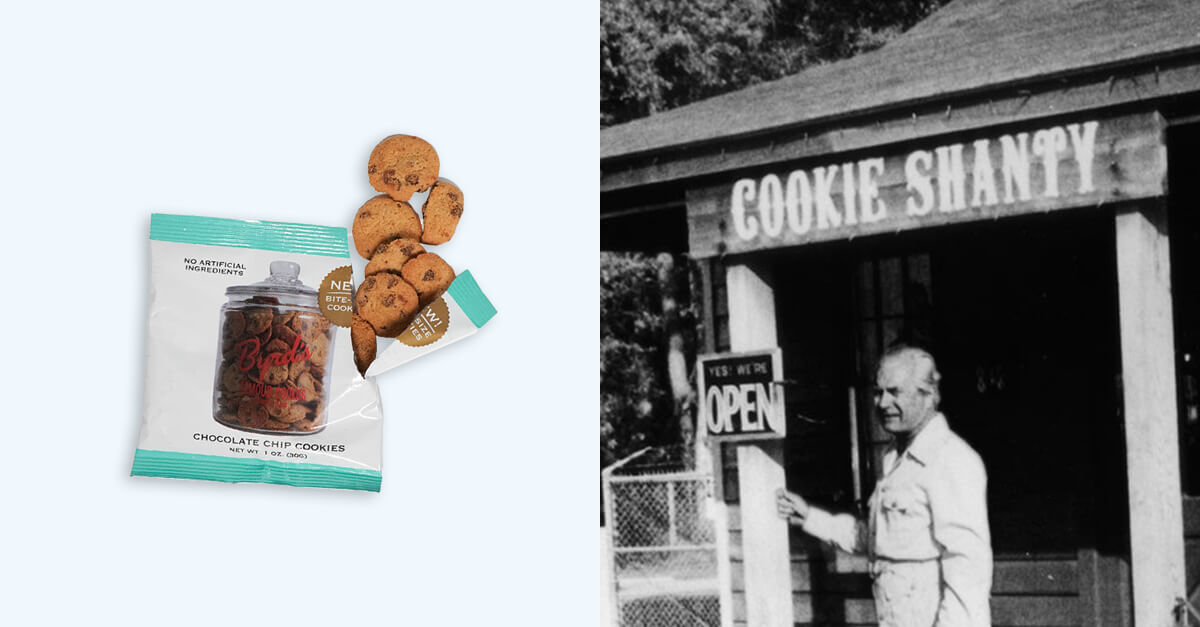 Talk about history. This baking company was originally founded in Savannah, Georgia in 1924. Benjamin Tillman "Pop" Byrd, Sr. would deliver fresh cookies to stores around town in his Model T Ford. They were sold out of large glass jars at 2 for a penny! The business grew, and Pop converted a tin-sided barn into a larger bakery which became "Byrd's Famous Cookies." Pop's family carried on the legacy, and the cookie company remains headquartered in Savannah, an award-winning, family-owned business that provides fresh-packed products to customers worldwide.
A Causeworthy Focus
Those are just a few of the dozens of unique makers to choose from. Batch and Bodega partners with a diverse group of brands who all prioritize generosity, sustainability, and community involvement. Each one contributes to the world and community in some way, whether it's through using sustainable resources, giving back, or standing up for a cause-worthy purpose.
Three Ways to Give
Batch and Bodega offers three different ways to give corporate gifts.
Batch Gifts - Pre-curated boxes filled with snacks and branded swag.
Fresh Gifts - Freshly made food from some of the country's best makers delivered straight to the door.
Bulk Supply - Gourmet goodies are available in bulk, perfect if you're curating your own kit.
Each option has a one-piece minimum, with quick turnaround times. Custom boxes, or batches, are even available in a variety of different tiers, to fit each budget. Each different offering make a unique and premium gift idea for customers or employees.
Favorite Company Gift Ideas From Batch and Bodega
Whether you're looking for something sweet, salty, or just plain memorable, the following options are some of our favorite company gift ideas from Batch and Bodega.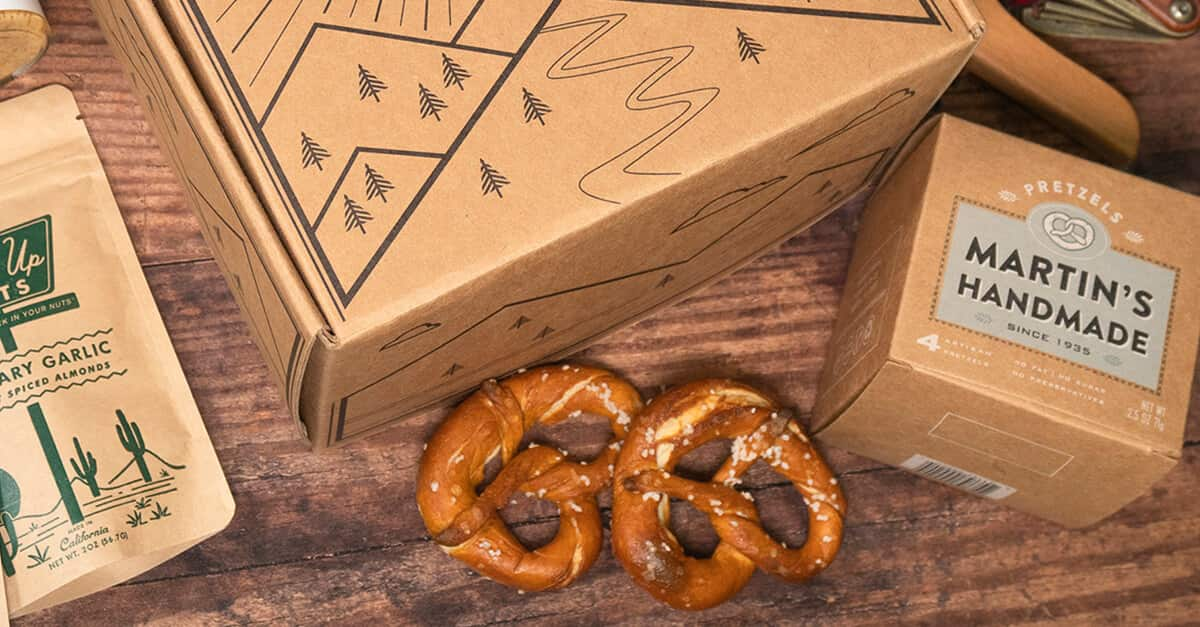 This is a fun option for those avid campers or outdoor enthusiasts. Packed inside is everything from classic snacks that have a modern, and tasty spin to them to practical, artisanal accessories for an outdoor adventure. The regular batch includes:
Chocolate Bourbon Cookies
Rosemary Garlic Nuts
Martin's Handmade Pretzels
Stoneground Mustard
Finley Mill Stashlight
Brockman Set Notepad
The kit includes a customized gift box, branded products, and a personal message card.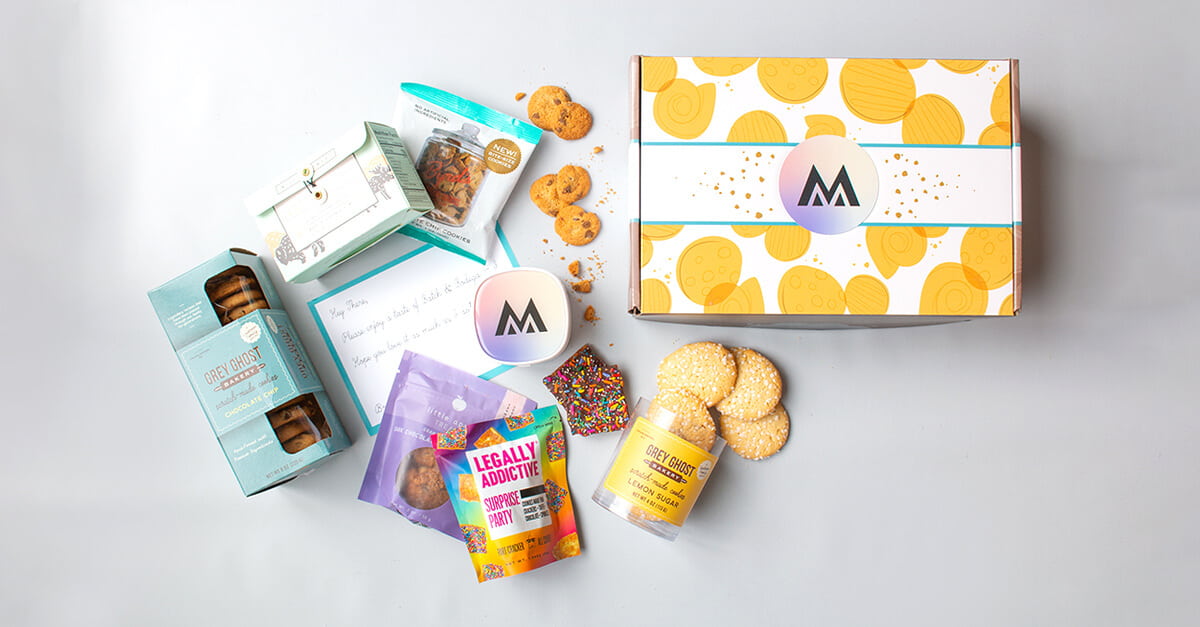 This fun gift box combines unbelievable cookie flavors from the country's finest cookie aficionados with some other tasty and unique snacks. Go deluxe and include one of our top trending promotional items, the Crumbee, a miniature desk vacuum designed to clean up (cookie) crumbs. The regular batch includes all of the following:
Homemade chocolate chip cookies from Gray Ghost Bakery
Scratch-made lemon sugar cookies from Gray Ghost Bakery
Surprise Party Cracker Cookies from Legally Addictive
Wildwest Animal Crackers
Customize the gift box, the card, and if you go deluxe, the Crumbee, which includes a dome imprint.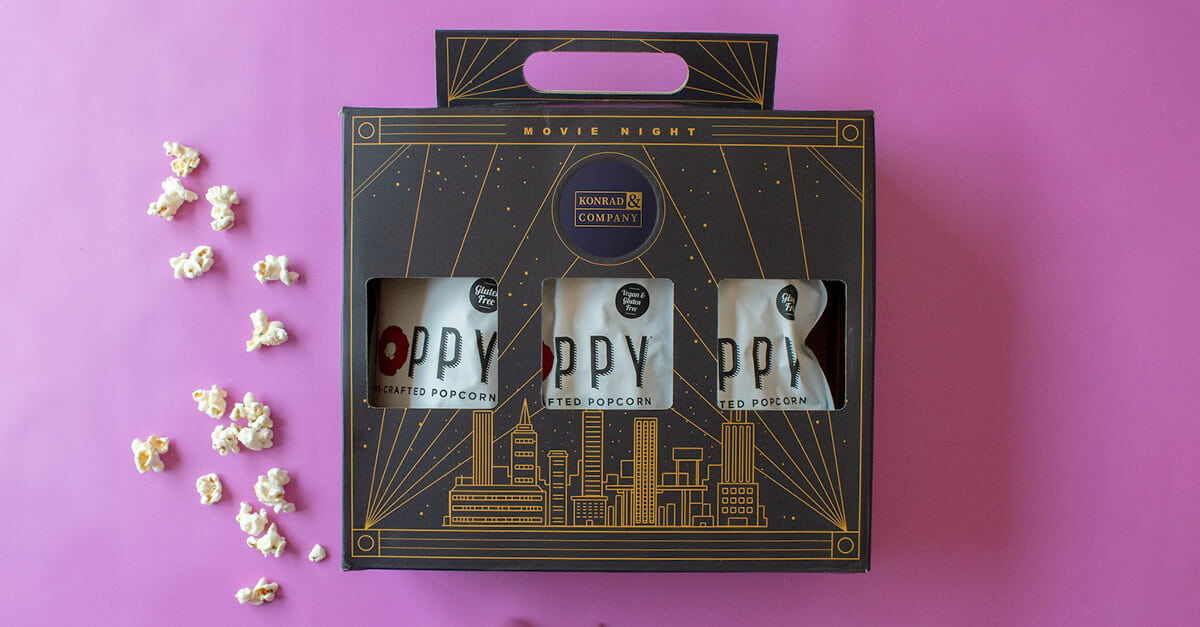 The best company gifts prioritize experiences. That's what we love about this gift box. Included are three unique popcorn flavors from Poppy Pocorn, which come packed inside a designer-made "movie night" gift box. It includes a personalized message card and custom imprint on the box. Recipients will love how unique (and tasty) this gourmet popcorn is during their next movie night with family or friends.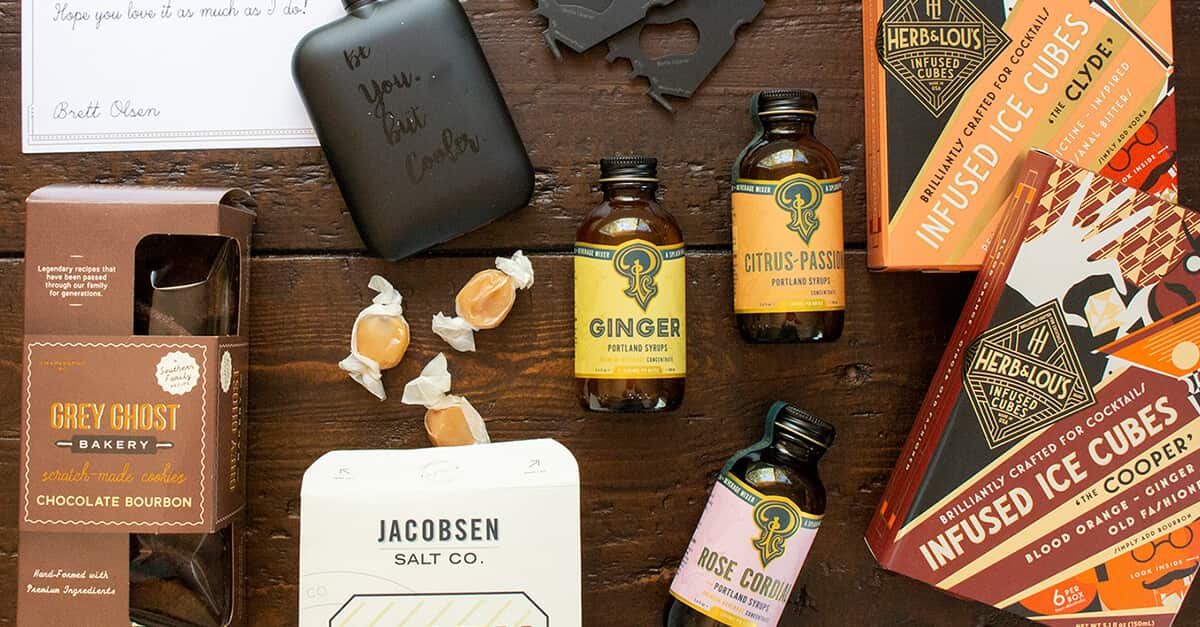 Help recipients celebrate, whether it be the holiday season or an important milestone, with this savory selection of beverage mixers, induced ice cubes, and sweet treats. It even includes a set of black matte coasters and a branded flask, customizable with your logo. The speakeasy set features cocktail syrups made from whole botanical ingredients. Find flavors like Rose Cordial, Ginger, and Citrus Passion in the regular batch set. Here's what else is included:
Chocolate Bourbon Cookies
Jacobsen Salty Caramels
Branded Luxe Flask
Beverage Mixers from Portland Soda Works
Old Fashioned Infused Ice Cubes
A custom gift box, branded products and a personalized message card are all included.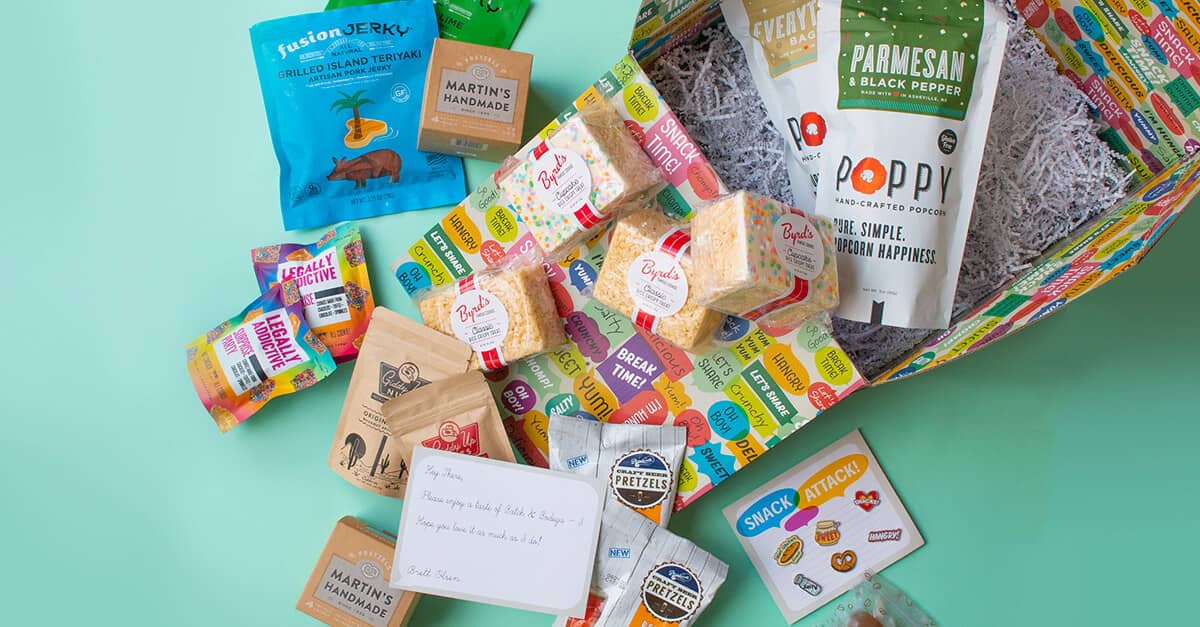 Another bold way to celebrate employees or clients? Sending a food gift that's sweet, savory, and everything in between. The Snack Attack kit is perfect for a company-wide business gift as it includes a little something for everyone. The box comes bursting at its seams with pretzels, candy, crackers, popcorn, nuts, and even jerky. Make an even bigger impression by pairing it with a fun collection of snack-themed pins, and wrap it all together in an attention-getting box branded with your logo. Here's what the regular batch includes:
Martin's Handmade Pretzels
Apple Cider Candy Caps
Apple Cider Caramels
Parameson and Black Pepper Popcorn from Poppy
Everything Bagel Popcorn from Poppy
Surprise Party Cracker Cookies
Cupcake Rice Crispy Treat
Classic Rice Crispy Treat
Chipotle Lime Jerky
Grilled Island Terriyaki Jerky
Snack Attack Pins
Make Company Gifts Memorable with Batch and Bodega
These gift ideas are just a few of the many options available from Batch and Bodega. What we love most about this brand is the emphasis on experience. The most memorable corporate gifts prioritize the unboxing experience, the packaging design, and how the products or items inside make the recipient feel. Batch and Bodega's custom gift boxes do all three.
Give a memorable experience by choosing from one of the company gift ideas above, or talk to our team to learn how you can create your own box with one of Batch and Bodega's unique options.