Instagram often gets a bad rap in the B2B community. Sure, over a decade ago it might have been an irrelevant tool. But over the past 10 years, Instagram has made a pivotal transformation. It's made the shift from a place to share photos of your personal life to an essential marketing tool, even in the B2B space.
With one billion users (about 13% of the entire world's population), Instagram has become an efficient way to reach prospects, both through organic and paid campaigns. But to use Instagram effectively, you have to have a solid strategy in place. Effective B2B Instagram marketing is an art. It requires both creativity and a solid playbook.
You'll have to figure out the creativity part on your own, but we can help you with the second half of the equation. In this article, you'll find 7 B2B Instagram marketing tips to add to your business playbook.
1. Switch To A Professional Account
There are three types of Instagram accounts: personal accounts, business accounts, and creator accounts. As a B2B business on Instagram, you want to have a business account.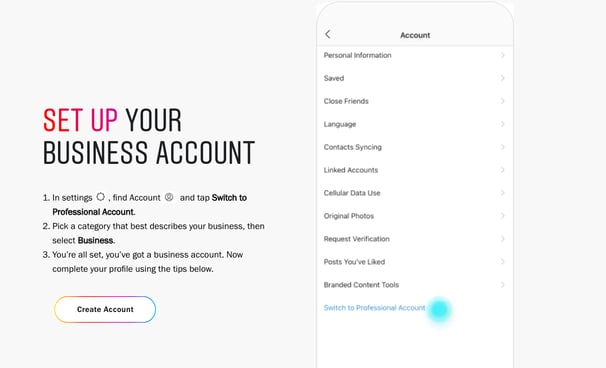 Business accounts make your account look professional. Customers can rest assured knowing your account is verified to be you. It's easy for them to find your profile and get in touch with you via email, phone, or another method.
When you switch to a business account, you'll gain access to a wide variety of marketing features that help you market your brand and get more conversions from Instagram. You're able to run ads and use branded content tools. It's easy to track detailed analytics relating to your account and your content. You also have access to Instagram Shopping; you can request verification; and if you have more than 10,000 followers, you'll gain the ability to add links to your IG Stories. All of these features are efficient ways to market your B2B business on Instagram.
Here's how to change your account to a business profile:
Tap the three lines in the upper right-hand corner of your profile.
Go to "Settings," "Account," and then tap "Switch to Professional Account" at the bottom of the list of options.
Keep in mind that a business Instagram account must be linked to a business Facebook page, so your Facebook page will need to be ready to go.
Once your business Instagram account is set up, you're ready to start plotting your Instagram marketing strategy.
2. Invest in Automation
On the whole, automation is nothing new. For the past 100 years or so, automation has been implemented in everything from factories to cruise control with a singular aim: to save us time, energy, and sometimes even money.
As a social media marketer, automation allows you to put processes on autopilot which can streamline tasks and improve workflows. Depending on your goals, you can use automation to do anything from sending an automatic response when someone messages your business to commenting, following, and liking accounts that are similar to yours in an attempt to drum up engagement.
For example, an Instagram growth service can automate your engagements. These tools automatically engage with users that follow accounts similar to yours. Then, when one of those users gets a notification that they have a new like from you, they'll check out your profile, and potentially give you a follow. When you're working with a growth service, make sure it's a quality tool that focuses on organic growth and real Instagram followers, not one that uses spammy tactics like buying followers.
You can also automate your posting schedule so that you don't have to be by your phone or marketing platform when you want to post. Instead, you can schedule all your posts a week or two in advance and use a scheduling tool like Later to post for you at times you set.
Additionally, you can use analytics tools to automatically collect data about the people that are engaging with your account and draw meaningful insights to inform your B2B strategy.
3. Utilize Paid Ads
When you use Instagram for marketing, you have two options: stick to organic strategies or branch out into paid ad campaigns.
In an organic campaign, your goal is to post interesting content that Instagrammers will engage with purely based on its own merits. In a typical paid campaign, however, you pay a fee for a certain number of views or engagements with your post — this is referred to as PPC (pay-per-click) advertising.
Alternatively, you can also pay for posts from influencers (Instagrammers with large or targeted followings), which is something in between traditional organic and traditional paid advertising. In a paid influencer campaign, you pay an influencer to make a post about your product, which will show up as an organic post in their followers' feeds (it will often say "Sponsored Post," however). We'll talk more about influencer marketing campaigns in a minute.
As a marketer, it's up to you to decide when it's best to go with PPC ads and when influencer campaigns are the right move. Both types of paid advertisements have their pros and cons: PPC ads can often give you more precise analytics, and you can tweak them more through A/B testing.
Influencer marketing doesn't give you the same level of control, but it provides an extra degree of authenticity. Influencers have adoring followings. So when an influencer makes a post about a product, their following is more likely to pay attention.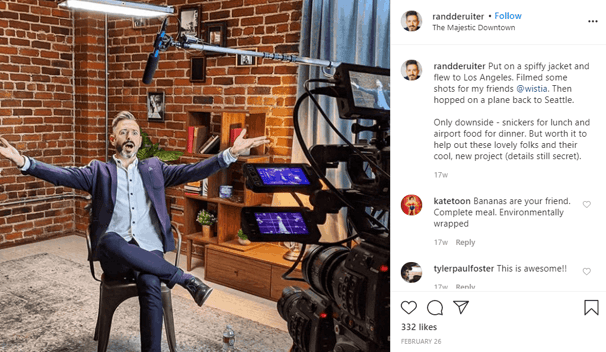 Overall, the best way to figure out how to implement this Instagram marketing tip within your B2B business is to test both options. Start small and see whether you get more traction from influencer posts or from PPC ads.
Once you have that settled, you can move onto deciding between the different types of PPC ads, like story ads, in-feed ads, etc. The process for making this decision should be the same: Start small, test it out, and redirect your efforts to whatever is performing the best.
4. Create an Efficient Content Plan
This is one of the most important Instagram marketing tips when it comes to really growing your B2B business. Setting goals is key to succeeding on social media. Lay out a social media marketing strategy in advance so you're able to easily post and track content your followers are interested in. Your content plan should lay out not just your general ideas, but the specific posts that you'll be creating. This will save you time in the future — when it comes time to post, everything you need will already be prepped and ready to go.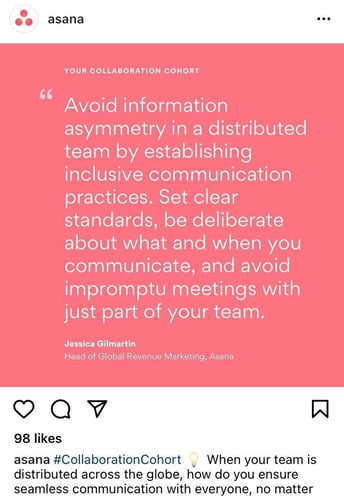 In addition to including details on the type of content you're going to post, your content plan should also encompass information about the right times to post. It's important to post your content during a timeframe when your followers are active on social media. This ensures they'll see and interact with your content.
How can you determine the best time of day to post? According to Later, the best time to post on Instagram is between 9 A.M. and 11 A.M. EST. If you don't know when to post, this is a good place to start. You can adjust from there based on how well your content performs. It's also helpful to utilize Instagram Insights to see what days and times your followers are most active.
Your posting strategy will likely continue to evolve over time as you get a better feel for when your followers want to see your content. Remember, you can use a scheduling tool to prep your posts in advance. They'll automatically post at the time you schedule them to go up.
Finally, don't forget to create a hashtag strategy as part of your content plan! Hashtags are essential for B2B companies on Instagram. The right hashtags help your content get seen by as many people as possible, growing your following.
Find hashtags to use by looking at your competitors' accounts and seeing the types of tags they're using. Aim to add approximately a dozen hashtags on each of your Instagram posts, with a mix of larger hashtags; smaller, more niche tags; and branded tags. Switch up the exact hashtags you're using each time to make sure they're relevant to the content. Again, you can use Instagram Insights to get a handle on how well your hashtags are performing.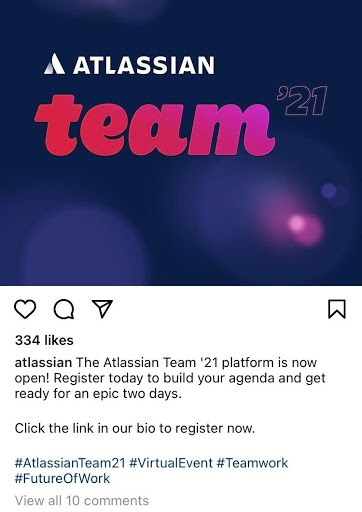 5. Social Monitoring
As a B2B company, social monitoring is critical on Instagram. Social monitoring includes staying up to date on the latest trends, what your competitors are up to, and what's popular in your industry. In a lot of cases, doing a good job of social monitoring simply means browsing through Instagram for 15 to 20 minutes per day to see what people are posting about.
Use your IG business account to follow other brands in your industry. This will make it easy to spend time scrolling through your home feed, staying up-to-date on what's happening in the Instagram world. It can also help inspire your social strategy as you plan ideas for future posts to go on your own feed.
6. Track Your Progress Closely With Analytics
The next B2B Instagram marketing tip you need to know is how to track your progress with analytics and measure your results. Analyzing your progress is an essential step in Instagram marketing (or any type of marketing): When you monitor your analytics, you'll have an idea of what's working and what isn't, allowing you to be more effective as you work to reach your prospects and customers.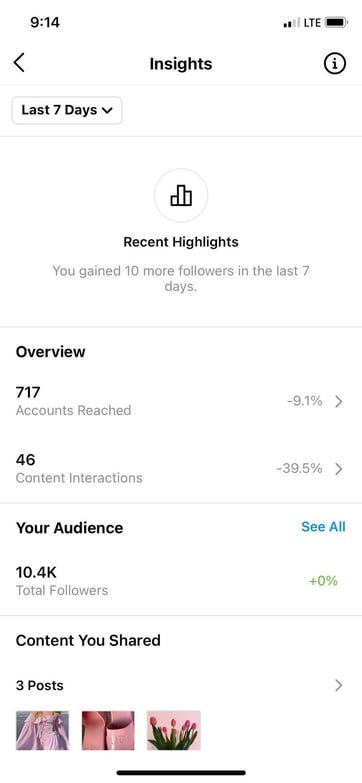 So how do you track analytics on Instagram? Instagram is equipped with a lot of helpful features to help you analyze your progress and get a feel for what your followers want. You can use Instagram Insights and/or rely on a third-party analytics tool, such as Crowdfire or Union Metrics. Good metrics to track include:
Engagement rate
Follower growth rate
Click-throughs from your link in bio
Reach
Sales
Saves
By keeping a close eye on statistics like these, you'll be able to get a handle on what type of content is the most popular and effective — and from there, you can decide what type of content to post.
7. Team Up With Influencers
At this point, you're probably eager to start growing your business and getting more and more new customers. But you don't have to do it all yourself. This Instagram marketing tip is easy to overlook, but highly crucial in garnering new leads for your business. Outsource some of your marketing by working with influencers. Influencer campaigns are a great way to get more eyes on your content and more people coming to check out your Instagram page.
When it comes to B2B marketing tactics, influencers might not be your first thought. But influencers can actually be even more valuable to B2B businesses than B2C. Only 19% of all purchases (B2B and B2C) are driven by word of mouth. A whopping 90% of B2B transactions, however, are influenced by word of mouth!
Running an Instagram influencer campaign can do a lot for your B2B company. Find influencers to work with by using an influencer search engine or mining your target audience. Then reach out to them to propose a campaign. Companies often send influencers free products or provide them with free services in exchange for an Instagram promotion.
Commit to doing influencer campaigns right and you'll end up with more business than ever. Influencer marketing is an effective strategy for B2B brands on Instagram to help you build a strong and respected reputation.
Build Your B2B Empire
If there's one thing you should walk away from this guide with, it's this: strategy, execution, and tracking are all equally as essential to the success of any social media effort.
As you build your B2B business, you'll encounter many different customers, all with different and unique goals and needs. Keep in mind these Instagram marketing tips, and you'll be able to understand precisely what those needs are. After you've done that, you can move on to figuring out how to actually help your customers achieve their goals.