Content marketing has long been considered the reigning king of inbound marketing. And B2B companies are starting to catch on. As B2B companies begin to shift their digital marketing budgets to keep up with the greater demand for digital content consumption, clear B2B content marketing trends are emerging.
But in a saturated digital landscape that's more competitive than ever, it's becoming harder for companies to establish an authoritative presence. To stay competitive, less established B2B companies need to adopt a more innovative and results-oriented approach. If you're an internal digital marketer for a B2B company, this obstacle should excite you. Challenges ALWAYS signify an opportunity.
By implementing these key B2B content marketing trends, companies will add an essential differentiating component that will set them apart from the plain regurgitated content crowding their industry. Here are some of the biggest B2B content marketing trends businesses need to watch to keep their content fresh, insightful, and most importantly valuable.
B2B Content Marketing Trend #1: Video Content
Yes, video content is expensive and yes, it's worth it. Many B2B companies are unable to see the value of videos because they stumble on achieving key buy-in from decision makers. B2B companies need to look beyond the initial cost of hiring a new videographer and look toward the opportunities they're unlocking. According to the Aberdeen Group, digital marketers who take advantage of video marketing earn an average of 66 more leads per year. For B2B companies with a high customer lifetime value, that's a whole lot of content marketing ROI.
B2B companies can leverage the trend in video marketing to drive leads and also illustrate a more personable side of their brand. B2B companies often sell complex products or services and it's becoming increasingly important to be perceived as approachable and personable. Live video is a great way to give prospects a behind-the-scenes look at the people behind the logo.
At the end of the day, humans are attracted to people and authenticity, regardless of the product or service. Here are a few examples of how B2B businesses can use video content to differentiate themselves.
Showcase company culture with a brand video
Visually explain a complex product or service
Repurpose long-form guides into a digestible slideshow or video
Transform a client story into a testimonial narrative
Highlight a success story with a compelling case study video
Launch a vlog series to showcase expertise and build thought leadership
B2B Content Marketing Trend #2: Episodic Content
A popular B2B content marketing trend is to break down longer content into digestible and manageable episodic content. Episodic content is an effective initiative that can be added to any B2B content marketing strategy. This trend sets up expectations for prospects, giving them clear directions to check back regularly to consume the next entry in the series. Capturing the prolonged interest of a hyper targeted audience with high-quality content provides extensive opportunities to:
Drive engagement on social platforms
Expand audience size
Increase page views
Generate more leads
Let's take a look at an example using one of our clients, SymQuest. The B2B IT company recently launched a blog series on Cybersecurity for SMBs. Instead of creating one piece of long-form content, SymQuest took an episodic approach and created a four part blog series.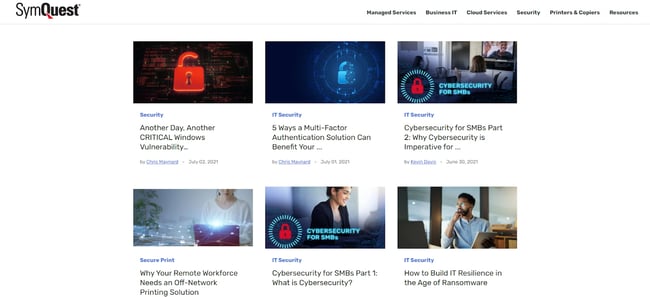 In this example, episodic content was used to effectively capture the attention of a hyper-targeted segment, SMBs, to increase page views and drive lead conversion. Below, we've highlighted the most successful components of SymQuest's episodic content marketing strategy to help your B2B company get started.
Create a visual style and maintain consistency throughout - Can you glance at a resource page and quickly identify which blogs are part of the series? If not, it's a clear indication your styling needs to be adjusted. We highly recommend creating aligned graphics for blog featured images as well as social graphics. The screenshot below is taken directly from SymQuest's resource library. The featured images have a distinct style which makes it easy for prospects to navigate and locate blogs in the series.
Clearly articulate the blog series title and length - How will your audience know to come back for the next blog entry if they don't know it's a series? The real value in episodic content marketing is in creating loyal audiences that are eager to consume. Make sure to clearly state the title of the blog series and how many entries they can expect. We suggest making a clear indication in the blog post itself and on the social posts promoting the blogs. Here is an example from our friends at SymQuest.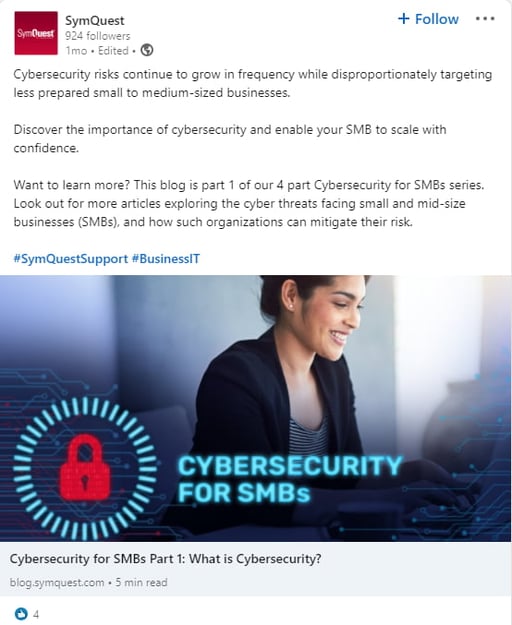 Include relevant CTAs that push prospects further down the funnel - This is where success can turn into failure and failure can turn to opportunity. Think about it like this. What's the value of capturing an audience's attention if you have nothing to offer them? If your goal is to capture attention, you must be prepared to know what to do with it. The success of an episodic content marketing campaign will depend heavily on the CTAs you choose to include. CTAs play an integral role in lead generation. Unrelated CTAs provide a poor user experience and lack the necessary push prospects need to move down the funnel.
Let's take a look at the bottom of SymQuest's blog series on Cybersecurity for SMBs. The selected CTA sends prospects to their ungated pillar page on Cybersecurity, allowing prospects to easily continue learning.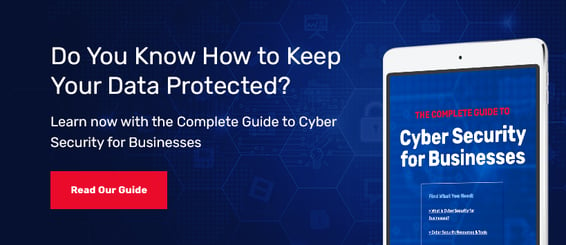 B2B Content Marketing Trend #3: Content with Empathy and Humor
What do you call a digital marketer with no empathy? Your old business partner.
Digital marketers that lack empathy and humor are missing out on a valuable opportunity to genuinely connect with their prospects. In times of conflict and disruption, brands need to demonstrate their comprehension of the challenges plaguing their prospects. When prospect fears are addressed and their voice is heard, trust is built. Brands that inject empathy into their content help transition undecided customers into long-term customers.
Brands that use humor achieve a similar end result. Humor is a great tool to capture an audience's attention and connect with them on a much more personable level. While humor can be a tool, it can also be a hindrance if used incorrectly. If your company is considering capitalizing on this B2B content marketing trend, it's important to use humor sparingly and strategically or else it will detract content value.
It's Time to Capitalize on B2B Content Marketing Trends
There is a myriad of content published every day and the chances are, your industry is saturated. By capitalizing on these key B2B content marketing trends, businesses can differentiate themselves and stay competitive in their industry.
If you are a B2B company that outsources marketing, the right inbound marketing agency will closely monitor the digital landscape and inject the top B2B content marketing trends into your strategy to ensure your content stays fresh, visible and in front of the right audience at the right time.