Let's get straight to it. Are neck gaiters effective?
You've probably heard some varying answers. But a new study is now revealing they might be a lot more effective than originally thought. In fact, the CDC has even updated its face-covering recommendations to include neck gaiters with two or more layers.
The update comes after a new study released in October by the University of Georgia found multi-layer gaiters to be just as effective, if not more, than two-layer masks. The study measured three different types of face coverings by calculating the amount of expelled respiratory droplets released when someone was speaking in a sterile room. Here's what they found:
Single-layer gaiters provided a 77% average reduction in respiratory droplets versus no face covering at all.
Two-layer masks provided an 81% reduction in respiratory droplets.
Multi-layer gaiters provided a 96% reduction in respiratory droplets.
So what does this mean for you?
Use Layers to Make Neck Gaiters Effective
Layer up - it's essential for protection. Naturally designed to fold multiple times - neck gaiters can make layering easy.
Invest in 2-ply neck gaiters to be CDC compliant. Sometimes it can be hard to tell if a neck gaiter is 2-ply or not, so before you buy, always ask.
If you keep these two things in mind, you can be confident that the neck gaiters you're purchasing are effective in protecting your clients, employees, or whoever they're intended for.
But it's not all about protection. Neck gaiters are effective in other areas as well. That's why we recommend them as a fun, promotional item to delight clients, employees, and prospects. Let's get into why neck gaiters are an effective way to activate your brand.
Why Choose a Neck Gaiter?
So you might be comparing the differences between a face mask and neck gaiter and wondering which is the better promotional item. Both face coverings have their benefits, and it will really depend on what you're trying to accomplish with your giveaway.
For this article, let's take a look at why neck gaiters can be such an effective promotional product.
Convenient
The biggest complaint I hear about masks is the trouble with remembering them. Ever been caught mid-stride walking into the grocery store, just to remember that you left your mask on top of the dash, or even worse - at home? It's a common occurrence these days.
But with a neck gaiter, you can slide it onto your neck and wear it all day. It's always there when you need it. It functions almost like an infinity scarf, which means it can be stylish and protective.
Versatile
Neck Gaiters are tube-shaped accessories that are typically worn around the neck. But they can also be styled in dozens of different ways, making them one of the most versatile accessories you could invest in. They're even useful household items. Here are some of our favorite neck gaiter uses:
Headbands - neck gaiters can easily fold up to be worn as an athletic style headband, effectively keeping hair out of the face.
Towels - neck gaiters are usually designed to be sweat absorbent, making them exceptionally useful as a hand towel for emergencies or a sweat rag while working out. We're probably a ways off from crowded sporting events - but when that day comes, neck gaiters can also make a great rally towel.
Sun guard - for those who like to do hiking or outdoor activities, neck gaiters can be very effective in protecting skin from the sun.
Scarves - neck gaiters can even be for those into fashion. One with a unique design can liven up any outfit as a scarf and truly make a statement.
Here are some other creative ways to make use of a neck gaiter: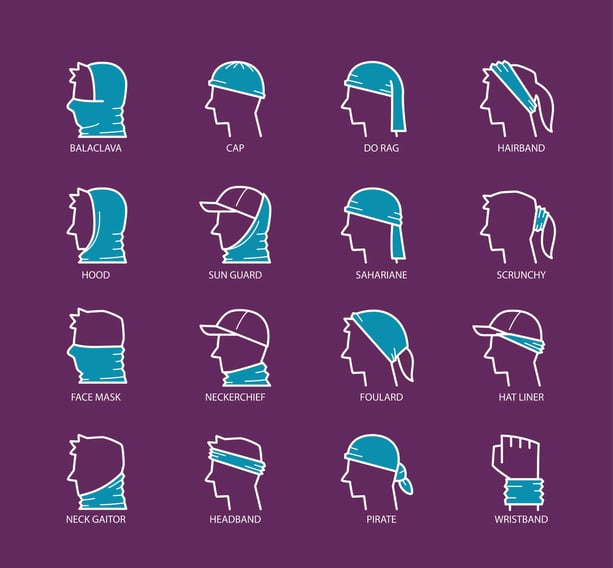 With various styles to choose from, there's no doubt that neck gaiters are versatile. But their functionality goes further than style. When you invest in neck gaiters with two layers, you often have the option to customize each side. This will give your neck gaiter even more versatility with two colors, patterns, or designs to choose from.
This two-ply "brandana" neck gaiter is one of our favorite two-ply neck gaiters that is both reversible and can be fully customized.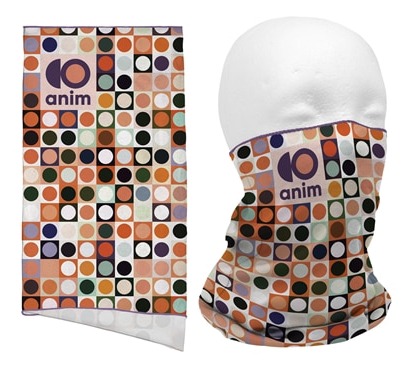 Made with two layers of soft and breathable polyester, you can be sure that it will offer the proper protection needed. But the real appeal lies within the pantone-matched or full-color imprint capabilities. Meaning, it can be customized in fun and versatile ways that match and activate your brand just the way you want it.
Longevity
Finally, one of the biggest benefits of investing in neck gaiters as a promotional item is their longevity. Face masks are the new normal right now, but they won't be around forever. The post-pandemic days will be upon us eventually, and when that day comes, we all will be extremely excited to ditch those masks. But since neck gaiters have uses beyond protection, they'll stick around a whole lot longer.
Neck Gaiters weren't a product born out of the pandemic either. That's one of my favorite things about them. They've been around long before the days of COVID-19, and they'll be around long after. They don't have to be a constant reminder of the hardships we're currently fighting with.
Neck Gaiter Checklist
So if you're thinking of adding neck gaiters to your promotional product budget, there are a few things to consider. We've put together this checklist to help you ensure you're picking the right product for both your company and your customers.
1. Two-Ply is always best.
Based on the CDC recommendations and the new study results, we always recommend choosing a two-ply neck gaiter. This will ensure anyone who wears it will have the proper protection they need. This is not to say that 1-ply neck gaiters are no good. If you do purchase a 1-ply gaiter, make it clear to your recipients that they'll need to layer up to ensure proper and effective protection.
2. Decide on a Material.
Deciding what kind of material you want for your neck gaiter is key. With so many different uses, from sweat absorbing to warmth provision, you'll want to have an idea of what your customers will use your neck gaiters for before you decide what material to buy. For example, if you have a lot of active customers that work out a lot, maybe you don't go with a fleece lined gaiter. A moisture-wicking fabric like polyester might be the better bet.
3. Consider Branding Opportunities.
Again, one of the best things about neck gaiters is the customization opportunities. Decide if you'd like a reversible product and what you'd like each side to look like. With such a big imprint area, neck gaiters offer you a lot of versatility when it comes to customization. Don't be afraid to get creative to truly make your brand stand out.
With those three considerations in mind, you'll be ready to invest in the perfect neck gaiters to both activate your brand and delight and protect your customers, prospects, and employees. To help make the process easier, we've selected our favorite neck gaiters that you can be sure are quality made for protection.