Most businesses have their sights set on company growth. But expansion often comes with a few growing pains. As your operations team takes on more responsibilities, systems and processes can get more complicated and data can get convoluted. HubSpot's new Operations Hub acts as a solution to help businesses scale growth while maximizing operational efficiency.
So whether you're new to HubSpot, or new to RevOps, our job is to help your company learn, grow and succeed. That's why we created this quick introduction to HubSpot's Operations Hub to help you decide if it's right for your business. Ready to get started?
What is HubSpot's Operations Hub?
Launched in April of 2021, HubSpot's Operations Hub was created as a new hub to help businesses easily connect data across departments, making it easier to achieve sales, marketing, and customer success alignment. The software connects all apps, organizes customer data, and has features to help automate business processes.
You don't have to be in operations or have an operations team, to find value in HubSpot's Operations Hub. The features it provides can solve operational problems for any growing company, regardless of the department's title. HubSpot's Operations Hub provides solutions to challenges such as:
Disconnected tools
Inaccurate data
Disjointed processes
You don't need to have operations in your title to find value in the software. Streamlining data and technical issues is a common barrier to business growth, and HubSpot's Operations Hub is here to help your business over the hurdle.
What's Included in HubSpot's Operations Hub?
How does a piece of software accomplish such a task? HubSpot's Operations hub has three core features. Here's a look at each one, and how they can be used to scale growth.
Data Sync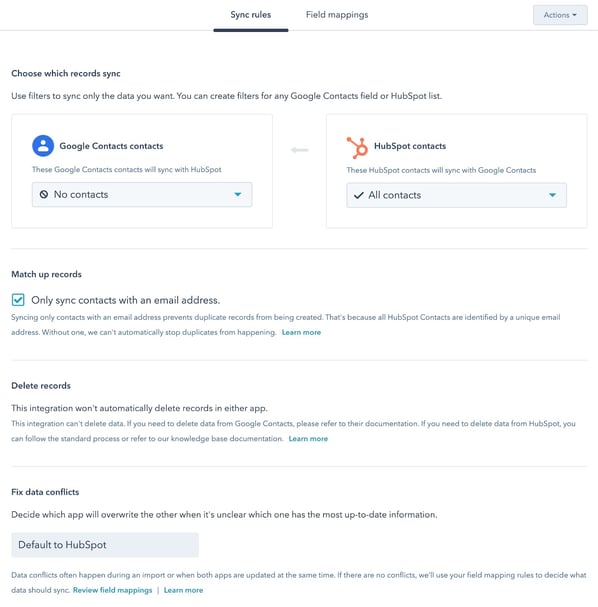 Tech stacks are great, but so many teams are trying to operate with an overcrowded toolkit. Disjointed technology can lead to internal inefficiencies plus a poor, and inconsistent customer experience. HubSpot's Operations Hub provides a way to seamlessly integrate data, from any apps that you use, in a unified way, and centralized location.
Let's take a look at an example. Say you have contact information stored in Google Contacts and in MailChimp. The data fields are probably filled out slightly differently. Data sync within Hubspot's Operations Hub automatically switches all data, no matter what app it's from, into a consistent format in your HubSpot CRM.
How is this different from traditional integration? HubSpot lists four key differences.
Traditional integration only syncs data in one direction. Data sync works two ways, from your CRM to your email platform and vice versa.
Traditional integration only passes data once the integration has been set up. Data sync allows you to go back in time and sync any historical data as well as future data between apps.
Data sync is real-time, not trigger-based, like traditional integration. All databases are consistently synchronized.
Data sync is customizable, unlike more rigid alternative integration methods. You get to decide what information passes back and forth between apps.
HubSpot's Operations Hub makes data sync simple. No coding necessary. You choose what app, what information you want included, and save your sync. It's that easy.
Customized Automation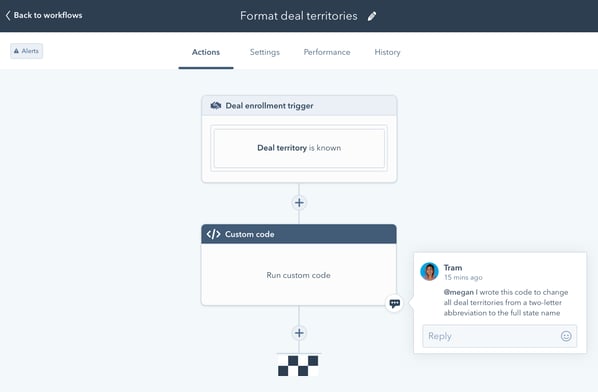 If you're already a HubSpot user you know how powerful automated workflows can be within the software. But, you also know that you've historically been limited to the menu of predefined choices. The new Operations hub introduces customized workflow actions with programmable automation. Now, you can pretty much automate anything.
For example, say you have a workflow set up to assign unassigned contacts to one of your sales reps. Historically, this would be randomized. Now, with programmable automation, you can create a workflow that automatically assigns leads to a particular rep based on, well, whatever you want. Perhaps leads coming from a particular geographic region might be assigned to a rep covering that territory, or leads looking for certain knowledge might be a better fit for one particular sales rep.
How does this work? It comes down to custom code. So if you have the ability to create code, you'll find value in this helpful guide. Don't know code? No problem! That's what our team of certified HubSpot's experts is for.
Connect with a hubspot expert:
Maximize your HubSpot investment. Connect with our team to learn how to take full advantage of the tools in HubSpot's Operations Hub.
Data Cleaning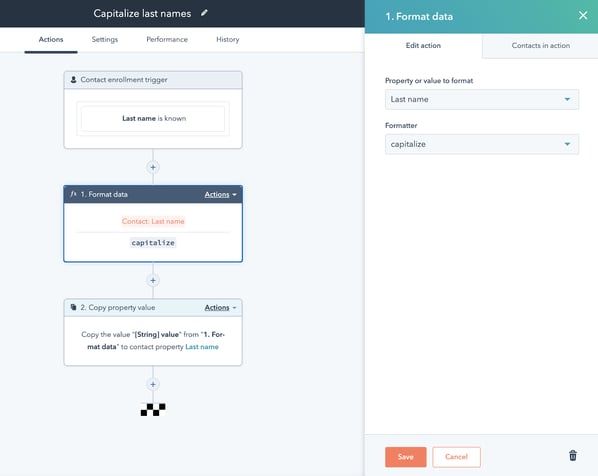 For any business focused on growth, you know the challenge of keeping data bases clean and consistent. In fact, maybe you've even tasked your reps with some data cleanup of their own. Now instead of trapping team members behind their desks, HubSpot does the dirty work for you. Through data quality automation, Operations hub utilizes a new set of workflow actions that format property values in specific and consistent ways. Here's just a glimpse of the data properties that can be formatted automatically based on preference:
Letter capitalization
Date properties and format
Phone numbers
Let's take a look at an example. Say you have a date in one platform formatted as "MM/DD/YEAR". If the platform you're syncing it to formats dates as "DD/MM/YEAR", then it will not recognize the data and the integration won't be properly completed. But with HubSpot's Operations Hub, data cleanup is automatic, and data quality automation will save your team from manually editing data properties.
Why Use HubSpot's Operations Hub?
HubSpot's Operations Hub has a lot of innovative features. But you might be wondering, are they really necessary for my business? It depends. We've identified four key solutions that the HubSpot Operations Hub can provide. If your business needs help with any of the following, it might be worth the investment:
Align all of your tools, systems, and processes in HubSpot as your

single source of truth

.
Migrate all your data to the HubSpot CRM in a simple and consistent way.
Clean up any formatting inconsistencies within your current data.
Automate more custom business processes as your company grows.
HubSpot's Operations hub is for businesses looking to align departments with trust and communication flowing freely between leadership teams.
How much does Operations Hub cost?
Ah, we've arrived. The answer to the burning question of price. How much does all this cost?
The very basic package is free. For no fee, HubSpot allows you to sync dozens of apps within the platform and take advantage of the data integration perks. Here's a look at what you get with the free version:
Two-way data sync
Default field mappings
Historical sync
All third party integrations
If you're already a HubSpot user, you automatically gain access to the free version of Operations Hub upon its release. But if you're curious at investing in some of the paid features, here's a look at the additional packages.
Operations Hub Starter is $50 a month and includes everything listed above, plus custom field mappings.
Operations Hub Professional is $800 and includes:
Everything listed above.
Programmable automation and bots.
Webhooks
Data quality automation
Additional reports, lists and workflows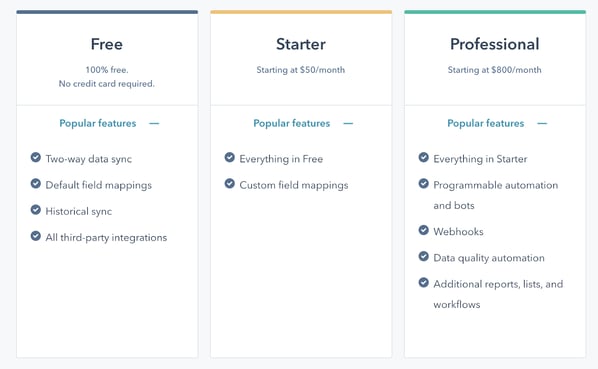 HubSpot's Operations Hub: A RevOps Solution
Business growth requires taking a hard look at company inefficiencies and finding ways to do things better. That's the simple answer. But in order to do this, you need a team of people that isn't bogged down by disconnected and skewed data or mundane, operational processes. You need your team free to solve the real problems and challenges of business growth.
HubSpot's Operations Hub opens the door to the RevOps solution. You might not be ready to hire a whole new operations team, but managing your systems better is a small step towards growth - and HubSpot's Operations Hub can help you take it.