We love it when we have the opportunity to launch a new brand.
Bringing a new vision to life requires a lot of trust from the client. The energy is electric when our entire team is involved in creating a strategy rooted in inbound marketing. The goal is to generate awareness and demand for their products and services, while bringing them qualified leads.
We often refer to going beyond the logo, and this is a perfect example of doing just that. This client received a qualified sales lead the first day of launch, validating our purpose: to help people and businesses learn, grow, and succeed.

Enjoy reading the project profile.
Project Overview
BumbleBar's story is one of growth. The nutrition bar company was founded over two decades ago in a small kitchen in Vashon Island, Washington. Founder Liz Ward created an organic, gluten-free energy bar that she wanted to share with the world. It only took six years for Ward's success to move the small company into a larger production facility nearby. By 2003, BumbleBar had grown so significantly they sought out a 3,000 square-foot space in Spokane before recently expanding into a 24,000 square-foot space.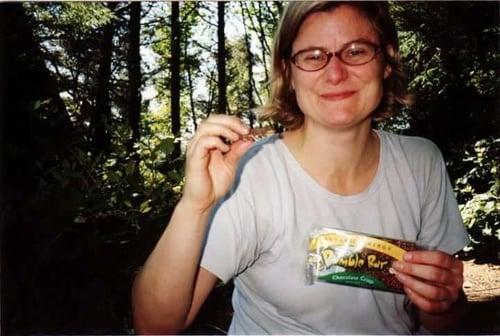 BumbleBar's facility wasn't all that grew - so did their services. Originally focused on creating their own line of nutrition snacks, it didn't take long for the business to start looking outwards towards the potential growth that co-packing and private labeling services offered. Co-packing and private labeling are similar, wherein BumbleBar would manufacture nutrition bars for client companies. They differ in whether the bar formulas are owned by the manufacturer or the client.
Now, co-owner Glenn Ward says that co-packing and private labeling account for the majority of company revenue. And though the BumbleBar brand continues to thrive in its own niche market, the Wards recognized the need for a separate and independent brand to market their co-packing services.
BumbleBar has been producing its own clean food bars since the beginning. And though they continue to do so, their sights have shifted on expanding the co-packing and private labeling side of the business.
Challenge
The opportunity ahead for BumbleBar was clear. The market for co-packing services was huge, and BumbleBar had barely tapped into it. The problem they faced was their current brand, and the challenge of providing products to one customer audience, and services to another.
BumbleBar, as a nutrition bar line, was developed to attract consumers (B2C focused). Whereas their co-packing services were designed to attract businesses (B2B focused).
With two very different target audiences, the sales process for each was completely different. The purchase of a BumbleBar product is a transactional sale, whereas the co-packing service has a longer and much more considered buying process. The two processes were acting as roadblocks. Clearly, there was a need for two different brands.
Solution - A Three-Pronged Approach
In order to effectively create BumbleBar's new co-packing brand, our team at DMG had to first educate ourselves on the nutrition bar industry. Our team spent months immersing ourselves in the niche market and industry terms. We studied competitors, current co-packing clients, and used this research to discover how to reach ideal customers, and how we could do it better than others in the industry.
Once we had a solid understanding of co-packing and the nutrition bar space in general, we were able to outline a detailed strategic growth plan that included the creation of Clean Copack, a BumbleBar company.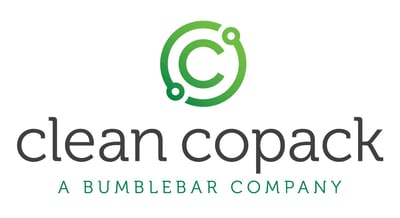 The Foundation - Clean Copack
Clean Copack's purpose was to communicate exactly what the company does and leverage this new awareness to create a demand for the co-packing and private labeling services, formerly offered by BumbleBar.
In tandem with the Clean Copack/BumbleBar team, we developed a new website for the Clean Copack brand. This website was designed for the buyer personas for the co-packing and private labeling services. Having defined clear lifecycle stages for each persona, we were able to create content targeting each persona and their stage in the buyer's journey.
The result was a cohesive brand experience designed to attract, engage, and delight businesses looking for co-packing and private labeling services.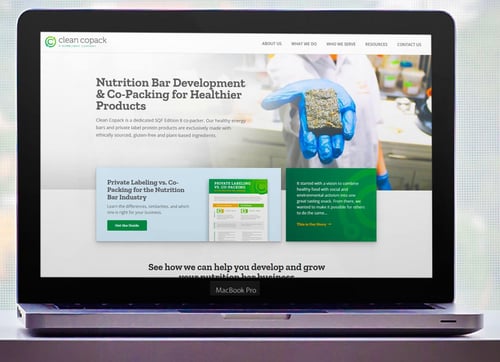 The Attract Strategy
Once Clean Copack was created and had the brand foundation in place, we were ready to outline a strategy to attract the right traffic to the right place.
Our team focused on designing a living and breathing plan, aimed at attracting Clean Copack's ideal customers at the right time in their journey through a combination of content creation, content distribution, and social media.
The following was included in our attract strategy:
Content - various forms of blogs, ebooks, guides, and resources
Social Media - a plan to effectively promote the new brand across the right social platforms for Clean Copack's buyer personas
Content Distribution - a plan to post the created content to relevant places on the web where Clean Copack's buyer personas frequently visit for information
Paid Advertising - a plan to leverage created content with content promotion campaigns via a wide variety of platforms all in the effort to drive website traffic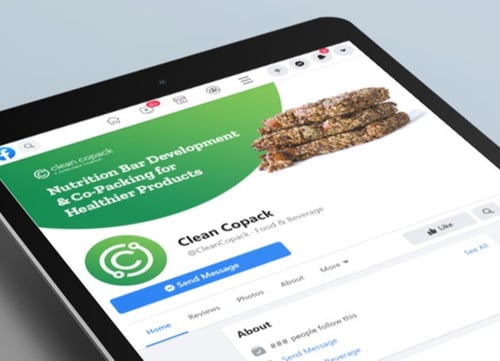 The Engage Strategy
The next logical step in our solution was to create a strategy around engaging any traffic we managed to attract. Our team put our heads together to come up with various ways to drive strategic action from these website visitors, and then continue to nurture these leads until they finally closed as a Clean Copack customer.
Our strategy included the following:
Lead capture methods - we created a combination of call to actions, landing pages, and confirmation pages designed to convert visitors into leads

A lead management plan

-

uniting marketing and sales

around a plan to nurture any leads so they eventually grow into sales qualified leads
Email marketing - establish a regular email marketing and newsletter correspondence with contacts, based off of buyer persona and lifecycle stage
Lead nurturing - update BumbleBar's current lead-nurturing workflow to reflect the Clean Copack brand
The Delight Strategy
The final part of our three-pronged strategy focused on a plan to delight any leads we turned into customers. The goal here was to create a positive and memorable experience for customers of Clean Copack, so they are more likely to recommend Clean Copack's services, and stay loyal to the brand.
This part of the plan focused largely on building a wide-scale customer-first mindset across all departments.
This included:
Implementing customer satisfaction surveys
Establishing customer-centric email templates across departments
Developing a strategy for ongoing emails and communication to customers in the post-sale funnel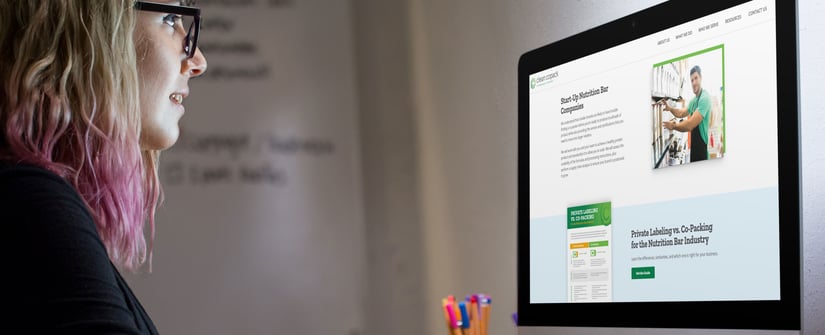 Result - A Growing New Brand
Clean Copack's new website was launched on September 15th. As we enter into the last quarter of the year, our team will continue to monitor and improve the website and strategy around it. But so far, the Clean Copack brand and website have accomplished some pretty lofty goals.
Improved brand awareness: The new website successfully separated the co-packing service offered by BumbleBar, by creating Clean Copack as its own brand.
Improved buyer experience: Strategically designed with Clean Copack's buyer persona's in mind, the new website is optimized to reach customers on each stage of their purchase journey, resulting in a better sales experience overall.
Improved workflows for all teams: With the implementation of Hubspot as a CRM for Clean Copack, we were able to create a clear Inbound strategy and plan to all workflows across departments resulting in more efficiency and again, a better overall experience for the customer.
Though the website is now live, the project of growing Clean Copack has really just begun. We continue to work together with the new brand to optimize both the website and marketing strategy. In the next few months, our team is focused on creating more content and resources to continue to maximize awareness of the Clean Copack brand.