Earlier this year, HubSpot announced the release of account-based marketing tools, a huge deal in the world of B2B sales and marketing teams.
Account based marketing (or ABM) is a B2B business development strategy that focuses on the relationship with the target company, or key account, instead of just individual contact relationships or communication to close large or complex deals.
For HubSpot users, ABM tools within the portal are a game-changer, adding a new stage between life cycles and deal stages where marketing and sales teams can come together to identify key accounts, track and measure engagement with individuals within the target accounts, and report back with hard data to improve the outreach process over time.
HubSpot's ABM software bridges the gap between sales and marketing to create a personalized buying experience for high-value accounts, providing valuable insight and additional data points for marketing and sales to identify and target buyers and decision makers within a target account company.
Tracking Target Accounts in HubSpot
HubSpot's ABM tools give sales and marketing teams a big picture vision of where their target accounts are while providing opportunities to get as detailed as needed in their overview.
Accounts with open deals are located on the dashboard, complete with buying roles for individual contacts and ideal customer profile tiers for targeted companies. New reports can be activated for each account, helping to identify relevant data and important information for different teams, funnel stages, or individual sales reps at a glance.
New features and data points include:
Contacts
As more is known about the individuals at the target company, easily log and track who's a decision maker and who's a detractor to better communicate with your target audience.
Sync contacts with their companies with an easy flip of a switch when they're imported to the platform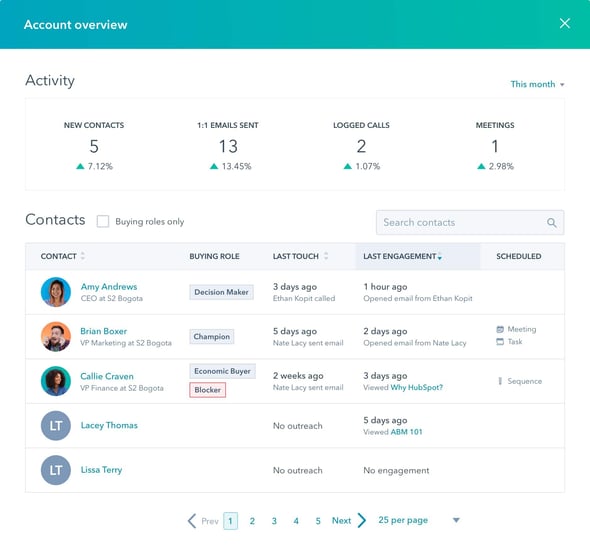 Companies
Mark a company as a "Target Account" and all associated contact activity (i.e. emails, meetings, pageviews) will aggregate within the Company's Account Overview
Easily sort and mark companies that fit your ICP to help direct strategy and outreach efforts
Take a peek at who's visiting your website without converting using the "Prospects" tool, which will show you which companies have been checking out your information without sharing any of their own
Reporting
New reports with Target Account specific properties can easily pull in data for dashboards to keep track of progress and outreach with key accounts
Segment information into Team Views with Sales Enterprise for even easier reporting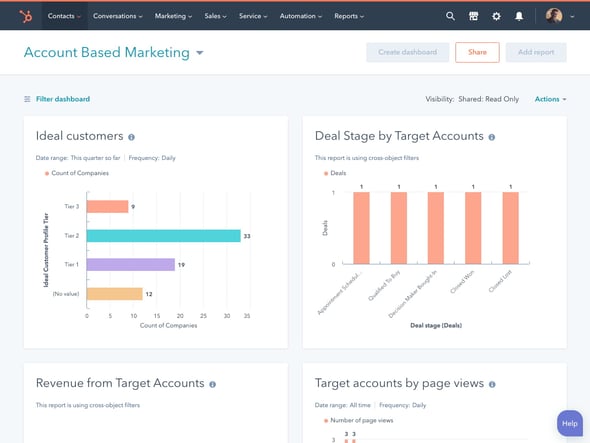 What Does ABM Mean for Sales Teams?
Simply put, being able to track target accounts before they become deals helps to unveil a lot about your existing sales and marketing processes.
While we used to assume that the time before the deal wasn't especially important, tracking timelines for target accounts provides data-based evidence for the time it takes for opportunities to respond to marketing and outreach efforts. Which is HUGE.
Current HubSpot data already tells a story for sales outreach attempts, as the likelihood of making contact increases with each touchpoint, up to eight touchpoints before returns start to diminish. The ABM tools now put enterprise-level tracking capabilities in the hands of sales leaders at the SMB scale to better track outreach and efficacy.
While benchmark data is a great place to start, the magic number of touchpoints for outreach differs for each company and industry—ABM helps to quickly identify the most successful strategy.
The ABM dashboard also by aggregating the activity tied to contacts associated with the target company, tracking each engagement with the website or outreach. This includes metrics like:
Pageviews
Email opens
Meetings booked
That means that reps and teams alike can identify the active target account companies, helping to close deals faster and when it's the best time for the customer.
ABM Software Benefits Marketing and Sales
ABM sounds great, but how does it work with an existing inbound marketing strategy? The good news is that these two methodologies work well in conjunction to identify target accounts and clarify each team's role before beginning outreach.
In other words, inbound marketing creates a stable foundation for an effective ABM strategy.
This also means that marketing and sales teams that were once separated can now work together to see the influence they both have on contacts and companies. Both teams can have an impact on high-value accounts and track engagement using the ABM tools in the HubSpot portal.
Leverage ABM to Create Personalized Buying Experiences at Scale
ABM is, at its core, a highly personalized form of marketing that requires each interaction with the target account to be customized, from initial communication to content to product information.
This personalization shows the target account how relevant your services are, and maximizes your impact with each touchpoint. Because ABM is a long-term strategy that can last over several months for each account, HubSpot ABM helps this consistency remain strong between marketing and sales teams.
Integrating HubSpot ABM Tools Into Your Sales Strategy
Track your high-value target accounts, monitor outreach and marketing progress to determine a realistic sales timeline, and customize the buying experience for each client with HubSpot ABM tools. Pairing a solid inbound strategy with an effective ABM campaign can drive impactful results across a wide range of companies and industries.
Explore everything that HubSpot ABM can bring to your sales strategy by combining sales and marketing teams' efforts to achieve high-value and consistent results.