This fall, HubSpot released a new pricing update, marketing contacts, aimed at encouraging growth while saving businesses money. Now HubSpot Marketing Hub users only have to pay for the contacts they actively market to. Plus, they can store up to one million contacts not actively being marketed to - all for free.
HubSpot's Marketing Contacts allows businesses to focus on growth, while saving valuable time and money.
Now that we've got you excited, you're probably wondering how you can start using this new update. Let's dig into nine different ways HubSpot's marketing contacts will improve your workflow by saving you time and money
1. Only Pay for Contacts Your Market To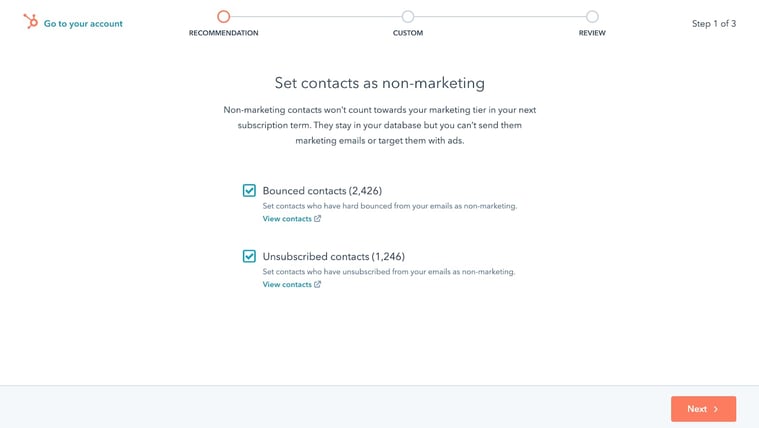 Being stuck with a bill at the end of the month for too many contacts is one of the top pain points we've heard from many HubSpot users. HubSpot's free CRM gave users storage of one million contacts, but if customers opted into the paid Marketing Hub subscription, they were then charged for all of the contacts in their CRM, whether they used these contacts to market to or not. Again, this left users with the tough decision of sorting through whether or not they needed these contacts or not, and oftentimes having to press delete on those of least value.
Ultimately - a contact lost unless they used a third-party storing system.
Now, Marketing Hub users don't have to pay for the contacts they don't market to. They will only be charged for the contacts they want to actively market to with emails or ads. Grow your contact list, and stop worrying about being penalized for it.
2. Free storage of up to one million non-marketing contacts
Do you fit into one of the following groups?
You're currently using a third party system to manage your extra contacts. Besides the hassle of not having everything in one place, you're missing out on the full advantage of having an

all-in-one platform

.
You're a free user of HubSpot, or a

Sales

and

Service Hub

user, but contact pricing has held you back from taking advantage of

Marketing Hub

. Your CRM is full of contacts, and going from the freedom of creating unlimited contacts to having a strict limit is quite plainly - unappealing.
Marketing contacts makes both of these challenges things of the past. By allowing free storage of up to one million non-marketing contacts across platforms, users can ditch their third party CRM's and start housing all their data in one spot. They also can stop shying away from the other features of HubSpot, and consider implementing them into their workflows.
HubSpot wants its users to feel comfortable about using their contact data across the entire platform. That's how you'll get the most out of their tool.
A good thing to note, is though you can't send bulk marketing emails to non-marketing contacts, you can still send one-on-one emails to these users. So again, you don't have to worry about using a third-party email system to contact these prospects.
3. Scaled contact pricing
If you're a user of Marketing Hub Starter, you know about the advantage of tiered contact pricing. Historically, this wasn't offered to Professional and Enterprise tiers. Now, scaled contact pricing will be available no matter your subscription level. Which means, the more contacts a customer has, the less money each individual contact will cost. In essence - another cost savings opportunity.
4. Automatic updates of contact status
At this point, you might be thinking, "okay this is nice and all, but who has the time to go through their list and categorize all their contacts?" Not to worry, HubSpot has a solution for this too.
There is now a "marketing contacts eligibility flow" designed to make identifying marketing contacts simple and quick. HubSpot allows you to use an automatically-generated list of bounces and unsubscribed, plus any other custom filters you'd like to add, to mark contacts as "marketing" as you go.
5. Monthly contact tier updates
HubSpot reevaluates your marketing contact list at the end of each month. So you don't have to worry about adjusting your contact tier.
Perhaps you have a prospect tell you a flat out no. You now want to remove them from the list you are currently marketing to. You can mark this contact as non-marketing at any time, and at the end of the month, HubSpot will automatically adjust your marketing contacts number and update your tier based on this number. This allows you to better adapt to the ever-changing conditions of the business world.
6. Larger contact bundles
In addition to allowing storage of non-marketing contacts, HubSpot is also increasing their contact allowance for marketing contacts in both the Professional and Enterprise tiers. Contacts can now be purchased in bundles of 5,000 and 10,000 respectively. This allows you to shift your focus more on actually marketing to these contacts, instead of constantly worrying about the growth of your list. Growth is good, and HubSpot's larger contact bundles aim to remove the penalties once associated with it.
7. Increased email sends
Marketing Hub Enterprise users will now enjoy an increase in email sends. The limit for enterprise users is 20x the marketing contacts, which is up from 10x. Marketing Hub Professional includes 10x, and Starter users have 5x their marketing contacts.
8. Unlimited email sends for IP add-on users
Some HubSpot users opt for using the Dedicated IP Address add-on. This is for users who send high email volume, and want more control over their individual sender reputation. A dedicated IP allows them to become the sole influence on whether or not their emails get delivered.
If you are using this plug-in, you enjoy the benefit of having no technical limit to how many emails you can send to your marketing contacts.
9. Easily track contacts with a new dashboard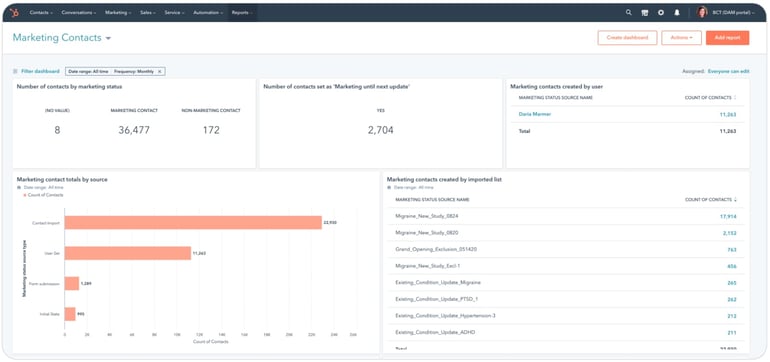 There is now a marketing contact template located in the dashboard template library that you can use to easily track your marketing contacts. This will help give you transparency into how your marketing contacts are created. It will also give you insight into what's working, and what's not. Are your marketing contacts coming from a specific form, workflow, or import? With this kind of knowledge, you can create better strategies, and keep on top of how many marketing contacts you have in your database at all times.
So who gets HubSpot's marketing contacts and what's the cost?
If you're a HubSpot customer, you are now able to switch your Marketing Hub subscription to include marketing contacts. Once you switch, you'll have the opportunity to choose which contacts you'd like to mark as "non-marketing" before you switch subscriptions. This will give you an idea of whether it makes sense to switch to the new contact model.
If you are a new customer to Marketing Hub, starting after October 21, 2020, all of your contacts will be automatically set as "non-marketing". You will then be able to change them to "marketing" as you go.
There is a slight increase to the subscription cost of marketing hub for professional users that choose to make the switch. Here's the breakdown of the changes:
Marketing Professional Changes
$890 per month (originally $800 a month)
Now includes 2k marketing contacts with base product
Additional contacts sold in 5k chunks
Marketing Enterprise Changes
Same price
Additional contacts sold in 10k chunks
20x email sends (used to be 10)
Current customers don't have to make this switch if they don't want to. HubSpot recognizes this new model might not be beneficial for every business. In order to make an educated decision based on your company's needs, we suggest talking to a team of HubSpot experts.
Our team at DMG can help you analyze your needs as a business and determine if marketing contacts is the smart switch. The ultimate goal is to make sure you're maximizing your HubSpot investment with a solid growth strategy and a focus on ROI.