Custom keychains are popular promotional items simply because people like them. Promotional keychains are some of the top mentioned favorite low-value product favorites, according to Promotional Products Association International. This matters because when consumers like promotional products that you give them, the more effective logo items are when it comes to improving your marketing strategy.
I've assembled a collection of the best promotional keychains, but first, check out a list of some of my favorites.
1. Branded Keychain with Flashlight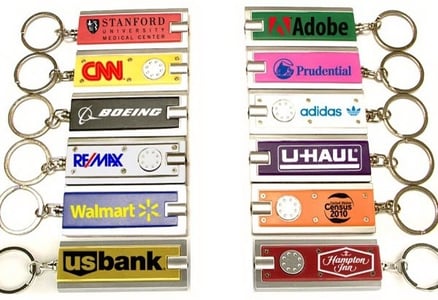 You might recognize this product from some of my previous blogs. I feature it so often because it is simply one of the best promotional keychains available. I have the branded Keychain with Flashlight on my own set of keys because it provides high visibility for our Delta logo and it has a useful LED flashlight.
2. Custom Phone Stand and Screen Cleaner Combo Keychain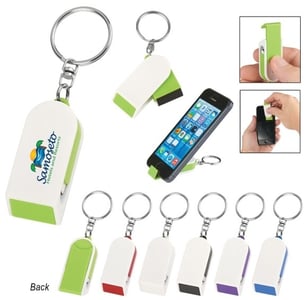 Give your clients a dual use product they can take anywhere. The custom Phone Stand and Screen Cleaner Combo Keychain serves two needs that cater to smartphone users. I especially like this little keychain because of it's clear imprinting area and clean logo display.
3. Promotional Carabiner Keychain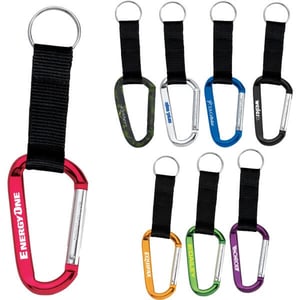 This handy keychain makes use of the versatility of carabiners. This aluminum metal key ring comes in your choice of eight metallic colors. Included with this keychain is a nylon strap to make it easier for recipients to carry around. Your brand name will appear lazer engraved on the metal split key ring to make for a sleekly branded object.
4. Personalized Bottle Opener/Phone Stand Keychain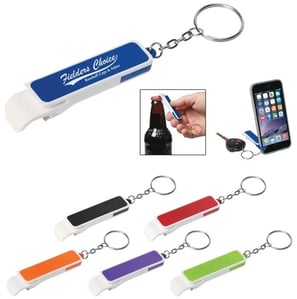 Carry this convenient, dual use keychain wherever you go! This personalized Bottle Opener/Phone Stand Keychain functions as a bottle opener and a phone stand. Your clients will love the choice of colors.
5. Customized Color Play Key Ring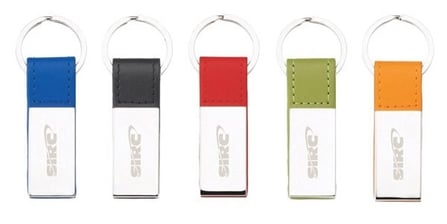 Here's a promotional keychain meant for decorative purposes: the color play key ring. This promo item is chic with your choice of leatherette color and lazer engraved chrome plating. Associate your brand with this stylish promotional item.
6. Logoed Aluminum Torch Keychain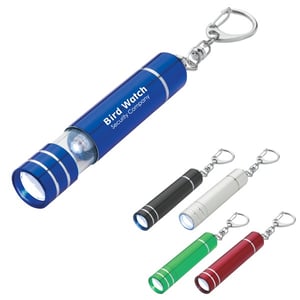 Here's a different flashlight keychain with a unique style! The logoed Aluminum Torch Keychain has the slick appearance of metal with an extra bright LED light.
7. Branded Brushed Plate Key Ring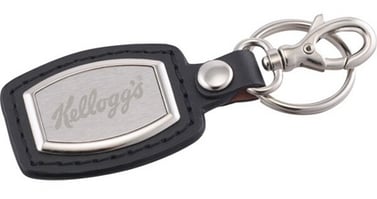 Like #5, the brushed plate key ring has a decorative purpose with its elegant nickel plated material and UltraHyde leather. The UltraHyde is available in brown or black to match your brand. Your logo will appear lazer engraved for a professional look.
8. Custom Astro Key-Light

This custom keychain combines functionality, convenience, and safety all into one. The custom astro key-light features three white LED lights activated by an on/off push button. The included metal split key ring makes it easy to attach this useful keychain to your house keys, car keys, and more.
9. Promotional Survivor Whistle Key-Light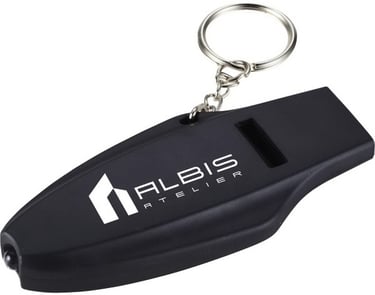 The promotional Survivor Whistle Key-Light is great for companies that value safety. Whether it be for night clubs or businesses that host outdoor services, this promotional keychain will prove to your clients that you care.