The world of promotional products is a serious business! Promo products have been proven to enhance your marketing strategy by helping to increase your sales, resonating with customers, and broadening your reach.
Just because promotional items can seriously improve your marketing strategy doesn't mean it's all work and no play. There are plenty of silly promotional products available made to make you and your customers smile. Besides, it's important to make sure that your company has a sense of humor while being professional and successful. Take a look at my list of 8 creative promotional items below if you need a laugh.
1. Branded Talking Pen

Your clients will crack up when they get a load of this silly promo item. The branded Talking Pen comes with a funny looking, bobblehead character that actually talks! You might think I'm crazy, but plenty of my clients have ordered this silly promo item. Just push the head to hear him say "Hey! Don't forget to smile, laugh, and have a great day!" This item also comes with a suction cup stand to place the pen.
2. Custom Lens Sunglasses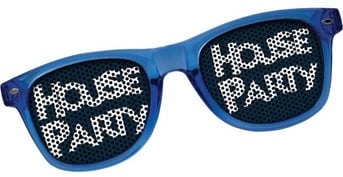 Unlike your traditional promotional sunglasses, the custom lens sunglasses allow you to feature your logo (or any other image) directly on the lenses. This unique feature automatically makes for a fun giveaway, unlike promotional sunglasses with branding on the arms. These fun sunglasses make for great giveaways at outdoor events, trade shows, or just as a fun gift.
3. Promotional Goofy Pen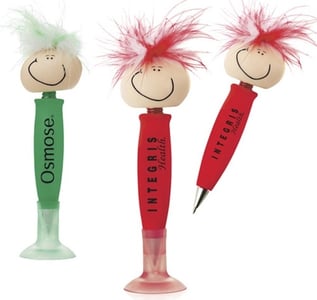 If you're a little hesitant about the craziness of the talking pen, I recommend this promotional goofy pen. It's less in-your-face; it's more cute than silly. This goofy bobblehead pen also comes with a suction cup stand. Hand this silly souvenir out at an event to make customers smile. I envision this cute item in daycare centers, schools, doctor's offices, and more.
4. Logo Color Changing Cup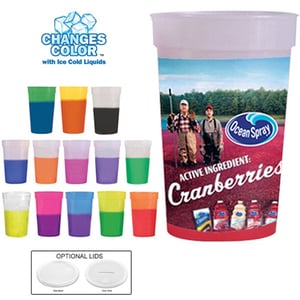 This fun promotional item is great for outdoor events, company picnics, festivals, and trade shows. The logo color changing cup is made with full color digital printing with assorted colors. It also changes colors with cool liquids! Best of all, these products are reusable, so you can use them for more events to come, or just as cups for your office kitchen. However you use them, there's no denying that these cups add creativity to your brand.
5. Customized Bubbles with Digital Label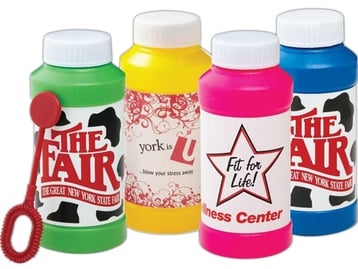 Add some youthful fun to your outdoor summer event with customized bubbles. These bottles come in assorted colors and allow for highly visible logo imprinting on a digital label. You can pick from green, yellow, pink, or blue bubble containers; whichever matches your company's color scheme most!
6. Personalized Happy Highlighter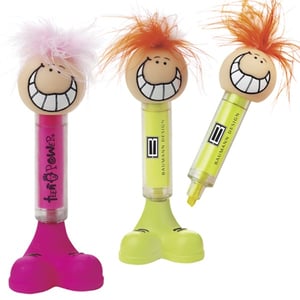 Much like the goofy pens, these personalized Happy Highlighters will brighten up your day! These creative promotional items stand on a removable cap shaped like two feet. They come in neon pink or yellow, and are a perfect to giveaway with the silly pens in #1 and #3.
7. Branded Flying Disk with Matching Pouch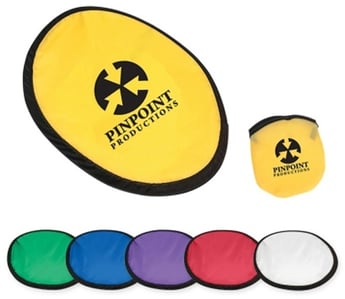 This product is perfect for an outdoor event that calls for physical activities! The branded flying disk is a fun frisbee that advertises your company image in plain view. Promoting your brand on a product used for physical activity will also show that your company values health and fitness. Also, playing frisbee is a perfect way to squash boredom at your outdoor event. Choose from 6 disk colors and 20 imprint colors to best fit your brand's style.
8. Custom Solar Powered Dancing Flower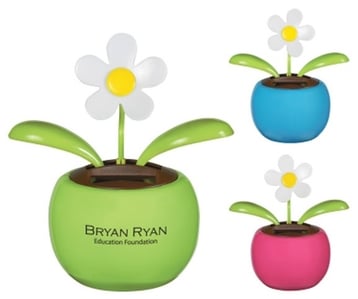 I think this product is my favorite from this whole list! This cute promotional product is powered by light to move and dance all day. The custom Solar Powered Dancing Flower will add cheer and liveliness to your office. Place one on every employee's desk for office branding. Your logo will appear imprinted on the brightly covered pot.