Working from home has its own set of challenges; whether it's communication between team members, an unorganized to-do list, or unclear assignments. The right tools and resources boost productivity and make the most out of each day. Apps that improve time management, keep track of deadlines, and connect team members or clients help everyone work smarter.
These 8 apps that boost productivity working from home save time, make collaborations easier, and help everyone efficiently complete projects.
1. Due


Due organizes all reminders for upcoming tasks into one convenient place. The app allows users to set due dates, snooze reminders, or make changes to the details. Due repeatedly sends notifications until the task is completed and has countdown timers for recurring tasks, such as a daily meeting.
2. Zoom



The Zoom app is a video, audio, and screen-sharing program that allows team members to communicate with each other, no matter where they're located. Zoom connects up to 1,000 video participants for virtual conferences, training sessions, webinars, or other events. Hosts share a unique link for the video or audio call to efficiently run meetings.
3. Trello
Trello allows team members to work collaboratively on tasks and projects. The Kanban-style app has boards, lists, and cards that organize to-do's to prioritize and explain tasks. Add comments, attachments, and due dates to individual cards to keep everyone on track. Trello is accessible and shareable by link so team members are on the same page.
4. Calm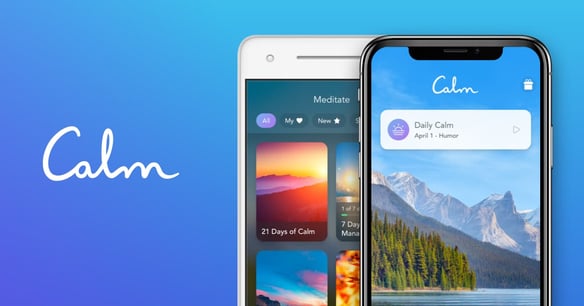 Calm is a meditation and relaxation app that puts a pause in the hectic work day. Choose from goals to tailor the app to your needs such as reduce stress or improve focus. Browse through hundreds of guided meditations or relaxing sounds ranging from 2 minutes to 35 minutes. Return to work after a short break motivated and focused.
5. Inkflow
Inkflow, the "visual thinker's notebook" is a note-taking and sketching app that allows the user to make sketches or notes by hand. This app is great for brainstorming and planning sessions for fast and lag-free note-taking. Simply draw with a stylus or finger then move the concepts to create the bigger picture.
6. HubSpot CRM
Manage contacts, tasks, and stay connected with leads, customers, and team members with HubSpot's CRM app. Task lists with the ability to prioritize and set reminders keep contact owners on task and on time with follow up and communication. HubSpot CRM app users can access tools from the full desktop portal, like efficiently send emails with stored email templates, and the added ability scan and share business cards. Easy access to client information and the create-a-task feature moves projects along.
7. Dropbox
Dropbox makes sharing files with coworkers seamless. Access files from anywhere on and offline. Dropbox collects team member's comments on files in one place for clear communication. This app also scans receipts, sticky notes, and other documents using a phone's camera for easy sharing.
8. LastPass
Keep all passwords protected and in one place with a remote team with LastPass. This app stores all essential passwords for individual or shared accounts to prevent breaches in security or time wasted forgetting and resetting a password. Best of all, users can have individual, read-only or hidden passkey access to team departmental folders to further protect company assets.
Key Takeaways:
Boost productivity working from home with apps that:
Organize task lists
Connect team members or clients through video chat
Efficiently detail projects
Manage administrative tasks
Seamlessly share files
Keep passwords protected and organized