Why does your company order promotional products?
Is it because that's just what you're supposed to do? Or because you need something with your logo on it to give away?
With so much to accomplish at work every day, promotional products are often the last things on a marketer's mind. But what if you could increase the return on your promo product investment and, at the same time, use promotional products to actually generate leads for your company?
I'm going to share five ways you can do just that.
But first, what do we mean by generating leads?
A lead is a person who has indicated interest in your company, product or service in some form. And lead generation is the process of attracting and converting strangers into leads.
Promotional products have traditionally been considered branding tools; this blog posts takes promotional items to the next level by turning them into lead generation tools. Increase the ROI of your next promotional products by strategizing about how you can use them to generate leads.
Here are 5 ideas to get you started:
1. Make a connection between the promo product and the digital world
Promotional products are making the leap into the digital space, and the result is that companies have a way to connect online lead generation and marketing with physical branded promotional products. Here is a promo product that does this exceedingly well:
Digital Rewards
This is a unique way to deliver prospects a branded promotional product with a high perceived value. Not only that, it's something they'll actually want to use.
Digital Rewards consist of a "gift card" and a website landing page for your business. Prospects receive a gift card and redeem it on your company's the online landing page. You receive their contact information, and the lead receives their reward—whether it's movie tickets, restaurant vouchers, music downloads, or digital magazines.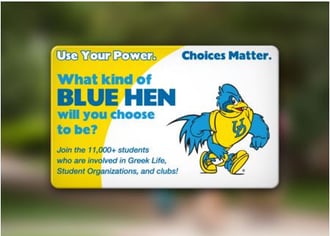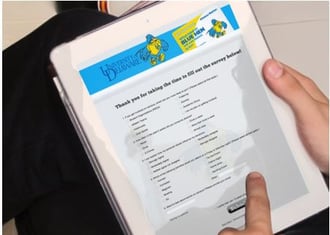 This strategy is ideal for a trade show or other event where you'll be meeting hundreds of people. Once they redeem their Digital Reward, you'll automatically have their contact information, meaning you can continue nurturing them with targeted marketing through the buyer's journey.
Learn more about Digital Rewards here.
There are several advantages to making promotional products digital. First, capturing lead information in a digital format makes it much easier for your company to follow up with your new contacts.
Also, making a connection between promotional products and the online world encourages prospects to engage with your company in multiple ways, giving you more opportunities to reach them with your message.
2. Create giveaway tiers for qualified leads
Most companies use giveaways when they attend a trade show or expo. But often the giveaways consist of large quantities of inexpensive items that are given to anyone and everyone who passes by.
Here's a strategy for using promotional products as ways to qualify potential leads and determine whether they are actually a good fit for your company.
Create "tiers" of promotional products that can be used to deepen your conversations with prospects. For example, maybe everyone who stops by your booth is welcome to your promotional pens and Smart Wallets, but in order to receive one of your big-ticket items (our clients have used products like coolers or umbrellas), they must provide you with certain information such as their name, company, job title and email address. Then, if they are truly a qualified lead, they can receive the more high-value item. This strategy also works well by having prospects fill out a short survey before receiving the item.
Why does this strategy work well? The premium items attract prospects to your company's booth, and your questions allow you to gather pertinent information while simultaneously qualifying them as a lead. The higher tier items give you permission to ask more in-depth questions than you could if you were just giving away a pen.
3. Take an outbound approach
Why wait for prospects to come to you in order to hand out promotional products? Take an outbound approach by sending your promo items directly to the people you want to work with most.
What do I mean when I say an "outbound" approach? I mean reaching out directly to the companies and individuals with whom you would most like to do business and mailing them a nice promotional item with some meaning behind it. These people may or may not have expressed interest in working with your company in the past, but the goal of this outbound approach to promos is to get people to engage with you. Once they do, they become a lead.
Consider building an outbound outreach campaign around a specific promotional product you want to send out, and then come up with messaging around the product to be included in your package. Remember, only send outbound promotional products to best-fit companies—businesses you truly feel you can help--and be sure to nail down a follow-up strategy.
4.Empower your sales team to use promo products
We need to stop considering promotional products to be just marketing tools. Promotional products have been proven to make people happy and to give them a more favorable impression of the company who gave them the product.
So, why not empower your sales team to use promotional products throughout their sales process? For valuable, high-revenue leads, consider investing in high-end branded merchandise for when the sale is nearly closed. For leads who are at the beginning of the sales process, try items that are useful and thoughtful, but a little more inexpensive. Position these items as a gift from the sales rep to say thanks for the meeting or phone call.
5. Offer incentives for referrals
The final strategy for generating leads with promotional products is to offer branded merchandise to existing customers or partners as an incentive (or thank you) for a lead referral. If you receive a true, viable referral from a customer, consider sending them a thank you gift in the form of a custom promotional product. One of our fellow marketing agency friends sends out custom labeled root beers with messaging that says "We owe you a beer" as a thoughtful way to acknowledge referrals.
The next time you think promotional products are just branding tools, think again. There are many creative and effective ways you can incorporate promo products into your company's marketing and sales strategies. Think outside the box when it comes to your next promo order, and think about how you can use your products to generate leads and send your ROI above and beyond.