"Change is the law of life. And those who only look to the past or present are certain to miss the future." - John F. Kennedy
I get it; change can be hard - especially in the business world. Professionals like to stick to what they know, what's worked for them over time. This mentality is exactly why some marketers continue to order promotional products that are out-of-date; they're comfortable ordering what has worked for them in the past. However, just because a certain type of promotional product has been successful for years doesn't mean it will continue to be a hit with recipients, whose interests are constantly changing and growing.
With the following items and ideas, I'm challenging marketers to step into the future of promotional products and leave the past behind. Here are 5 promotional products that are stuck in the past, and how to update them to better resonate with your target audience.
1. Cheap Promotional Pens
Logo pens are pretty much the universal promotional product that every brand has. They're cost-effective, easy to ship, and convenient to give away. However, the time has come for cheap, plain old pens to be phased out as marketing tools because of how detrimental they can be to your brand. You see, promotional items serve as a reflection of your brand, and you don't want your brand to be represented to a client with a cheap pen that might break or stop working!
Update: Custom Stylus Pens
Switch out your old, cheap pens for custom stylus pens. These stylus pens aren't just a piece of plastic, they feature a rubberized grip for comfort when writing and a stylus on the end for use on touch-screen devices. Your logo will appear freshly imprinted on your choice of a silver or colored barrel that best matches your brand theme.
However, if you want a simpler pen with a more traditional look, I recommend the Inkjoy Retractable Pen. This promotional pen features a colored grip and barrel that matches the ink color. Add a splash of color to your marketing with this cost-effective pen starting at only $0.70 per pen.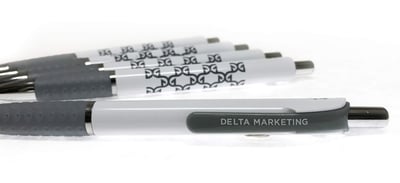 Another worthy replacement for cheap pens is the BIC Image Grip Pen. Though not as colorful as the above option, this pen adds a sense of professionalism to your work environment with its chrome plated accents, modern clip design, and textured grip. Your logo will appear in full color on the pen's white barrel with your choice of trim/grip color. This pen also offers the unique option of imprinting on the clip, so take your branding to the next level with this unique yet professional promo item.
2. Non Eco-Friendly Promotional Products
Businesses must follow eco-friendly practices not only for regulatory reasons, but because today's consumers place high value in green companies. According to the this study, 88% of consumers will be more loyal to a company if they exhibit eco-friendly practices. Non eco-friendly promotional products like plastic bags and paper cups must be completely phased out of your company's marketing strategy to resonate with the values of today's environmentally conscious consumers.
Update: Sustainable Promotional Products
Believe it or not, there are promotional items available that are eco-friendly, or made of sustainable materials. Some eco-friendly promotional products are made of all-natural materials including bamboo, cork, or cotton. Other sustainable items are made from recycled material like plastic or PET (polyethylene terephthalate), which is also made from recycled waste. Be sure to review the materials used in creating certain promotional products next time you order!
3. Outdated Technology
The promotional products industry has been around for decades, and think about just how much technology has changed even over the last 5 years. Because of constant changes in the technological world, some tech products become obsolete, but remain on the promo market.
Update: Modern Promotional Products
Make sure the promotional products you're choosing align with the latest technological trends. For example, promotional phone cases for an outdated model of the iPhone may be cheap, but they will be of no use to the majority of consumers who have moved on to the iPhone 6 or 7. Also, be sure to consider newer versions of classic promo items, like promotional earbuds. There is no excuse for buying poor-quality earbud giveaways when high-quality, newer products are available for an equally as cost-effective price.
4. Useless Promotional Products
Let's face it: sometimes we get promotional products and wonder: Why the heck would I need this? Useless promotional products are items that lack a purpose, or don't relate to the consumer or your brand. Useless promotional products are often the result of last minute, ineffective planning.
Update: Promotional Products with a Purpose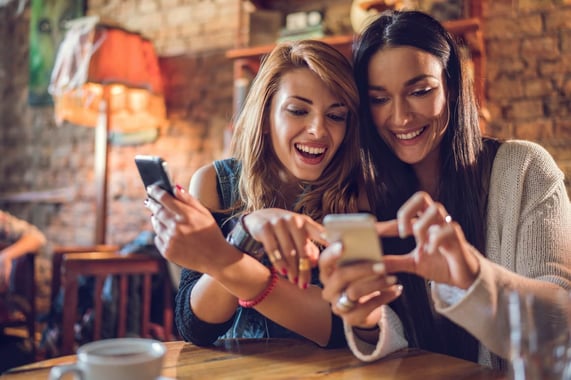 When selecting promotional items for your brand, make sure they have a strategy behind them. For example, don't just select a handful of random items that you think will keep your recipients entertained. Make sure the products you select have a meaningful connection to your brand, and that they will be useful to the recipient. For instance, utilize power banks or USB drives as promo items if you work for a tech-related company. Make sure your company is not stuck in the past by making this classic mistake of giving away items just to give them away.
5. Non-Personalized Items
We live in a world where marketing and advertising is catered to every individual's interests. Why should promotions be any different?
Update: Digital Rewards
Digital rewards are the revolutionary new promotions that allow recipients to pick a product, or reward, that most resonates with them. Digital rewards are a collection of physical or digital products, like a free coffee or song download, that are made available to recipients via a high-quality card with a redeemable code and a website address to redeem the award. While a branded card is one of the most popular ways to distribute rewards, some companies may choose to distribute reward promotions through direct mail, coupons, or via email.
Popular digital incentives include music downloads, movie tickets, or eBooks. Other promos that your company may choose to offer include customized phone cases or free food items. With the wide variety of rewards available, your company can ensure your recipients will receive a promo that is unique to their interests. Learn more about digital rewards here.
Just like any other industry, the world of promotional products is constantly growing and changing. As a marketer, it's your job to ensure that your company remains on top of promotional dos and dont's so your giveaways resonate with your recipients. If you don't know where to start, get with a promotional brand specialist like me to start phasing out promo items that are stuck in the past.