Marketers always want to know which items they should give away. While every company is different, there are 5 types of premium items that are almost universally successful. These tried-and-true products are standbys that every marketer should have on hand.
What is a "premium promotional item?" It's another way of saying "promotional products" – "premiums" is just the industry term for promos.
Premium promotional items fit in with both inbound and outbound marketing strategies. For example, premiums can do the initial work of attracting potential clients to your booth at a trade show. Then, they can help convert a stranger into a lead by asking them to provide credible contact information in order to receive the promo product. Additionally, premiums may be used to delight customers after they make a purchase to maintain your professional relationship.
You may still be wondering: "Why should my company use promotional products?" Well, here are some statistics from a Promotional Products Association International (PPAI) study to show the power of premiums:
Before receiving promo items, about 55% of consumers had previously done business with the advertiser. After receiving the products, 85% did business with the advertiser.
8 out of 10 consumers own between 1 to 10 promotional products and 53% use them at least once a week or more often.
76.3% of participants could recall the name of the advertiser on the product they received in the past year.
75.4% of those who received a product felt that the item was useful.
Now that you see why premiums are a wise investment, how do you know which are right for your company? There are certain products in the industry whose marketing benefits cannot be denied.
Here are 5 premium promotional items every marketer should use:
1. Writing Instruments
Writing instruments are a staple for all marketers. Everyone uses them, and they're casual enough for any industry. However, just because pens are a simple giveaway doesn't mean you shouldn't put some thought into ordering them.
Cheap promotional pens are a thing of the past. Your clients won't value an uncomfortable pen that stops working or looks like it might break at any minute.
Remember, there's a difference between cheap and inexpensive. Pens are famous for being inexpensive, but that doesn't mean they have to be low quality. A cheap pen shows your clients that you didn't put much thought into your giveaway, which also happens to represent your company's brand image.
My recommendation: The BIC Image Grip Pen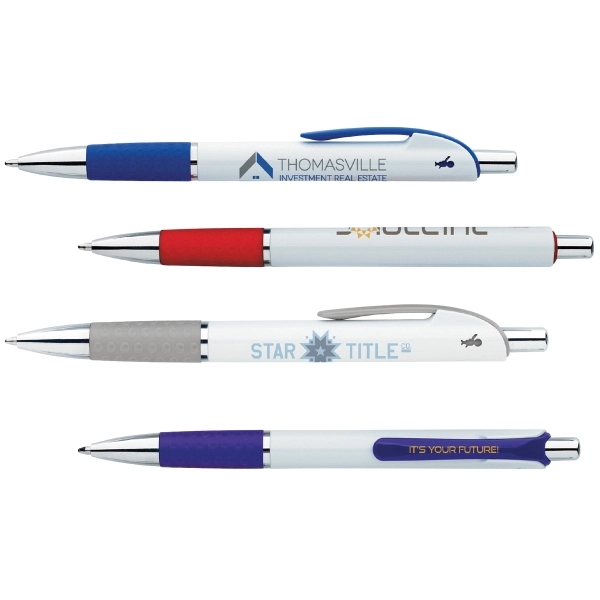 The BIC grip pen features a textured grip for comfort and customizable options for additional brand exposure. The pen has a standard white barrel, but other color options are available for the grip and trim. This offers a simple, yet sleek look.
2. Journals
Each year, journals rise in popularity due to innovative styles and materials. Many notebooks can be personalized, which is a great add-on to make it special and unique.
My recommendation: The ApPeel Journal
Speaking of unique, one of our favorite notebooks is the ApPeel Journal – a notebook made from apple peels. Eco-friendly journals are rising in popularity because more and more consumers want sustainable products. The distinct qualities of this item will definitely appeal to customers, and it's also a great conversation starter at trade shows and other events.
3. Technology
As I shared in my 2017 Promo Trends blog, technology is the fastest-growing promo category. It's important to have at least one tech-related promo item to show that your company isn't trapped in the past.
There are many different types of technology products (earbuds, USB drives, speakers, power banks, etc.), and all of these come at different price points. Keep your budget and your target audience in mind when choosing a tech product.
For example, technology products as college fair giveaways are always a hit, but you may not want to splurge on expensive items when you are using promos to simply attract prospects. Once students commit to your school, a higher priced product may be more appropriate.
My recommendation: The Beagle Bluetooth Tracking Device
The Beagle Bluetooth Tracking Device is one of the most innovative products I've encountered recently in the promotional products industry. Despite the advanced technology of the device, it's actually quite simple to use. Attach the tracking device to any of your valuables and the paired app on your smartphone will help you locate the item if you lose it. And don't worry if you lose your phone — the Beagle works two ways!
4. Drinkware
When was the last time you saw a promotional water bottle or mug? Probably not too long ago - especially if you're one of the 53% of U.S. consumers who own promotional drinkware.
Because there are so many different types of drinkware, it's important to know your target audience before ordering. Here are some options:
Water Bottles:
Customizable in stainless steel, aluminum, and plastic, water bottles are perfect for anyone, but each style also serves its own purpose. For example, plastic bottles would be great for sporting events or schools, but stainless steel or aluminum bottles may be more suitable for employees and clients.
My recommendation: Santa Fe Aluminum Bottle
The Santa Fe Aluminum bottle is durable and versatile for any event. The cost effectiveness of this product also makes it a suitable giveaway for all target audiences.
Mugs:
Ceramic mugs and travel mugs are perfect for professionals. Coffee and tea are go-to drinks in office settings, so your employees and clients will appreciate this thoughtful product.
My recommendation: Inverti Stoneware Mug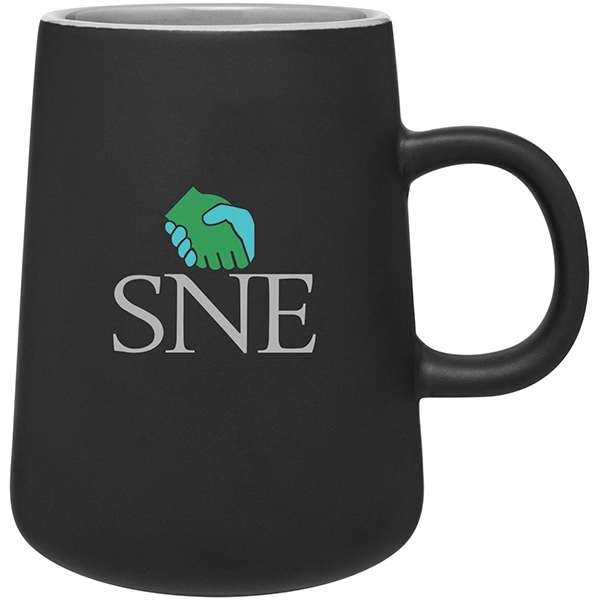 The 15 oz. stoneware mug is available in a variety of colors and customizable options. The sleek appearance of the matte color outside also makes it perfect for professional settings.
Glassware:
Promotional glassware is another product that will appeal to adult recipients. From glass mugs and steins to pint glasses, glasses are ideal for restaurants, bars, and employee gifts.
My recommendation: 16 oz. Glass Jar with a Handle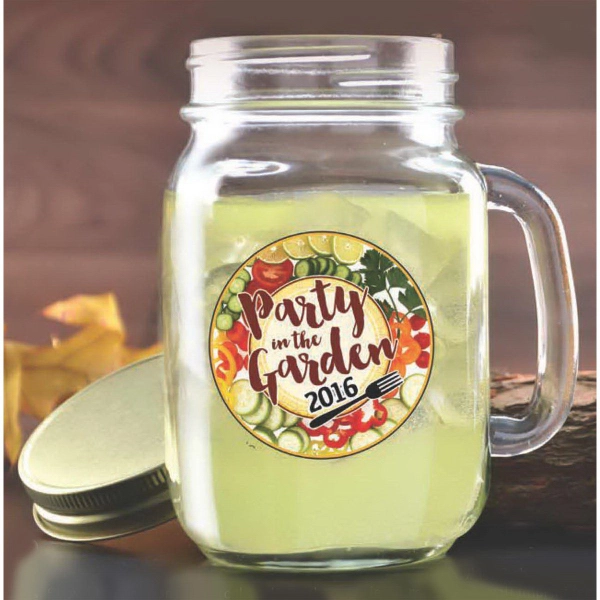 With its "rustic chic" look, jar-style glassware continues to gain popularity among consumers. Take advantage of that growing interest with a promotional Glass Jar with Handle. This eye-catching jar can be used as a drinking glass, candle holder, decorative display and more.
5. Tote Bags
It's smart for marketers to keep tote bags on hand. Consumers can continue to use these bags after events, making them practical, multipurpose, and reusable. Their variety of sizes, colors, and materials also make it possible for you to find one that fits your company's image.
The fact is, promotional bags raise brand awareness. Every time a consumer uses the tote bag, they are showing off the company's name and logo. Because of this, make sure your product stays true to your brand. If you need help finding the right bag for your company, we have some suggestions in our 10 Ideas for Promotional Tote Bags article.
My recommendation: RuMe xPose Tote
The RuMe xPose tote is the bag that customers want to receive at trade shows. At events, they can wear the hands-free, cross-body bag to carry all of their promotional products. After the event, the bag fits the interior dimensions of standard rolling luggage, making it perfect for use as a laundry tote or shoe bag.
The increasing number of promo products can make it difficult to choose which is right for your target audience. Every marketer should remember these 5 premium promotional items when considering what consumers want. Once you narrow your product ideas, contact me and I'll help you find the right one for your company.