As Three Dog Night once prophetically said, "one is the loneliest number." But in this case, two isn't as always as bad as one. Combining two or more promotional products in one giveaway is a great way to delight recipients and facilitate brand exposure. There are certain product combinations that go together like peanut butter and jelly.
I know what you're thinking – two promotional products per person? Doesn't that mean a lot more spending on my part?
Just because you're giving away two different products doesn't mean you have to break your budget. Promo products often supplement each other in the pricing department. Take a notebook and pen. The notebook is obviously going to be the more expensive promotion, so it's the main giveaway.
Giving away an inexpensive promotional pen in addition to a notebook requires little thought and effort on your part to provide your prospects or client with a giveaway combination that they'll really appreciate. You see what I'm getting at? You only have to spend a little more for a promotional product combination that can go a long way in the eyes of clients. The extra dollar per pen is well worth it when you're making positive impressions on your target audience.
When it comes to promo combinations like notebooks and pens, we're saying: why not both? Here are 5 genius promotional product combinations that make for a well-rounded giveaway.
1. Sunglasses and Water Bottle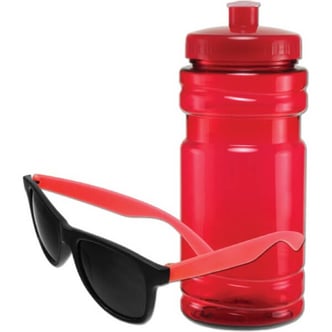 Here's a promotional pair that's ready for summer fun, the Surf n' Sun Sport Set. This set includes a pair of sunglasses and a water bottle starting at only $1.79 per set. The sunglasses and water bottle come in your color choice of red, yellow, blue, green, and more. Both items have the option to be imprinted.
This giveaway set is ideal for outdoor events like company picnics or sports-related giveaways. Kick off the event with this giveaway combination so your participants are ready to soak up some sun rays and stay hydrated.
2. Fleece Blanket and Tumbler Set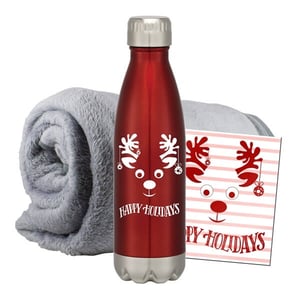 I can practically envision myself wrapped up in this blanket sipping from the festive water bottle. The Fleece Blanket and Tumbler Set includes a top quality fleece blanket and a high-end bottle that will keep your beverages hot for up to 12 hours. Each of the items are high-quality gifts that will make an impression on the recipients, especially because both of the items come branded with your logo. Talk about memorable!
3. Pen and Journal Gift Set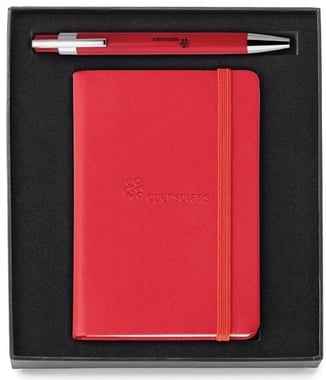 Does this set seem familiar? As I mentioned earlier, pens and journals are promotional products that go together like peanut butter and jelly. The classic ballpoint pen and and neoprene journal come packaged in a sleek black box that will communicate your intentions behind giving this gift. Choose from product colors like black, blue, orange, and green.
Recipients are sure to see the value of this promotional product combination, considering the fact that writing with pen and paper is the preferable method of note taking when it comes to learning the material, according to Scientific American. Despite the widely held belief that laptops are more efficient for note taking, recent research proves that physically writing notes improves one's ability to retain information.
4. PowerUp Tech Kit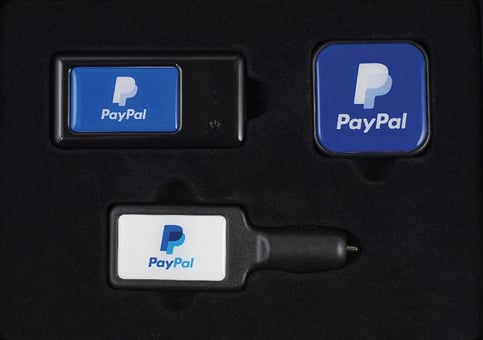 People hold their tech devices near and dear to their hearts. Take smartphones, for example; I've heard of people sleeping with their devices next to them on their pillow! This promotional product combination is sure to satisfy anyone with a love of technology. The PowerUp Tech Kit is a gift set that includes three promotional items essential for charging tech devices: an external battery pack, a mobile car charger, and an Apple MFI Certified Micro-USB cord.
Technology related items are hot stuff in the promotional world, so this sought after tech kit isn't available until March 2017. Not much longer to wait! Contact me to reserve yours.
5. The Hangover Kit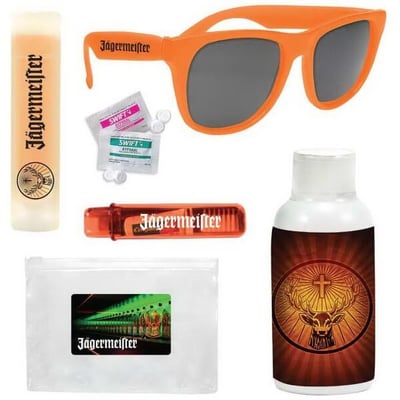 Here's a promotional product combination that is great for some laughs at a casual social event: The Hangover Kit. This funny kit includes everything you need for nursing a hangover including sunglasses, lipbalm, a travel toothbrush, a small packet of acetaminophen, and a 5 hour energy drink. All of these giveaways come in a branded pouch ready for giving away.
At the end of the day, promotional products are meant for delighting your recipient. These promotional product combinations will help you go the extra mile to really please your customers.