For most companies, their new hire's first day on the job is no different than any other work day. Besides completing general onboarding tasks and getting used to a new face around the office, employers don't see their new employee's first day as anything special - and that's the problem.
Finding and retaining talented employees isn't as easy as posting a "help wanted" ad. In 2016, 75% of companies reported that it's getting more difficult and time consuming to find the right talent to fill positions.
Once you've found and hired a professional that is the right fit, your company should be doing everything you can to impress and retain your employees - starting from the first moment they step into the office.
What are New Employee Welcome Packages?
Company welcome packages introduce your brand to new employees using promotional products and other materials, all compiled into one package. One common purpose of welcome packages is to provide new employees with basic office supplies they'll need to get the job done.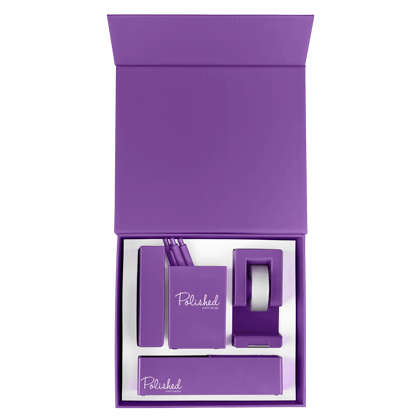 For many companies, this is your new employee's first point of contact with your brand as an insider on their first day. In addition to company swag, many welcome packages include important information, like company values and policies.
Welcome packages are more than just a gift - they can play an integral part in your new hires' first day, and may dictate how they perceive your company. Here are four ways company welcome packages delight new employees:
1. Welcome packages can be a good icebreaker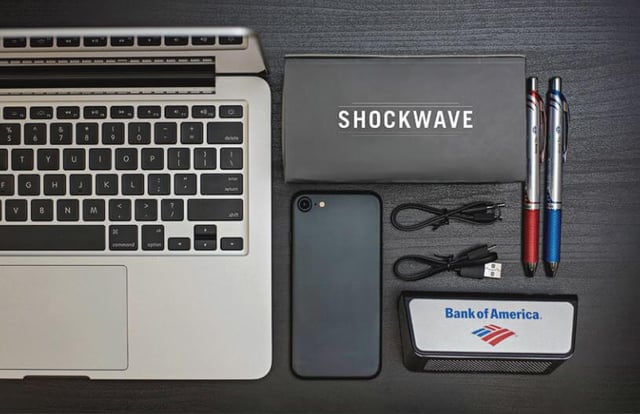 Now, let's think about a new hire's first day from their perspective. Excitement, apprehension, and nervousness are all feelings that could sum up anyone's first day on the job. All of these emotions are simmering, nearly ready to burst, by the time the new hire first steps into the office. Come on, we've all been there before!
Employee welcome packages can be used as an icebreaker, or conversation starter, for when new employees first enter the office. Who will the new hire encounter upon entering their new work space? Perhaps your new hire's mentor should be waiting for them to arrive with the welcome package in hand. This way, the new hire is immediately welcomed by your brand, instead of wondering where they should go first. Use welcome packages to provide a structured start to your new employee's first day.
You don't have to present the new hire with the welcome package right away, however. Perhaps the mentor will give the new hire a tour of the work space. In this case, you may choose to leave the welcome package on the new hire's desk as a surprise for when they first sit down. No matter how you choose to engage new employees in their first moments with your brand, make sure your company welcome package is one of the first points of contact.
2. Show your compelling corporate culture from the start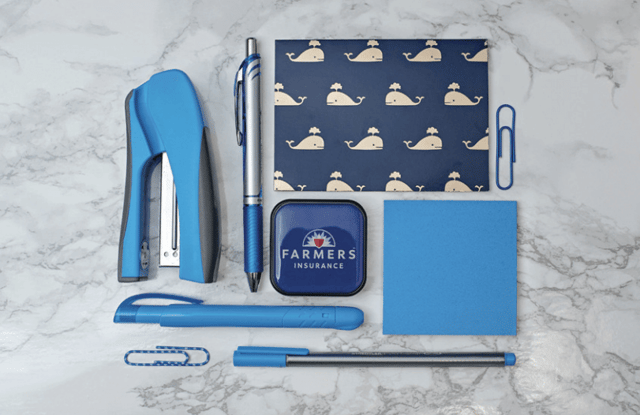 Most new employees are already familiar with your brand - from an outsider's perspective. Give new employees a reason to admire their new company's culture code with welcome packages and the products inside. The simple act of giving new employees a welcome gift has the power to make them feel valued (more on this later).
While the act of giving a welcome gift says a lot about your company's culture, you can further shape your new hire's perception of your company culture based on what you choose to put inside. Many companies include a simple "welcome" card as one of the first items in the box. This simple gesture is a kind introduction on a new hire's first day that they will remember - and probably keep on their desk for the first few days!
Remember, what you include in your new employee welcome package is a reflection of your corporate culture.
The #PromotionalProducts you include in an employee welcome package allude to your corporate culture.

Tweet
Knowing this, think of how you want to position your brand to new employees. For example, to establish your brand as a trendy lifestyle company, give new hires a comfy company hoodie to wear in the office or at home.
When considering what to include in your welcome package, it's also helpful to refer back to your company's values. Do you encourage employees to lead a healthy and active lifestyle? If so, include a branded water bottle or pedometer in your welcome package.
What you choose to include will speak for your company's culture, so be sure to select items with intention - new employee welcome packages are not the place for cheap giveaways.
3. Welcome packages show new hires that they're valued
There's a lot riding on a new employee's first day. As an employer, you should make a new employee's transition into their new job as smooth as possible.
Welcome packages provide a strong foundation for new employees in your company by embracing their presence as soon as they step into the office. Gifting employees with company welcome packages have the power to not only make employees feel included, but valued.
Gift giving is a way to show appreciation and gratitude while strengthening bonds. Welcome packages show that you are excited for new employees to join your team while simultaneously communicating their value as a team member. When you start an employee's journey with your company with a welcome package, you are setting the standard for how employees are treated and valued. Welcome packages promote inclusion while easing a new member into your corporate culture.
4. Add some fun to your company culture with welcome gifts
Gifts bring people together - plain and simple. There are certain gifts you can include in your welcome package to add a little fun to your company culture and facilitate bonding between employees.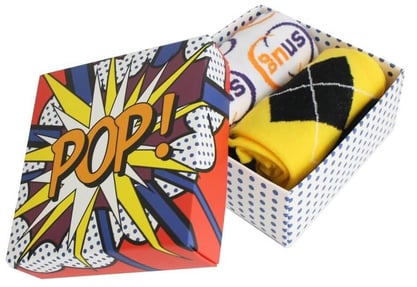 For example, a creatively designed pair of branded company socks can make a great conversation starter for new coworkers. You have your company socks on? So do I! Aren't they so comfortable?
New employee welcome gifts are more than just physical gifts - they're a way to communicate the nature of your company. In addition to practical items that employees can use around the office, add some fun to your welcome package with extraordinary gifts.
What Should I Include in my Welcome Gift Set?
Now that you know the value behind giving new employees welcome packages, it's time to consider what you should actually be giving away. From past client experiences, I have some suggestions for what makes an impactful welcome package.
Tech Kit: Connector Set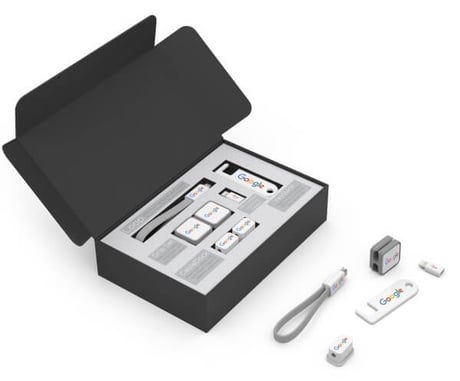 Are you a tech company, or a company that values technological devices that keep our world connected? The On the Go Connector Set is a tech kit that includes everything you need to accompany mobile devices, particularly smartphones.
New employees will be gifted with a magnetized cable loop to hold onto your mobile device, a cable organizing set that grips to surfaces, cable docks to help keep cords organized, an MFi Lightning Certified Adapter, and a hands-free key stand to dock phones. Best of all, these branded items come in a sleek gift box to maximize the importance of the employee's first day.
Lunch Cooler with Tumbler & Journal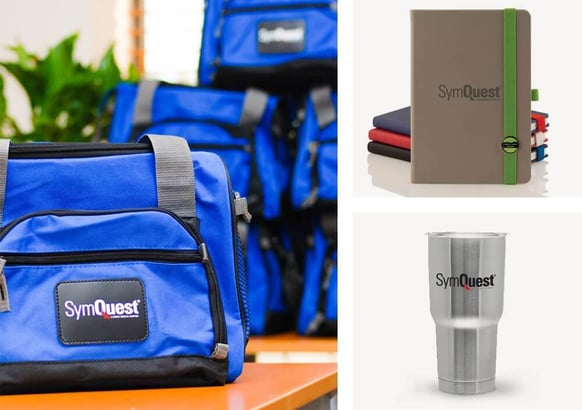 Another way to approach welcome packages is by selecting individual items and creating your own gift set. During my time as a promotional product marketer, I've noticed which combined items make powerful impressions on new employees.
I recommend combining a few high-value promotional items to make for one encouraging welcome. Use a convertible duffel cooler outfitted with your logo to be a base gift, while including other high-value items like a custom journal and branded tumbler inside. These are all practical items that will have an everyday use in your employee's lives, thus facilitating repeated impressions for your brand.
Continue to Show Your Appreciation
Your commitment to your employees doesn't end after giving a welcome package on the first day. As an employer, you must continue to communicate the importance of employees. This doesn't mean breaking the bank for a new gift package multiple times a year, however. Just be present in your employees' lives - acknowledge special occasions like birthdays and weddings with small gestures that show you care.
Motivational speaker and business man Harvey Mackay once said, "Employee loyalty begins with employer loyalty." Company welcome packages plant the seed for employee loyalty by establishing a welcoming corporate culture. Start assembling your company welcome packages with the help of a promotional product marketer.