I have been a brand specialist in the promotional products industry for over 20 years, and I still learn something new every day—which is one of the reasons I love what I do!
If you didn't already have enough reasons to love promotional products, I've made a list of the 4 most surprising things every marketer should know about them. These facts cause marketers to take a second look, to stop and think, and to say, "Wow, I didn't know that!"
After reading these surprising facts, you'll have even more reasons to incorporate promotional products into your marketing strategy.
1. People will remember your company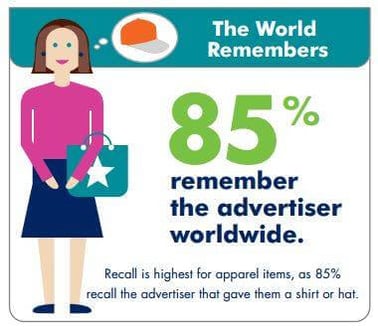 It's actually that simple! People are going to remember your brand. Of course, the more interesting and unique your products are, the higher recall they will have.
Want to know the best part? Promo products are kept for an average of 8 months and then are passed along for years to come, according to ASI. PPAI also reported that more than half of consumers say that they will give away a product they are finished with rather than throwing it away. That makes for a whole lot of repeated brand exposure, which leads to increased brand recognition across a whole new consumer base.
2. Promotional products are one of the most cost-effective forms of advertising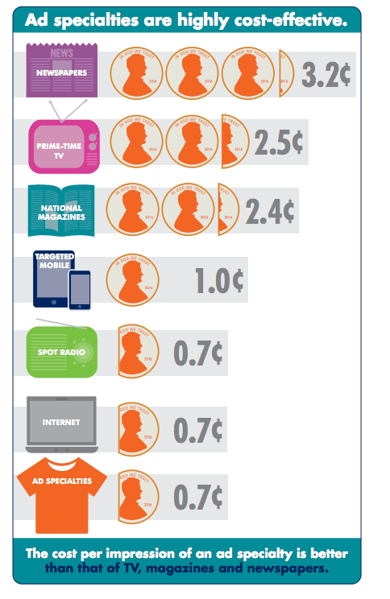 Any marketer trying to get a budget approved knows that "you have to spend money to make money." This is certainly true of branded merchandise, however, promo items are some of the most cost-effective options when it comes to advertising!
Promotional products have the lowest cost-per-impression for advertising in the United States. Spending money to make money is certainly important, but why spend money on expensive advertising that isn't going to leave a long lasting impression?
3. People genuinely like promo products
Who doesn't love receiving gifts? Think of branded items as a personalized gift for anyone that comes into contact with your brand. Gifting a tangible object is proven to be an effective marketing technique. (Of course, if you decide to give away the same old pens, the "like" factor may not be as high.)
ASI asked 2,000 people: "When you receive a promotional product, how do you feel about the company that gave it to you?" The most common answers included:
Happy
Appreciative
Grateful
Good
These answers are surprising to a lot of people. Often, marketers forget that promotional products make a big impression on the people who receive them. Giving out an effective promotional item helps to shape the recipient's perception of your brand, so make sure what you give them makes them feel good!
4. The right promotional products require planning
Just like any other aspect of marketing, ordering the right promotional products for your company requires planning.
Many marketers call me several days before thier event to order items, only to be disappointed when the pieces they want aren't in stock or have a long production schedule that won't work for their deadline. People are constantly surprised when the item they want isn't available within their specified timeframe.
Here are some tips for getting a great promotional item every time you order:
Plan far in advance of your event to account for production and shipping time, potential backorders, or other time-related issues.
Have several ideas for items you'd like in case one doesn't work out, and make yourself open to product suggestions.
Set aside time to perfect the design and work with a brand specialist to make sure the product is the best it can be for your company and your recipients.
Picking promotional items requires careful planning. Finding the right products may take some time, but working with a promotional specialist, like myself, will make it easier.
What do marketers find to be the most surprising aspect of promotional products? The unlimited options for creativity!