Measuring your marketing results is all about numbers—growing website traffic, increasing conversion rates, and so many other metrics. Seeing measurable results from inbound marketing can take time, but there are a few simple strategies you can implement today to boost your efforts. Here are four "quick wins" that will help you move the needle on your marketing results.
1. Re-purpose an existing piece of content
It's nearly impossible to create completely new content every single day, and you don't have to. Re-purpose existing content instead.
Promote previously written articles on social media.
Re-share something you've already posted, and be creative in your messaging. Your goal should be to reach a different audience than the first time around. If you're running social advertising, take this opportunity to put the article in front of your buyer personas on social platforms, which can grow web traffic and find new leads.
Update a well-performing piece of content.
Here at Delta, we update our list of the Promotional Product Trends to watch each year. If you have content that is outdated, simply refresh the old information, and keep the rest of the piece together. Updating an older piece of content is better than starting over every time, as search engines have already indexed the page.
Change the format of existing content.
Do you have PDFs of information that your company sends out to prospects or customers? How about brochures or slideshow presentations? Consider turning these existing resources into a blog post or robust, helpful web page instead. You'll be quickly and easily creating marketing content that search engines will be able to find and index, making it more likely to show up in a search result when a potential customer is searching for a solution.
2. Gate an existing piece of content
Whether you already have an eBook or have re-purposed existing content into a digital form, you now want to "gate" the information. Gated information requires website visitors to share their contact information via a form to access the eBook or tip sheet on the other side of the form.
To gate a piece of content, you will first create a landing page. Your landing page should be specific to the content a user is looking to access, and share some bullet points about the knowledge a user will gain from said resource.
Here's an example: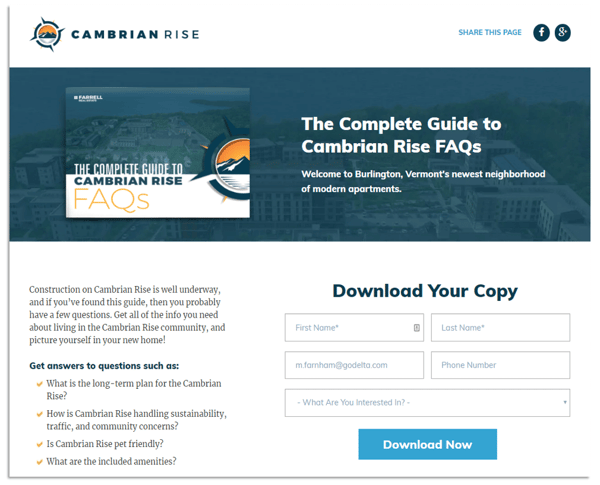 Require users to provide at least their name and email to access the content. Adding additional contact properties that a user has to submit to access the resource often results in fewer forms submitted, so be strategic about what information you really need at this point.
Don't forget to add a "thank you" message, to let a user know that they can now access the resource, and that you appreciate that they shared their contact information.
Here's an example (it might look vaguely familiar).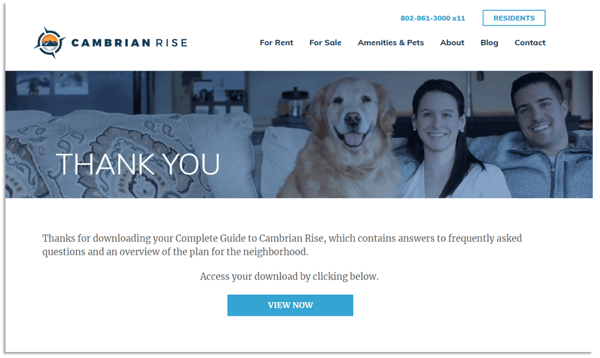 It's important to be transparent about gated content. Consider adding an opt-in checkbox, so the user submitting their contact info is aware and choosing to receive additional information or communication from your business.
3. Optimize main site pages for search engine traffic
Optimizing your entire website for search engines takes time, but prioritizing two or three main site pages is a great place to get some quick wins.
SEO can be overwhelming, as search engines update and change their algorithms regularly. While achieving "perfect SEO" is a moving target and more like a marketing unicorn than a realistic goal, there are some principles to creating a strong SEO backbone for your site that don't change.
Start with the issues that will have the biggest impact on your traffic and conversions.
Be sure your URLs, page titles, meta descriptions, and page content are all aligned with a strong focus keyword. It's shocking how often this key aspect of on-page SEO gets ignored during the website development process, so a quick audit never hurts.
Focus on the placement of your calls-to-action
Are they clear and visible? Do they stand out to website visitors? If you need a fresh set of eyes to get perspective, ask a friend or family member to peruse your site and fill out a form. Their honest feedback can help you find a better place for a CTA.
Work on internal link structure
If your services overview page says "Contact Us" or "Get in touch", include a link to the contact page. A good rule of thumb is to link to other pages when you use a page's focus keyword for the first time on the page.
4. Look for "low hanging" backlinks
The web is, actually, a web. The links that send users from one website to another are incredibly important to the overall strength and relevance of your website, so you want several backlinks to your main site from other websites.
What is a backlink? The short answer is, a link from another website to your website. You can get a more in-depth answer from Moz, the industry standard for SEO best practices.
Low-hanging backlinks are links you can claim easily on websites you have the access or authority to update. This could include websites where you have a good working relationship with the company running the site. Start with local directories where your business is listed, and add a link back to your site.
Places where you can find low hanging backlinks include:
Directories — Superpages, Manta, and local directories
Review sites —think Yelp, Angie's List, etc.
Your vendors' sites
Your partners' sites — check out Delta's listing on HubSpot's Partner page for an example
News sites — if your business sponsors an annual event, or achieved some local fame, be sure the news channel is correctly linking the article, blog post or social post back to your website
Events and Public Relations - find past events or notable mentions on other websites, and make sure your site is hyperlinked.
In addition to increasing the strength of your website for search engines, getting more backlinks also provides a better user experience. As a web visitor browses information on various sites, they can consistently refer back to your website, and trust your business.
Quick wins aren't immediate—but they are effective
We call these "quick wins" because you can implement these changes quickly. Though it may take some time before you notice significant results, these tactics are great for taking fast action that will have long-term benefits while you plan longer and more robust marketing campaigns.