I have a confession to make.
A few years ago, if you asked me about the value of promotional product packaging and design, I probably would have said it wasn't a good use of your budget. While there are cost-effective promotional products today that have integrated packaging, product packaging for higher-value items typically ramps up costs.
But today, we're seeing a shift in the way product packaging is perceived by consumers. With the influence of retail trends on promotional products, consumers--particularly millennials and Generation X--highly value promotional products from companies that resemble retail-brand packaged products.
Promotional Product Packaging Makes an Impact
Packaging is proven to have an influence on a customer's purchase decision because packaging informs buyers about the content of the product.
When we receive a promotional item that comes in an outstanding package, suddenly our perceived value of the product is so much greater. It starts to feel more like a gift that someone spent time carefully putting together, and the process of revealing the item inside becomes much more fun.
Here are 4 promotional product packaging designs I've come across that really nailed it!
1. Custom Sock Box Design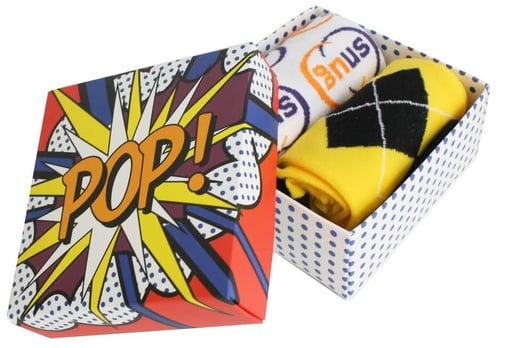 Have you heard the stereotype that socks are a boring gift? What if I told you that the global sock market has a higher growth rate than the overall apparel market in the past few years? That's right -- people love their socks. The popularity of socks has skyrocketed mainly due to changing fashion trends.
Custom socks have found their place in the promotional product industry as well. Companies are finding value in these apparel items that they can customize by color and pattern. This popular product exceeds expectations with the option of custom, full-color gift box. Work with a promotional product marketer to determine a compelling design that would best fit your company.
2. Kronies Wireless Earbuds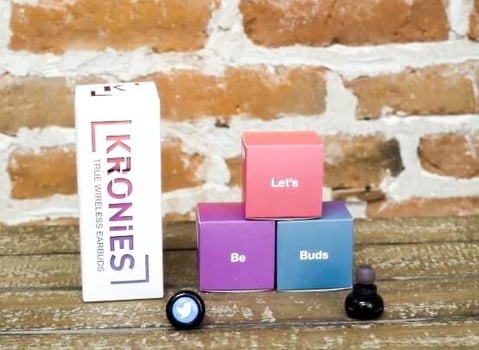 I'm always advocating for technology-related promotional products; they're relevant to the modern consumer's lifestyle and, most importantly, useful. Kronies Wireless Earbuds are my favorite technology promotional product of 2017; these innovative earbuds allow up to 33 feet of wireless range to listen to music from a mobile device or make a call with the built-in microphone that captures a crisp, clear sound. Your logo will appear prominently on the earbuds themselves, allowing for repeated impressions wherever your recipient ventures.
Let's get to the reason why Kronies are on this list: the unique packaging! The wireless earbuds come in a slick white box with copy that outlines the product name and function of the product inside--an essential aspect of product packaging that informs a consumer's purchasing decision.
The packaging fun doesn't stop there - inside the white box are three smaller, colorful boxes that contain the Kronies and a charging cord. The boxes communicate the clever message "Let's Be Buds" with a separate word on each small box. Brand your company with Kronies to delight your recipients with a relevant product that communicates its value with unique packaging design.
3. Pieladium Bluetooth Speaker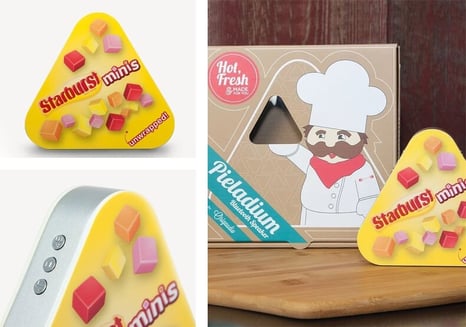 Here's a packaging design that is unparalleled in the world of promotional products - I've never seen anything quite like it! The Pieladium Bluetooth Speaker plays on a familiar concept: pizza in a box. This bluetooth speaker is triangular in shape (like a slice of pizza) and comes in a package that replicates a pizza take-out box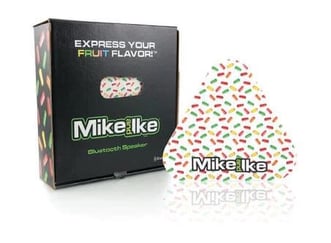 Both aspects of this promotional product, the speaker and the box, are able to be completely customized to your brand. With the double-sided imprinting option on the speaker, your company can implement a strategic design to communicate any message you desire.
The box itself offers a world of opportunities for branding as well. Imprint the lid, sides, and bottom of the box to include a company message or a phrase alluding to the promotional product inside.
4. Golf Kit Build-a-Box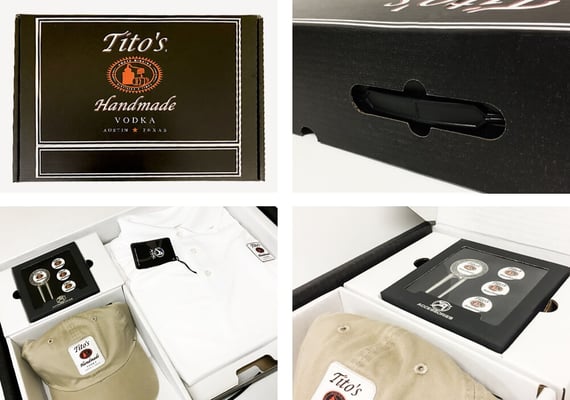 Golfing outings are popular corporate events, and this Golf Kit Build-a-Box provides the perfect promotional precedent to any corporate golf event.
I love the different elements of this promotional product packaging design. The large gift box containing the golf-related goodies comes imprinted with your logo on the top lid. My favorite part is the handle on the top which allows for easy carrying and transportation.
The focus of this article is packaging, but we can't ignore the variety of product options this gift set offers. Companies can choose which type of accessory, headwear piece, and apparel item is included in each box, hence the name "build-a-box."
For more information on ordering this product, contact me and include your event details!
The Proof is in the Packaging
Creative packaging is an added feature of promotional products that helps to form a meaningful relationship between the company and the recipient. However, this is not to say that extravagant packaging is a requirement for successful promotional giveaways.
All of the items on this list are high-value items that are appropriate for corporate gifts, company welcome packages, or employee incentives. Next time your brand is in need of promotions for a special occasion, consider one of the visionary promotional product packaging designs on this list to really resonate with your recipients.