My daughter came to stay recently, and she informed me that our old, uncomfortable mattress needed to go. She was right, of course—it was a really bad mattress.
So, it was time to go shopping. I hopped online and started researching mattresses. I had no idea how wide the world of online mattress sales was! I picked a few brands and started comparing.
The amount of information we as consumers can gather about companies online is incredible. I learned everything about these companies' products, value propositions, and cultures. I read the reviews and noted their return policies.
And the best part was, it was easy. Once I'd made my choice, buying was smooth and hassle-free. I had complete confidence that I'd made the right choice, because I easily found all the answers to my questions.
Consumers expect the B2C buying process to be easy.
Now, B2B buyers are expecting the same thing.
B2C companies have taken the friction out of the buying process. Now, B2B buyers are learning to expect the same frictionless process. They want answers to their questions NOW, and they're ready to do business.
Why are B2B companies so slow to adapt and change to meet the needs of their prospects? I believe they are overwhelmed with all of the marketing tactics, software subscriptions, and website updates they have been told they need.
Initiate conversations, not sales funnels
In the B2B world, we make it too hard for our potential customers to talk to us. Really? You're going to make me fill out a form and wait to (maybe) hear back from you? I can only get the answers to my questions on your time?
Conversational marketing is one of the best ways to decrease the friction in your buying process and give your prospects an easier way to get their questions answered.
Conversational marketing is a one-to-one approach to marketing that companies use to shorten their sales cycle, learn about their customers, and create a more human buying experience. It works by using targeted live chat and intelligent chatbots on your website to capture, qualify, and connect with your best leads.
Think chat on your B2B website sounds fluffy? Not even close. Here are three proven conversational marketing tactics B2B companies can use to make it easier for your customers to buy NOW.
1. Add chat to your high-intent pages
You don't need to add live chat or intelligent chatbots to every page on your website—just the ones that have the highest impact on conversions and sales.
What are the pages on your website where, if someone visits them, you know they're an active buyer? Is it your pricing page? Or maybe a page to request a consultation?
High-intent pages are often the ones where people have the most questions, because they're considering buying from you. Make it easy for them to get what they need with live chat or an intelligent chatbot that can answer their questions.
Here is a great example how DataBox uses chatbots on their pricing page.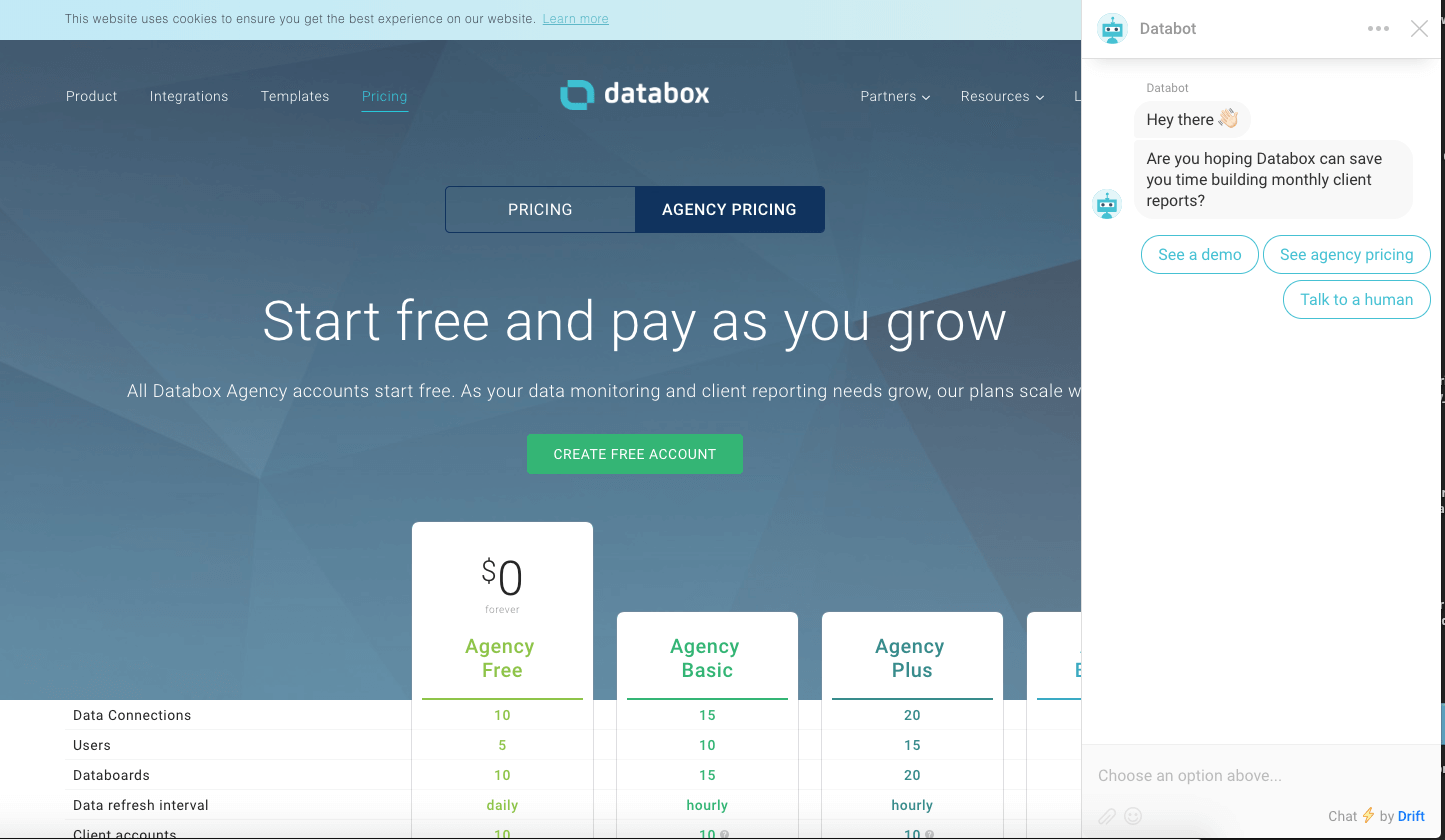 2. Replace the crappy "Contact Us" button
We all dread clicking the "Contact Us button," because we know it will inevitably lead us to an uninformative landing page with a form. We fill it out, then we wait, hoping someone will get back to us eventually.
Instead of having your "Contact Us" buttons open to a landing page with a form, have them open to a chat conversation.
At our agency, we've seen a 30% increase in sales-ready opportunities by making this one simple change. We changed our "Request a Quote" call-to-action from a form to a conversation because we know when people click that button they want information that will help them buy.
By starting a conversation with these prospects instead of making them wait for information, we capture them when they're in a buying mindset. We reduce the friction between the person being interested in our products and actually taking the next step in the buying process.
See how it works.
3. Create 24/7 chatbot playbooks
Conversational marketing turns your website into a real-time, 24/7 sales machine. But for most companies, it doesn't work to have someone answering chats at all hours of the day and night. That's where chatbots come in.
Intelligent chatbots are tools you set up ahead of time that can greet website visitors, answer questions, deliver relevant information, and even book time on your sales reps' calendars. You create playbooks that run your conversational marketing strategy even when you're not there.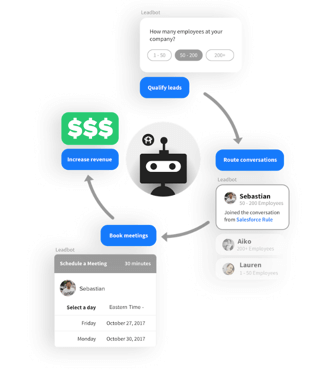 It may seem counterintuitive, but automated chatbots actually make the buying process more human, since you're allowing your prospects to easily get the answers they're looking for on their time.
We hear you, and we agree—a face-to-face or phone conversation still works best for a lot of people. Let a chatbot book those calls and meeting for you, even when you're not pounding the pavement searching for opportunities.
And, honestly, you'll be surprised how many of your website visitors will prefer to work with you through chat rather than picking up the phone or filling out a form.
Conclusion
Conversational marketing provides unlimited opportunity for removing the friction from your buying process. Start giving your B2B buyers the same level of customer experience they expect from a B2C company, and watch your opportunities grow.