I just got back from PPAI's 2017 Expo, and my, how things have changed in a year!
I remember this time last year so clearly - I came back to the office inundated with new information about products and trends to help my clients leverage promotional products to the best of their marketing abilities. Not much has changed in this respect (I still returned from PPAI with a wealth of promotional insight for the new year); however, I was able to take a hard look at the makeup of the promotional industry itself like I never had before. This industry reflection was essential when considering promotional trends for 2017.
It's important to mention that many of the promotional product trends of 2016 were ever-present at this year's gathering, like the demand for technology-related promotional products. The resurgence of this particular trend got me thinking – millennials themselves have cited technology & technological items as the most defining characteristic of their generation, according to Nielsen.
Here's where the industry reflection comes in, and my #1 takeaway from PPAI:
We need a younger representation of professionals in this industry. Most of the vendors and distributors are older, and not meeting the needs of millennial and Gen X clients by giving out cheap items that don't last long and items that millennials don't actually want.
My number 1 takeaway at the #PPAIExpo. It's time to pivot, to attract millennials to this creative industry.#asi #ppexpo

— Cathy Houston (@CathyHouston_) January 11, 2017
A great way to combat this is to pay attention to the trends in our industry that come directly from the mouths and buying patterns of our clients. This is why it's so important for marketers to know the promotional product trends of the upcoming year – so they can resonate with their prospects and clients.
An example of promo trends to pay attention to is the demand for retail brand products being used as promotional merchandise, a category of promotions that deeply resonate with younger generations, however; most Promotional Product Marketers have yet to shift towards promoting their brand alongside a well-known retail brand (more on this later).
One thing that hasn't changed this year is the bottom line: our clients are seeking basic help when it comes to ordering promotional products. Use these 2017 promotional product trends to complement your marketing strategy and resonate with the values of your customers.
Trend #1: Technology continues to be ever-growing and ever-evolving
I made this the #1 promo trend of 2017 because technology related items are the fastest-growing category of promotional products. It's not hard to know why this is happening – as I mentioned above, people are demanding technology-related items because they are so useful. In fact, the usefulness of a promotional product is the recipient's number one reason for keeping it, according to ASI. Giving away a useful technology product not only ensures that the recipient will be pleased with your brand – it also indicates that the product has a high potential for generating brand exposure.
Another more exacting reason for the resurgence of this trend is the evolving functionality of the cellphone. There are certain tech products that have the option to be branded that will make your clients' life and job easier and staying connected effortless.
An example of a tech item that is the result of an ever-growing industry are Kronies, or wireless earbuds. These wireless earbuds offer multiple solutions for recipients such as listening to music and making calls with the built-in microphone that makes for a crisp, clear sound. They are also relevant to big happenings in the tech industry, like the release of the iPhone 7 without the auxiliary port for traditional headphones.
Trend #2: Cheap is out - higher value is in
If your company uses cheap promotional products, here's something you might not want to hear – now more than ever, recipients are judging the promo items they receive, thus making a direct correlation to the company handing them out. Unsurprisingly, giving out cheap items says that your company didn't put much time and effort into gifts for their clients or prospects. Higher value and custom items have proven to be more effective for retaining quality leads.
In my experience, companies spending more for a lesser amount of high-quality promotional items, like 12 pack coolers, has proven more effective when attracting quality leads or delighting clients. Recipients want a quality item that they'll actually use, so cheap items just don't cut it. Join the hundreds of brands generating leads by utilizing higher value promotional products.
Trend #3: Clients need help with ROI at trade shows
I may heavily focus on the importance of promotional products for trade shows in my blog; however, I know that clients need help with their entire trade show – not just promos. This includes booth preparation, tablecloths, staff apparel, and printed marketing collateral. Once all of these trade show basics are figured out, it's time to focus on your promotional product marketing strategy.
I used to say that the price point for trade show giveaways was definitely $1 - $3, but as mentioned above, customers expect higher quality giveaways.
Don't get me wrong, handing out inexpensive useful items is important for generating brand recognition, but attracting qualified leads with higher priced gifts is even more important.
A great way to attract quality leads to your trade show booth is by utilizing your higher-quality items as part of your booth display, but first giving them a more inexpensive item, like a Smart Wallet, to start a conversation. You can then explain that in order to receive the higher quality item, like a power bank, the prospect must provide credible information to make for a quality lead, like name, company, and contact information.
Trend #4: Apparel is shifting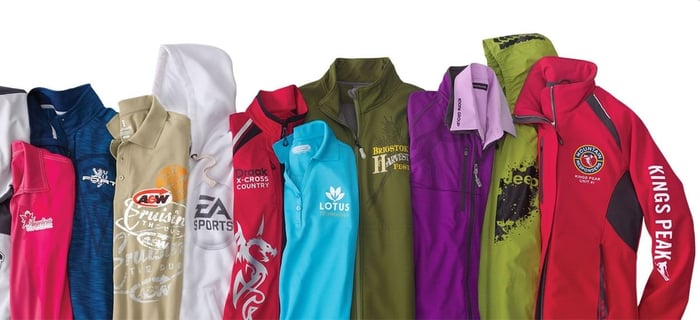 Everyone is familiar with traditional corporate apparel such as polos and dress shirts. Employee uniforms are key to maintaining brand consistency, but most employees are not going to wear company branded dress shirts anywhere but the workplace.
This is why giving employees and clients fun apparel that they'll want to wear outside of the office is a promotional marketing trend of 2017. The goal is to have recipients of your logoed apparel want to wear your branded clothing based on their lifestyle – not work wear only. This can be done by incorporating a cool graphic onto an apparel item like t-shirts or pullovers instead of just your company's logo. Here are some other trends influencing the world of logo apparel and what recipients are looking for:
Simple and generic clothing items just aren't going to cut it anymore. Recipients want the best of the best: this means smart materials for performance logo apparel, like moisture absorbing clothing items with odor control.
Promotional Product Marketers need to make a shift towards promoting their brand alongside retail brands, and this holds true when it comes to promotional apparel. Millennials are looking for big brands when it comes to promotional clothing to incorporate in their everyday lifestyle. Don't just go for a cheap t-shirt with sub par material, go for a Hanes t-shirt made with recycled material.
In theme with the above point, people want clothing that fits into their lifestyle. Otherwise, they won't wear it outside of work. Give them quality items with a unique design that they'll appreciate, like sweatshirts and sweatpants.
Trend #5: Retail inspired designs/brands
Companies looking for promos are increasingly requesting name brand products to advertise their business. One example we've covered is Fjallraven backpacks – an outdoor supplies and apparel brand that is widely admired. Millennials and Gen Xers are especially attracted to these types of promotional items because they are recognizable brands that have immense value.
Another category of promos that is moving into the retail-inspired realm is drinkware. SIGG, CamelBak, Contigo, Nalgene, Tervis, Avex, and Yeti are just a few retail drinkware brands that are creating a buzz in the promo industry. To be honest, I have never seen such an explosion of drinkware products in the 18 years I have been in the industry. There is just about every size, style, shape, color and price point to meet everyone's needs.
Moving Forward
These promotional product trends may seem like a bit of an information overload, but don't worry; just because new trends are emerging doesn't mean you have to do a complete overhaul of all of your company's promotional products.
Start by looking for opportunities to incorporate these types of promos into your marketing calendar throughout the year of 2017. Have a trade show coming up? Instead of going with your old promos, try using higher value items to attract visitors to your booth.
There will be plenty opportunities throughout your year to incorporate these hot promo trends - it all comes down to planning in advance to craft the perfect product.