I recently attended the PPAI Expo, North America's largest international promotional products trade show, and wow! What a fantastic event. With nearly 4,000 suppliers and tens of thousands of products to view over three days, I returned from the show inspired and eager to implement some of the exciting innovations I experienced for my customers.
I saw thousands of new and unique promotional products at the PPAI Expo. With product advancements emerging all the time, the promo industry is constantly changing. The types of promotional products, branded merchandise and custom logo apparel that companies seek out are reflections on today's consumer trends. For any business looking to promote its brand with promo items, 2016 will be a year of original ideas that truly make an impact.
Here are the 5 biggest promotional product trends of 2016:
Trend #1: Cheap promo products are out.
In the past, companies would order large quantities of cheap promo products simply to give away something with their logo on it. But businesses are learning that the products they give out to customers, prospects and employees are a direct reflection on the quality of their brand.
In my experience and from what I gathered at the PPAI Expo, companies are willing to spend more on high-end promo products that leave people with a great impression of their brand, rather than some cheap pens that will be broken or thrown away within a week. Cheap promo products evoke a cheap brand. [Tweet this ] It's nearly impossible to extricate your audience's perception of your company from the merchandise they receive.
In 2016, companies are increasing their budgets for promotional items in order to create products that are useful, high-quality, and long-lasting.
Trend #2: Environmentally friendly promo products make people feel good about your company.
The state of the environment continues to be a hot topic in 2016, and people are trying harder than ever to live green. In a 2015 survey, nearly 90% of respondents said they do what they can to live an environmentally friendly lifestyle.
How does that influence the promotional products that businesses are choosing in 2016? Sustainable and eco-friendly products help express your company's values and send the message that you're environmentally conscious. According to the Advertising Specialties Institute, 42% of people had a more favorable opinion of an advertiser if the promotional product they received was environmentally friendly. [Tweet This]
I predict that in 2016, companies will be rethinking the everyday branded products they order in favor of more sustainable options. Recycled notebooks, bamboo pens, and biodegradable cotton tote bags will be more popular than ever as companies strive to make a positive impact on their customers—and on the environment.
Trend #3: It's all about packaging and presentation.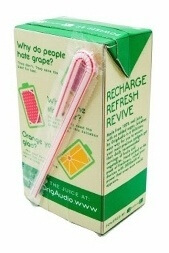 When it comes to delighting customers with branded merchandise and promotional products, it's not enough today to simply hand it out. Presentation is almost as important as the products themselves [Tweet this].
In a world where anyone can go online and order products with the click of a button, custom packaging makes an enormous difference. Taking the time to present your items in a unique way also conveys deeper information about your company. Is the packaging fun? Professional? Polished? Whimsical? The presentation should reflect the tone of your company.
One of my favorite examples of this is the Juicebox, a mobile power bank with completely customizable packaging that can be personalized to fit perfectly with any company's brand standards.
The trend of custom packaging and presentation for promotional products will continue full force in 2016 as companies get more creative with the way customers experience their brand.
Trend #4: Technology promotional products are making a big impact.
Usefulness has always been one of the keys to a successful promotional product, and technology promotional products are some of the most useful of all. Take the mobile power bank for example. 87% of consumers state they would keep a promotional power bank because it's useful, and 60% said they would do business with an advertiser who gave them a power bank.
New tech accessories are constantly being invented. At the PPAI Expo I met with the creator of OrigAudio, a line of innovative portable audio equipment that is transforming the way marketers think about technology promotional products. This trend will only get bigger as tech products become more budget-friendly for businesses.
Trend #5: Promo products are important for overall marketing strategy.
Gone are the days when a last-minute promo product makes an effective trade show giveaway!
In 2016, businesses understand that promo products and branded merchandise should be part of their overall marketing strategy, not an afterthought. [Tweet this] Companies are incorporating these products into their lead generation, sales cycles and recruitment strategies to great success.
I have a large client in the technology industry that attends several trade shows per year. Like any company, they hand out several products at trade shows to attract people to their booth. But instead of giving out the same $1 or $2 item to everyone, they have developed a tiered promo product strategy.
It works like this: anyone can take one of their pens or Smart Wallets from the table. But in order to receive one of their branded collapsible coolers, a qualified prospect will need to provide their contact information. That way the technology company can ensure that, not only are they generating leads, but they're only giving away their "big ticket" items to fully qualified prospects.
Creating a truly effective promotional product strategy takes time and resources, but it works! This is an area of marketing that many companies will be focusing on in 2016.
I'm so thankful that I had the opportunity to attend the PPAI Expo this year. I'm looking forward to helping companies take action on this year's biggest promo trends and making an impact on their business!