Healthcare promotional items can be pretty powerful. From celebrating frontline workers to coming up with creative ways to keep patients and employees safe, the right branded swag items can activate your brand in a memorable way. The key is to stand out and go beyond cheap promotional products for healthcare that everyone else is using.
Remember, whether you're selecting items to appreciate employees, attract customers, or generate referrals, the quality of your swag and promotional items represents the quality of your organization. Intentional swag for your health or wellness company will be much more meaningful, effective, and well, useful for your brand.
What are the most useful promotional products for healthcare in 2020?
So what are the most useful healthcare items to boost office morale, while encouraging a healthy way of life? Here are our top picks:
1. Osaka Bento Lunch Box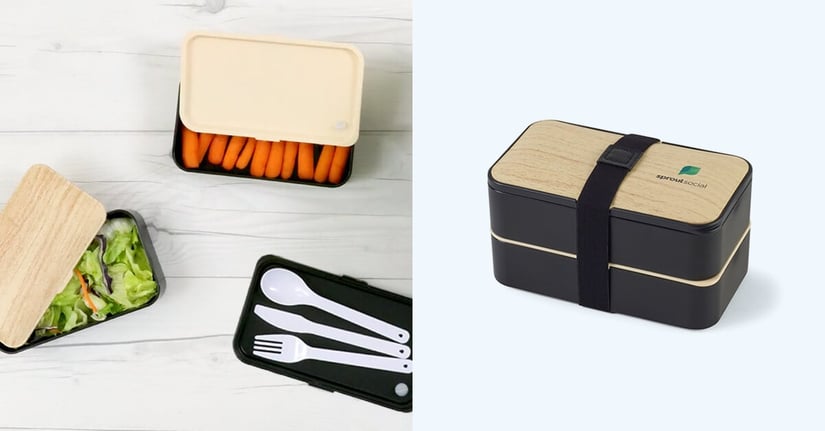 This bento box encourages healthy eating habits along with sustainability. Healthcare workers will love packing their lunch in this dividable box made for portion control. Plus, with the included utensil set, they don't have to spend a ton of time making sure they've packed everything for lunch before they head out the door. Designed for convenience, the bento box stacks together into one, and is secured with an outerband. And, it's microwave safe! Each compartment lid includes ventilation ports for easy reheating. The box itself is made from BPA-free plastic materials and offers a sustainable alternative to single use plastic and paper products. Include a full color logo imprint on the lid to maximize brand awareness.
2. Spirit Lunch Cooler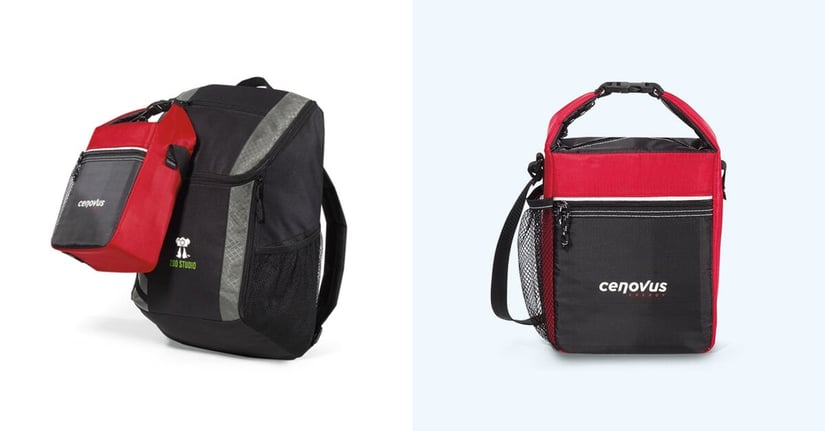 Another useful promotional product for healthcare is a high quality, branded lunch box. This black cooler is our top pick, made with 210 denier polyester and thermal lining. It also features a zippered main compartment, front zippered pocket, and side mesh water bottle pocket. Healthcare workers can easily secure it to another bag while on the go with the included attachment buckle and top grab handle. Plus, a removable ID tag will help workers keep track of which lunchbox is theirs. A bold embroidery or heat transferred logo will active your brand wherever your healthcare workers go.
3. Stainless Double Wall Tumbler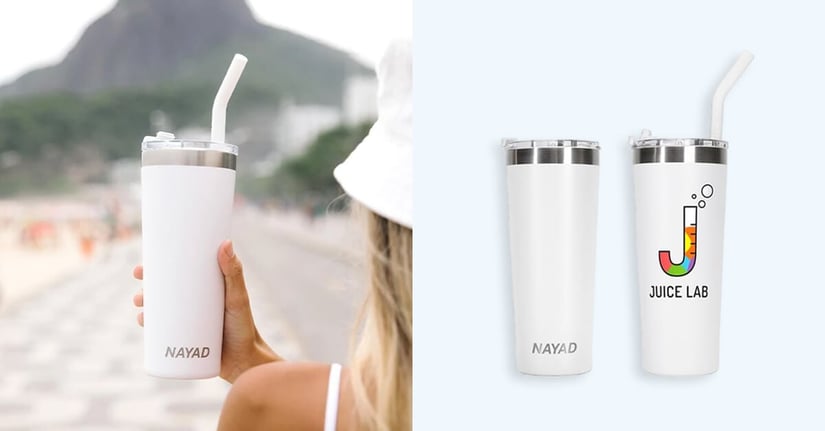 Healthcare workers are busy people. They don't have time to constantly run to the water fountain for a drink. This stainless steel construction, double-wall insulated tumbler is a convenient way to keep everyone on your team hydrated and happy. It keeps beverages cold for 12 hours and hot for seven. Plus, it comes with a metal straw to make drinking convenient and enjoyable. Clean the straw with the included cleaning brush, and for a splash of color add the included silicone straw sleeve. Choose between four bold colors, include a branded logo, and even include added personalization like an employee's name, for a high-quality gift healthcare workers will love.
4. Hercules 75 oz Water Jug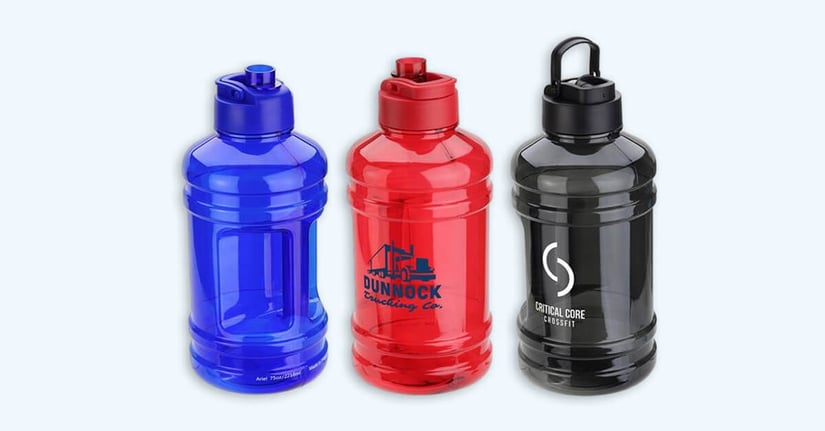 If you're looking for ideas to give out to patients, or at events, this 75-ounce water jug is a great option. Show recipients that you care about their health, and prioritize wellness by encouraging them to stay hydrated. This bottle holds 75-ounces of water, has a built-in carrying handle, flip-top screw-on lid, and wide-mouth opening for easy cleaning. Recipients will love that they can stay hydrated all day long, without ever having to worry about refilling.
5. Beverly Mega Power Bank
Healthcare workers are constantly on-the-go. Typically, they're not desk people who have time to wait for a device to charge. That's why we love this mega power bank. It keeps workers powered on at all times, without tying them down. It can charge two devices simultaneously, and can even charge a tablet. Plus, with a full-color imprint, you can go big and bold with branding.
6. Refillable Hand Sanitizer Stylus Pen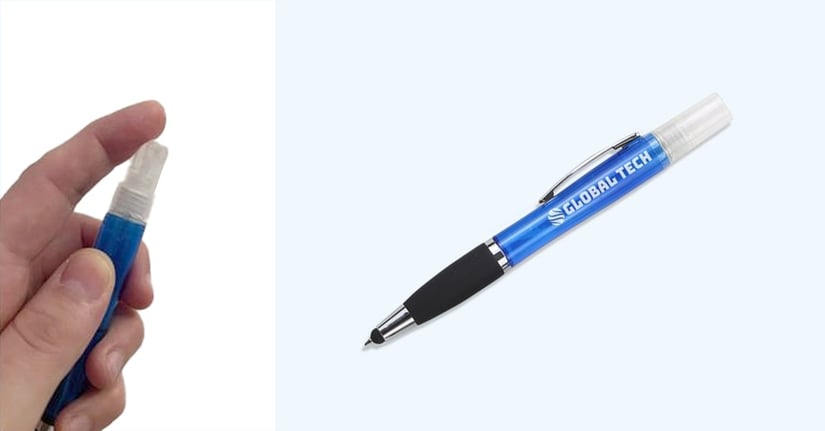 Germs spread easily in healthcare facilities. Protecting employees and patients with your branded swag is one way to show that your organization truly cares. This hand sanitizer pen allows anyone who uses it to have a spritz of hand sanitizer on hand whenever they might need it. It's perfect for nurses or doctors who are constantly checking on sick patients. The sanitizer, which is 75% Ethyl Alcohol and kills 99 percent of germ when used correctly, can be refilled which expands its lifetime. The pen has a black ABS plastic grip for writing comfort. It comes in a variety of different colors and includes a pad print logo imprint.
7. Syringe Pen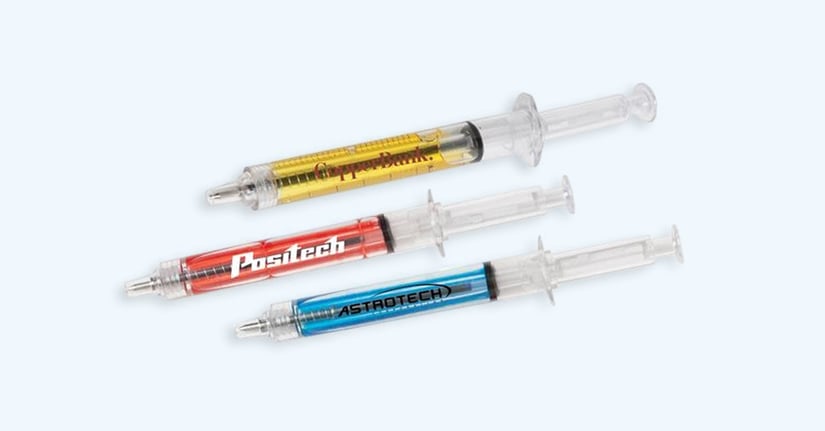 Even more fun is this promotional pen, made to look like a syringe! This is a fun item to keep at front desks in doctor's offices, hospitals, or clinics. Patients will love the unique and creative design of this eye-catching pen. Add a company name and logo, and your organization will surely be remembered. At a reasonable price, these are great pens to bring along to tradeshow or promotional events too!
8. Retractable Badge Reel with Bulldog Clip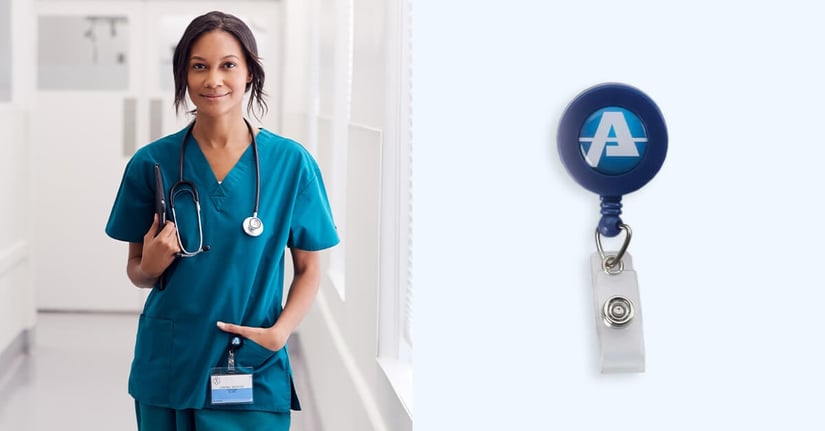 Professionals in the healthcare industry usually need some sort of identification on hand. This retractable badge reel is a fun way to encourage employees to always keep their IDs close by. It features a 360-degree swiveling bulldog clip on the backside and a 30-inch pull cord. With a full-color dome imprint, your organization's name will look bold no matter who's wearing it. These come at a low price and are a great item to order in bulk and bring to your next tradeshow or event. Choose from black, purple, red, white, green, or royal.
9. Stress Buster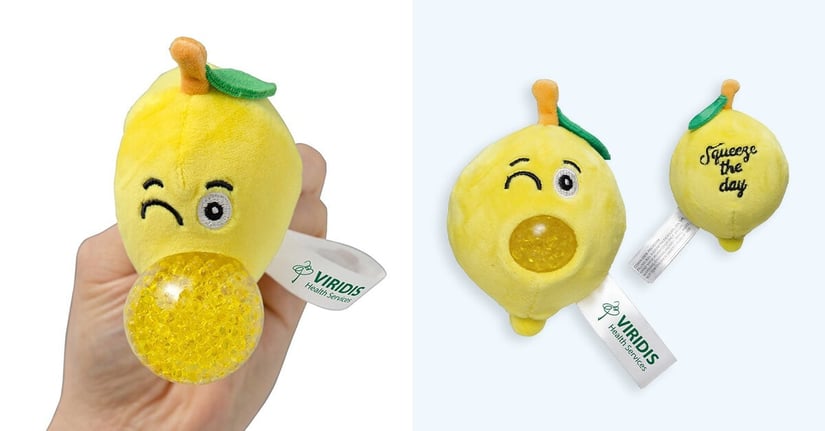 Stress is an inevitable part of the workplace. And, in healthcare environments, situations can get tense. This Squeeze the Day Stress Buster is a fun take on a traditional stress ball. It features a gel-bead filled rubber ball covered with a plush lemon emoji design. It's a great giveaway idea for delivering a message of empowerment and encouragement to employees, or patients alike while providing a fun way to ease tension. Your organization's logo is included on the stress ball's tag.
10. 3/4" Polyester Mask Keeper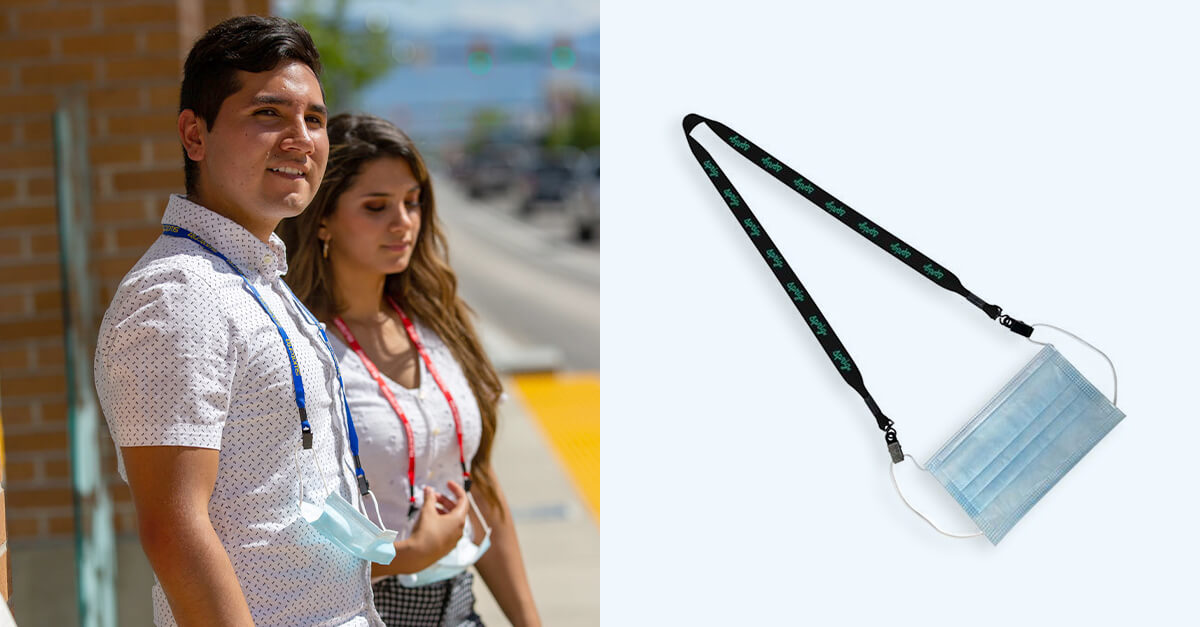 Masks are still very commonplace in the healthcare industry. Patients and workers, generally speaking, all need to mask up when in a clinical setting. This handy gadget, known as the "mask keeper" is a convenient way to make sure that everyone has their masks at all times. The 16-inch long polyester cord has dual plastic bulldog clips to keep your mask safe, but out of the way, when it's not being worn. Wear it around your neck, and never forget your mask again! It comes in six fun colors that can be personalized with an organizational logo, or message of your choice.
11. Plush Hot/Cold Eye Mask
Here's a fun giveaway idea for healthcare professionals, specifically for wellness spas. Give a gift of relaxation with this ultra-soft, plush hot/cold eye mask. Innovative "pearl bead" technology delivers warm and cold therapy to the face without any mess. Just pop it into a microwave for warm therapy, or freeze for cold therapy. Reuse it over and over again, just wipe it clean with mild soap and water. And with a bold brand imprint on the front, recipients will always know who to thank when they use it.
12. Cadence Deep Tissue Massage Gun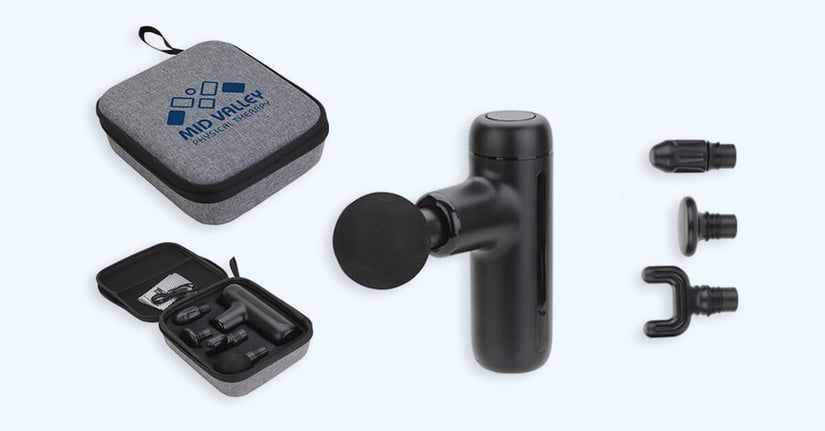 Here's another fun wellness-themed gift. A branded massage gun! This massager has three-speed options and four interchangeable massage heads. It's perfect to target joints, deep tissue, neck, or shoulders. It's a great idea to boost workplace morale, and show employees you care about their wellbeing and overall mental health. Brand the hard zipper case with your organization's logo for a truly unique promotional product idea.
13. Essential Insulated 15" Computer Backpack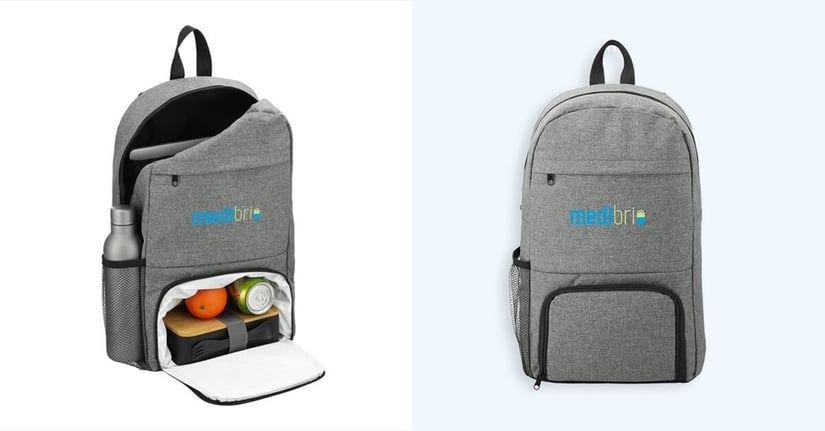 If you're looking for a more premium gift option for healthcare employees, this insulated computer backpack is great for those on the go. It offers a large zippered main compartment large enough for everyday essentials, plus a dedicated padded laptop sleeve for serious laptop protection. Fit your branded bento box or reusable lunch container right inside the included insulated compartment. Employees will always have a spot for their water bottle too, with the handy side pocket, and small accessories can be organized in the front zipper pocket. It comes in a professional Graphite color and includes a digital print transfer logo on the front pouch.
14. Branded Knit Vest
Branded apparel is a company favorite, especially for healthcare professionals. Have your whole team representing your organization with this lightweight and breathable knit vest. It's snag-resistant and durable, with extra features like an interior media pocket and exit port. It comes in both men's and women's styles and will have employees looking sharp wherever they go.
15. Purity Wireless Charger with UV-C Chamber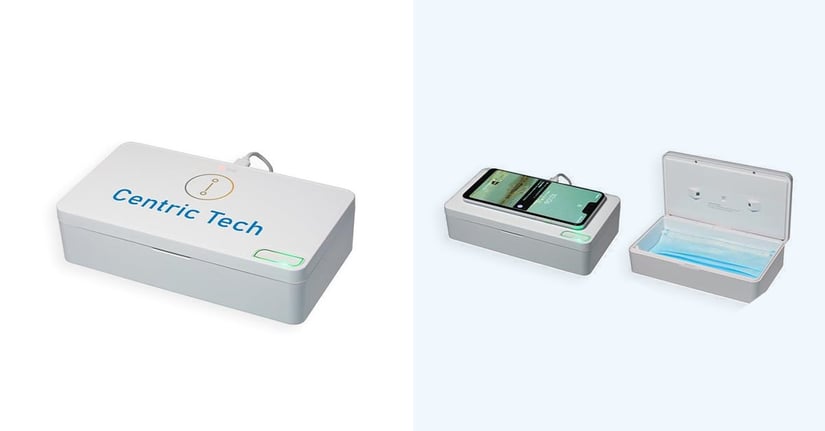 UV sanitizing devices are a unique and trendy way to keep personal items sanitized. People in the healthcare industry will love how versatile and handy this wireless charger cleaning case combo is. It features two different cleaning modes: a quick 90 sec clean or a deep 5 minute clean. Fit small personal items like keys or wallets inside and never worry about germs again. The box also doubles as a wireless charger with a built-in 5W wireless charging pad in the attached lid. With a digital imprint on the lid, everyone will have your brand to thank for this extremely useful gift.
Leave an Impression with Health Care Promotional Products
Whether you're looking for ideas to show appreciation to workers or just looking to activate your brand, there's a ton of unique promotional products for health care organizations. The key is to choose products that highlight your mission and support your values. Promotional products that promote healthy living while keeping recipients happy and healthy are an added bonus.