Watch out designer handbags - there's a new fashion accessory that's trending. The custom water bottle.
As sustainability dominates today's cultural values, the water bottle has been elevated from a generic drinking tool to a must-have status symbol. Paired with single-use plastic bans popping up around the world, the demand for reusable water bottles has skyrocketed. From 2018-2019, 105 million water bottles were sold in the U.S. Now, business consulting firm Grand View Research predicts the global reusable water bottle market to reach $10.6 billion by 2025.
So it's clear water bottles are a hot item. But they are also a pretty powerful promotional tool too. According to the Advertising Speciality Institute's (ASI) Global Advertising Specialities Impressions Study of 2020, custom water bottles can generate 1,400 impressions throughout their lifetime. That means on average it costs just half a penny to get one person to see your brand once. That's proof of a pretty impactful product!
So what should you look for when selecting a custom water bottle for your brand? With hundreds of styles, materials, and prices to choose from, it can get tricky. To make the process easier, I've compiled a list of ten custom water bottle ideas to spark inspiration, and the most frequent questions asked about them.
Frequently Asked Questions:
Q: Why do people use and want custom water bottles?
A: Consumers are looking for their favorite brands and companies to align with their values. And one of those trending values is sustainability. According to ASI's survey, 46% of consumers have a more favorable opinion of an advertiser if the promo product they receive is environmentally friendly.
The majority of consumers purchasing reusable water bottles are doing so to reduce the amount of plastic they use, and to stay true to being sustainable. Other reasons people may use water bottles include the desire to save money and spend less on disposable water bottles and increasing their water intake, as health campaigns and experts stress more and more the importance of staying hydrated.
Q: What types of water bottles are there?
A: There are three main materials that water bottles are most commonly made out of: plastic, stainless steel, and aluminum. Plastic water bottles are cost-effective for large giveaway events like a college accepted student's day, while stainless steel water bottles are more expensive and serve as great employee gifts. Their big claim to fame is their ability to keep water cold for long periods of time. Aluminum water bottles are often used as a substitute for stainless steel, as it is more cost-effective and has the same look and feel as stainless steel.
Not as common, but a rising trend is glass water bottles. These types of bottles offer a stylish and classy look and can be a great touch for the more upscale and fancy events or occasions. Plus, glass is known to help keep water taste cool and fresh.
Q: What features and aesthetics are available?
A: The water bottle industry has grown significantly in recent years. Now, the features seem to be endless. One of the biggest trends we've seen in the drinkware category is the movement to vacuum insulated and copper vacuum insulated bottles. This is the technology incorporated in stainless steel water bottles, where a layer of space exists between the two layers of the bottle that is airtight and sealed. This helps keep beverages cold or hot longer. Copper insulated, is just one step up in effectiveness, where a copper lining helps distribute the heat/cold more evenly across the entire surface of the bottle. This helps retain temperature even longer.
When it comes to plastic, almost all branded water bottles are now BPA free. There's also a lot of freedom in color selection and style. Choose between screw-on tops, squeezable bottles with push-pull drinking spouts, built-in infusers, or even collapsible bottles.
Finally, there are also lots of retail brands available as custom water bottles. If you're looking for a more high-end and premium option, consider browsing the selections of S'well or Contigo. These make great employee or client gifts.
Q: How will my logo be featured?
A: A great perk of using water bottles as a promotional product is the free space available to broadcast your brand. Most water bottles feature ample space for a logo imprint.
Q: What is the production time?
A: Water bottles have a pretty standard production time, just like any other promotional product. Allow 7 – 12 working days for production time.
Now, let's kick off your search with 10 inspiring custom water bottle ideas.
1. Custom Squeezable Water Bottle 24 oz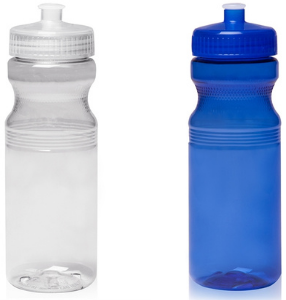 When it comes to event giveaways or outdoor activities, you'll want something basic and cost-effective like this 24-ounce poly-clear plastic bottle. Made with PET safe plastic, an alternative to polycarbonate, it aligns with the sustainability trend.
It features a contoured shape, which will fit most vehicle drink, holders. Plus, it's a great option for kids or youth events, as it features a leak-resistant push-pull lid. Make the translucent bottle your own by adding your logo to its high gloss quality backdrop. The bottle comes in blue or clear, and a choice of multiple different colors for your imprint.
2. Promotional Gripper Bottle 30 oz

For your more health-conscious clients, or fitness fanatics, this 30-ounce Poly-Clear Gripper Bottle is a great choice. It comes complete with ounce markings for those trying to keep track of how much water they're drinking. With a leak-resistant super sipper lid, it's ideal for those at the gym, working out, or just on-the-go.
Also made with PET material and BPA free, you can rest assured you're investing in a quality bottle. It comes in a variety of fun translucent colors like charcoal, lime, blue, pink, red, or clear. Make it your own with a silk-screen logo imprint front and center to maximize brand awareness.
3. Custom Infuser Bottle 27 oz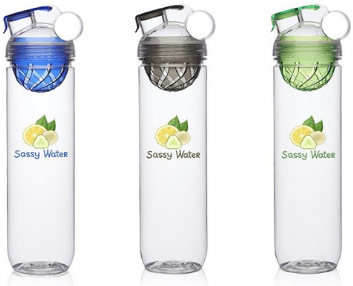 A common trend we've seen among the health-conscious is fruit infused water. Many people don't like the taste of water alone and are looking for creative ways to still get their proper daily intake. These types of clients would appreciate an Infuser bottle like this one.
Fruit-infused water bottles offer a variety of health benefits including the following:
Reduce appetite and promote weight loss
Reduce stress
Stimulates brain function, alertness, and focus
Cleanse the body of toxins and bacteria
Overall adds flavor to water without added sugars
The Gridiron Infuser Water Bottle is 27 ounces and contains an infuser basket to which you can easily add fruit or herbs to. It's made with impact and shatter-resistant Tritan plastic that's BPA free. The lid can easily be screwed on and has a spill-resistant flip-top design and a large opening for easy cleaning.

It's versatile too. Easily remove the infuser, and it transforms into a regular sports bottle. Choose from a variety of different infuser basket colors like blue, lime green, or smoke. Customize it with your brand name or logo with a one or two color imprint.
4. Branded Aluminum Metallic Sports Bottle 25 oz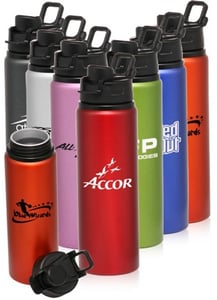 Another great and more durable option for fitness enthusiasts and that on-the-go is this aluminum metallic sports bottle. It can hold 25-ounces of water and measures 10 x 2.75 inches. Made with aluminum, this bottle is sturdy enough to survive being dropped or kicked, making it great for bikers or sports players. Plus, it comes with a black screw-on snap-to-lock lid with a built-in handle that can easily be hooked onto a backpack.
This bottle comes in silver, blue, green, or red. Make it your own with either a laser engraving or screen printed logo.
5. Customized Kangaroo Glass Bottle in Neoprene Pouch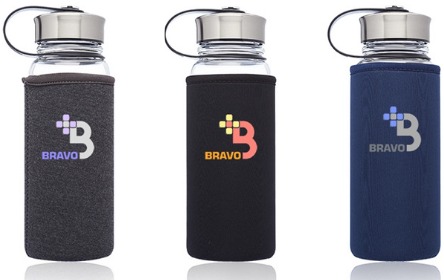 If you're looking for a high-class option consider this 25-ounce Kangaroo Glass Bottle and Neoprene Pouch combo. The glass material will help keep liquids taste-neutral, and the neoprene sleeve will help to combat condensation. It features a black plastic lid with a stainless steel wrap and a plastic handle made for easy carrying. Plus, you can choose between black, grey, or navy blue for a modern and sleek look. Brand your logo on the front, back, or both sides of the sleeve with a laser engraving or screen imprint.
6. Promotional H2go Canter 33.8 oz

What I love about the H2go Canter is its size. Storing 33.8 ounces of water, clients, prospects or employees can rest assured they'll have enough water packed for their day. With a large opening, it's also great for protein shakes or iced drinks. It's made with durable and BPA-free Eastman Tritan copolyester and has a threaded lid with a stainless steel accent. It also includes a braided coated wire carrying loop perfect for those on-the-go.
Choose between a variety of different translucent colors for the bottle and a spot color imprint for your logo.
7. Branded 20 oz Jeita Vacuum Water Bottle with Strap
More than just a water bottle, the Jeita Vacuum Insulated bottle can be used for both cold and hot beverages. The double-wall vacuum insulation design will keep beverages at optimal temperatures. It's 20-ounces and made of stainless steel which can be purchased in a variety of different colors. Plus, it also has a gray carrying strap that can easily hook onto backpacks or belt loops. The lid is a spill-proof, screw-on cap.
Choose between army green, black, charcoal, fern green or navy blue. The bottle body, bottom, and lid will all have the same matching color. Your logo can be printed or laser engraved in the center of the bottle.
8. Customized 20 oz Magnetic Lid Stainless Steel Bottle

If you're looking to stray away from traditional bottles and get a bit more sophisticated, this 20-ounce Allure Magnetic Lid Stainless Steel Bottle is for you. The magnetic lid can stick onto the bottle so it will never be lost. Plus, it's made with double-wall insulated stainless steel which will keep beverages hot or cold for up to 12 hours.
It comes in four bold colors: black, blue, white, or red. Company logos, emblems, or messages contrast well on the stainless steel material. You have quite a few options when it comes to how you want to imprint your logo. Choose between a digital wrap, a laser engraving, or a screen wrap.
9. Customized 24 oz Contigo Jackson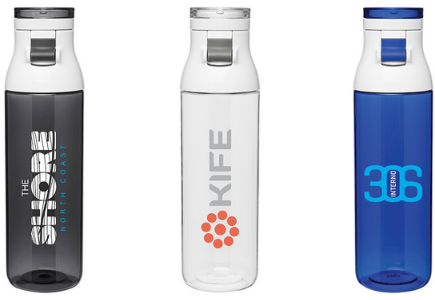 If you're looking for a high-end gift for your employees or clients, consider giving this brand name 24-ounce Contigo Jackson. It's a fashionable bottle made out of Eastman Tritan Copolyester. A flip-top lid that allows for easy one-handed drinking with just a push of a button and a convenient carrying loop makes it perfect for travel. It has a wide-mouth opening and a split-body design which allows for easy cleaning and using ice cubes.
You can make this popular bottle your own, by choosing between a one-sided, two-sided, or wrapped imprint. You can also add a bit more pop with a Glitz print option.
10. Branded 17-oz Copper Vacuum Insulated Bottle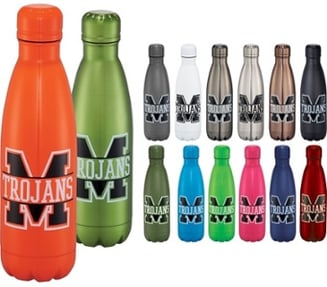 For a truly premium option, we recommend going with this 17-ounce Copper Vacuum Insulated Bottle. It's made with double wall 18/8 grade stainless steel with vacuum insulation. Plus, an inner wall plated with copper offers the best insulating technology. It will keep your drinks hot for 12 hours, and cold for 48 hours.
Made in a variety of different colors, you can make a truly unique look for your brand. Choose between two different customized looks. For a bolder statement, consider the color print silkscreen option for your logo. Or you can choose to laser engrave your logo for a more subtle, tone-on-tone decoration.
Summing It All Up
So there you have it. Ten different custom water bottle ideas to inspire your next promotional product campaign. With so many different features, brands, and designs, it's often hard to narrow down exactly what might work for your ideal buyer personas. That's why our team of brand activation experts are here to help you navigate through the options and choose the custom water bottle most closely aligned with your brand.