Editor's Note: This blog was originally published in April of 2015 and has since been updated with new products to refresh your brand.
One of the best reactions you can get from a consumer receiving your promotional product is "This is really cool!" Continuously handing out pens to the same customers doesn't incorporate the "wow" factor that your brand needs to succeed.
You need the promotional products you select to be eye-catching and interesting.
Which promotional product is more likely to capture your attention?
Think about it: if you're at a trade show handing out pens as well as displaying cool promotional products like the Rock-It 3.0, potential clients are more likely to come up to your booth to solely to get the interesting item. You are then exposing potential clients to your brand as well as making a favorable impression.
Review my list of the following cool promotional products to attract consumers to your brand.
1. Branded 17 oz Color Changing Stadium Cup
Having a company picnic or office get together? This creative promotional product will spice up your event! The branded 17 oz Color Changing Stadium Cup changes colors when filled with ice-cold liquids. You can pick from multiple changing colors like blue, orange, purple, pink, and red. This product allows for multiple color imprint, so make sure to pick the right color changing cup to go with your logo's color scheme. Check out the Color Changing Stadium Cup in action below!
2. SOS Power Bank
This promotional product provides a unique twist on a powerful promotional product: introducing the SOS power bank. This power bank is perfect for on-the-go users with its silicone strap that allows it to be attached on purses or bags. Despite the funky shape of this product, it can be personalized to your brand by imprinting your logo on the integrated 2-in-1 adapter.
3. Promotional Zipper Earbuds
Add a twist to the typical earbud giveaways with the promotional Zipper Earbuds. These cool promotional products have a unique design unlike any other promo earbuds. The 42 inch long cord comes in orange, aqua blue, lime, and purple. Imprint your logo in a choice from 17 colors on the circular zipper to attract attention.
4. Personalized 4-in-1 Charging Buddy
This promotional device is useful for anyone in the digital age! The personalized 4-in-1 Charging Buddy plugs in to virtually any USB port and can charge devices like smartphones and music players with its included two micro USB connectors and one mini USB connector. I think this product is especially cool because of the customization options available. You can order your device in one color, black or white, or mix and match wire colors shown above. What a wonderful opportunity to personalize a product and make is closer to your brand. Your logo can be imprinted in multiple colors.
5. Customized DigiTek Microfiber Decal
Give consumers a quick and easy way to clean their smartphone screen while exposing your brand with customized DigiTek Microfiber Decal. These cool promotional products stick to your phone or tablet with a sticky decal on one side and microfiber on the other. These small products are often 2"x2" (a perfect size for a logo) but can be customized to fit a variety of shapes including squares, triangles, hearts, ovals, and more specific shapes like a cloud, shirt, or heart.
6. Logo Clarity Drop Tumbler
Shake up your promotional drinkware with this cool shaped tumbler. The logo Clarity Drop Tumbler is made of stainless steel and has a rounded bottom shaped like a tear drop, which is unique and uncommon compared to other promotional tumblers on the market. Designed to fit in Keurigs and most other coffee makers, this mug would be perfect for your office. Imprint your logo on blue, red, green, or gray stainless steel in a variety of colors.
7. Branded Carabiner Torch Light
Add a twist to a regular promotional product by utilizing the branded Carabiner Torch Light to promote your company. This sturdy carabiner features an extra bright white LED light that attaches to belts, backpacks, bags, and other equipment. I like the idea of a fitness company or outdoor gear store using these products as promotional items. A bonus of this product is that neon colors are extremely popular and attractive to consumers, according to Slate.com. Imprint your logo in a color of your choice.
8. Personalized Rave Light Up Bluetooth Speaker
I've featured bluetooth speakers in previous blogs, but they were nothing compared to this! The personalized Rave Light Up Bluetooth Speaker illuminates multiple colors when playing music. This speaker can connect to music playing devices through bluetooth or with an included 3.5 mm auxiliary cord. Works with a rechargeable battery that has a lifespan of 4 hours.
9. Petite Loop Lanyard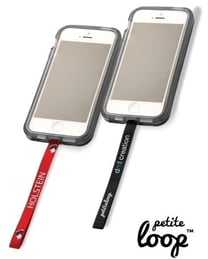 Let's face it: we all love our smartphones, however, I'm sure every smartphone owner has mistakenly dropped their phone on the ground! The Petite Loop Lanyard is made for preventing this type of accident; it rests in between the phone and case to create a lanyard loop for smartphone users to hold onto. This giveaway is cost-effective, relevant, and perfect for branding - it comes screenprinted with your logo or message on one side.
10. Custom Chalk It Up 11-oz. Ceramic Mug
Add some fun to your employees' morning beverages with the custom Chalk It Up 11-oz. Ceramic Mug. This cool promotional product is made of a chalkboard surface for writing notes and funny messages. This product should only be hand washed. The inside is ceramic and safe for drinking. Comes with two pieces of chalk so you're ready to write! Your logo can be imprinted in multiple colors.