It's a difficult concept to wrap your mind around at first: promotional items making a positive impact on your marketing strategy. How is it possible that such simple items outfitted with your brand name and logo can help to increase sales and make lasting impressions with consumers? The truth is, promotional items have more power in improving your marketing strategy than you may think. Continue reading to find out the top 6 ways promotional products work to improve your marketing strategy.
Promotional products work because...
1. They resonate with customers.
All companies want consumers to be aware of their brand. Businesses that use promotional items increase their likelihood of being remembered by customers. 76.2% of people who received promotional products in the past two years were able to remember the actual product, the company, and the message associated with the promotional item, according to a study done by Promotional Products Association International (PPAI). Employing promotional items are a surefire way to increase brand awareness.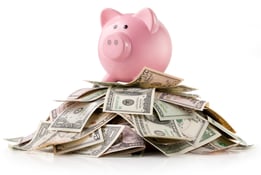 2. They help to increase your sales.
The use of promotional items has been shown to increase sales. After receiving a promotional product, 52% of respondents in a survey done by PPAI did business with the advertiser. Basically, utilizing promotional objects inspires consumers to reach out to you. When they see your name on a product that is unique and useful, they're more likely to come to you for business than a company that doesn't use promo products.
3. They make an impression.
This part is pretty simple; people like free, useful items. 52.1% of respondents had more positive feelings towards companies after receiving a useful promotional product, according to a PPAI study.
4. They broaden your reach.
The advertising power of promotional items is not just limited to the customers that receive them. Every time a consumer uses a promotional product is equivalent to advertising exposure. Considering the fact that 55% participants keep the promotional items for more than a year, according to a study done by PPAI, that is a lot of repeated advertising exposure.
5. They are cost-effective.
Promotional items are inexpensive considering the frequent brand exposure they provide. They have a lower cost-per-impression in the United States than traditional forms of advertising like television commercials and magazine ads, according to the 2014 Global Advertising Specialities Impression Impressions Study by the Advertising Specialty Institute.
6. People like them.
Simply put, customers like promotional objects. 83% of Americans reported that they like receiving promotional items, according to a study done by PPAI. The most common draw for promotional objects is their usefulness, 75.4% of people keep promotional products around because they think the item is practical.
Was this marketing blog helpful?
We'd love to know your thoughts on this article.
Meet us over on Twitter or LinkedIn to join the conversation right now!