Businesses have a lot to figure out in 2022. Most are laser-focused on strengthening the company as a whole and rebuilding what was lost in the last few years.
Yet people buy from people. And a company is only as strong as its employees. Ignoring the humans and faces behind the company name is a huge mistake.
In 2022, buyers are looking for trust. They want to feel confident they can trust the brand they're doing business with. Brand authority will matter this year now more than ever.
It comes from centering your company around people, and painting them as authoritative experts in their field. The more customers that can relate to your brand as trustworthy people who know what they're doing, the faster your business will grow.
How do you build brand authority for your business? First you have to understand exactly what it is, and the value behind it.
Brand Authority - What it Is and Why You Need It
Brand authority can be described as the high recognition of trust and expertise of a brand in its particular field. It can be measured by the extent of which your brand is seen as a subject matter expert and by the trust you've earned among your customers.
A lot can influence your brand authority. But in today's business world some of the biggest contributors to a strong brand authority include a valuable content library for your audience and a strong online presence and social media engagement.
It really all comes down to trust. Brand authority establishes a company as a reputable source that prospects can rely on. If they give you their business, they want to be confident that their money is being well spent. Customers are looking for industry experts they can rely on. That's why it's essential to build a strong foundation of brand authority for your business to thrive off of.
To help you establish this foundation, let's start from the beginning. Here are 5 steps to build brand authority for your business in 2022.
1. Identify Your Audience's Most Common Questions
Being an industry expert goes beyond just knowing a lot about your product or services. It's knowing a lot about what your customer wants to know. To do this, you have to understand what prospects are asking every day while considering a purchase.
We love to reference, "They Ask, You Answer". A philosophy coined by Marcus Sheridan, this approach to marketing and sales is all about how obsessing over the way your customers think, act, talk and search can help you become one of the most trusted voices in your industry.
Figuring out what your customers are asking seems like an easy task. But it's not always as simple as you think. Here are some ways to help you determine what your prospects are asking as they make their way through the buyer's journey.
Talk to Sales
The first thing you should always do is talk to your sales team. Who knows your customer better than the team that's in front of them directly everyday? Ask what some of the most frequently asked questions are that they are constantly answering. How do they typically answer these questions, and what would help make their answering process smoother?
Become An Expert on Your Personas
Clearly defining each different persona and their unique individual path throughout the buyer's journey will help you better understand what your customers are asking when. This should be a regular exercise that you do monthly, quarterly or biannually. The sales process and buyers habits change. So it's important to keep up to date with your buyer personas and the questions and problems that they face.
Keyword Research

Finally, keyword research is a way you can start understanding search intent for your prospects, and what they are asking when they are searching for answers. You can either do this organically or use a tool like SEMrush. One of my favorite ways of doing keyword research is by analyzing the "People also ask" filter on Google. This lists various questions or related keywords that people are typing in related to your industry.
2. Create Authoritative Content That Answers these Questions
Now that you know what your audience is asking, it's time to create content that will answer these questions. But how do you ensure that your content is authoritative? A lot comes down to presentation.
Prospects want clear and concise answers to their questions. If you bury those answers with big blocks of meaningless graphics, that buyer is going to bounce from your page pretty quickly, and will end up on another site, likely a competitor's, to find their answer. So here are some quick tips to keep your content straightforward, and audience focused:
Establish a user focused design for your content that's easy to read.
Include easy navigation to what readers are looking for within your content.
Use facts and data research when necessary to prove your expertise.
Always cite all experts or sources used with a name, bio, and if possible a link.
The tone of your content is also important to keep in mind. Oftentimes brands make the mistake and produce company focused content that is filled with corporate language. But people buy from people. A big part of trust includes coming across as genuine and personal. Yes, your content should sound professional, but it should still sound personal. By talking to your buyers like humans, you'll automatically create a sense of trust that will be associated with brand authority.
3. Use Social Proof to Your Advantage
Social proof is defined as a psychological phenomenon where people copy the behavior of others under the assumption that those actions are reflective of the correct behavior. Robert Cialdini studied this principle in depth in his book Influence: The Psychology of Persuasion. According to Cialdini, people view a behavior as more correct if they see evidence of others performing it.
How can we incorporate social proof into our marketing content? Content should be real and come from real people or prospects. Here are some examples:
Customer reviews
Client testimonials or quotes
When writing or incorporating social proof within your content, be sure it highlights your products or services in the words of your own clients. Prospects or potential buyers don't care what you have to say about your business, they care what others have to say.
Also be sure to include data driven results that your products or services offered. Facts, figures, and proof are what start to define your brand as an authority figure.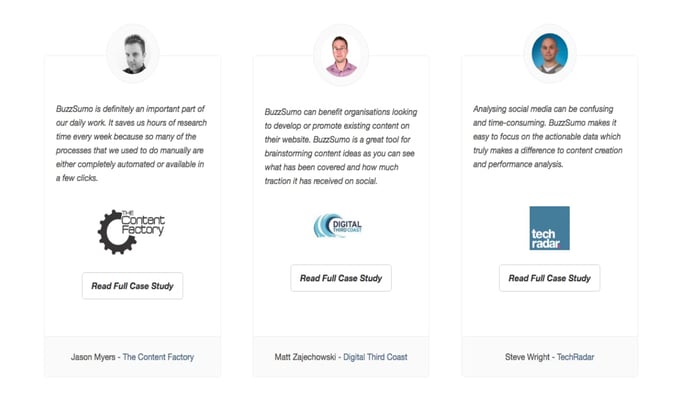 BuzzSumo has a great example of social proof on their site. Notice how they present their case studies and testimonials. They use a short quote from real customers that demonstrates how their product impacted or improved their business. They include the name of the quote, and what company they belong to. Then they include a CTA to read more about their story in the full case study. This is a compelling way to get prospects interested in the story behind these success cases.
4. Brand Your Team as In-House Experts
What's more authentic than a company? A person. That's why it's always a good idea to brand your business with the individuals behind the curtain.
Think of Apple for instance. Their entire brand is built around Steve Jobs. And when you think of Steve Jobs, do you think of him as an expert in his industry? Of course.
Things get a bit more tricky for smaller, lesser known companies. But it's still possible to establish authority around your team members. A great first step is to have subject matter experts on particular subjects within your industry.
For example, if you're a digital marketing agency, maybe you have one team member focus on paid advertising. This particular person can publish and author any content relating to paid advertising. They can write emails to prospects related to paid advertising. Their social media pages should also share insight into this subject. By establishing this person as an expert in paid advertising, prospects will understand who they need to communicate with when they have questions on this subject. Thus brand authority is established.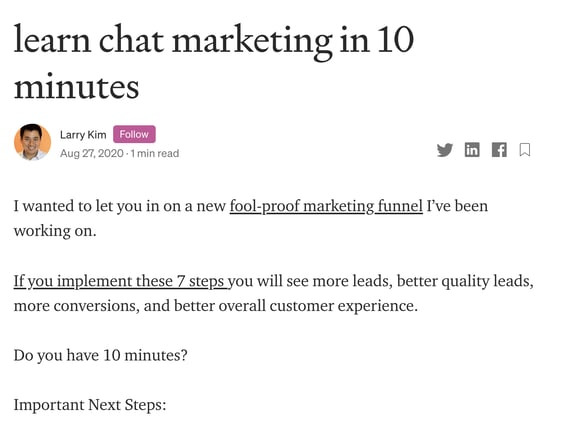 Let's take a look at an example. Lary Kim, CEO of MobileMonkey and founder of Wordstream, is seen as an expert in conversational marketing and online advertising. Guess what he posts about? Conversational marketing and online advertising. As a result, people trust what he has to say, and automatically deem him as an expert in this field.
5. Be Genuine
Finally, the most important thing you can do to build brand authority is to be who you say you are. Be genuine. We can't stress enough that business is all about people. By following through on your business promises, you'll prove your trustworthiness to prospects and customers.
See, content and social proof only go so far. If you fail to provide an excellent user and customer experience, buyers won't return, no matter how much authority you've established. Yes, you want to educate your prospects. But you also want to convert them. By being truly genuine and treating all your interactions as a personal relationship, rather than a business transaction, you'll be one step further to establishing a strong foundation of brand authority.
Now - Start Building Your Own Brand Authority
Building brand authority will be more important this year than ever before. In a market that's fueled by skeptical buyers and educated consumers, prospects need to know that they can trust the brand they decide to do business with.
As you plan your marketing strategy for 2022, build it with a foundation based on brand authority. Use these five steps to paint yourself as an authority figure for your customers.
But don't stop there. Remember it's not just about knowledge, it's about trust. People buy from people. Use your authority strategy to lift up the curtain of your brand, and reveal the hard-working people behind it.