We've all had at least one bad car ride. Maybe your coffee spilled all over you when you hit a bump in the road, or your phone battery suddenly died when you were lost in an unfamiliar town. These things happen, but they are preventable.
Personal vehicles are the dominant travel mode for business travel, comprising 81% of all trips. If you're an employee who travels by car for business, you've probably enountered your share of problems on your trips.

We want consumers to avoid the problems we've faced, so that they can have the best traveling experience possible. We can help by giving away promotional products they can use while traveling.
Here are 10 travel promotional products to make your car ride go smoothly:
1. ELECTRON USB Car Charger
These days, traveling with a phone is almost essential. You can use it for navigation purposes, or make a phone call if you need help. The problem with bringing your phone is that it may not have the battery life to last the whole ride, unless you have a USB car charger.
The ELECTRON USB car charger can charge one or two devices, and its auto-protect feature detects excessive heat or lowering temperature. This way, connected devices will be safe and charged.
2. Cup Holder Kit
We've been there. That moment when you've been driving for a few hours and suddenly, you need a tissue. Now you have to reach into the glove compartment to find one, or maybe you don't even have tissues in your car. Either way, this is a distraction that can be avoided.
The two-in-one cup holder kit comes with a tissue to-go cup and an absorbent car coaster. The compact promo fits in a cup holder, which allows for easy access. Digital imprinting lets you personalize this product with your company's name and logo for increased brand awareness.
3. Clip-IT Vent Mount
As I mentioned earlier, many people travel with their phones for navigation purposes. But if you're traveling by yourself, you probably don't have a safe place to put your phone when you're driving. Luckily, there's a safe solution.
Clip-IT Vent Mount is an accessory that universally fits and secures all smartphones. It mounts to the A/C vent for hands-free navigation. This way, drivers won't have to hold their phone or worry about dropping it during the ride.
4. Car Air Freshener
When it's cold out or you're driving on the highway, you probably don't want to keep your windows open. But after a few hours, your car may not smell as fresh as it did when you started driving.
Freshen up the ride with Paper Scents car air freshener. Choose from four scents including: citrus, vanilla, cherry, and fresh linen. Then, customize the air freshener with a full-color imprint on both sides.
5. UtiliKEY
We've all received a promotional keychain at one time or another. Maybe it had a screwdriver or a bottle opener feature. Or maybe it didn't really have any unique features and you never even used it. Keychains have the potential to be remarkable, but first they have to appeal to consumers.
The UtiliKEY multi-purpose keychain is one of a kind because it's a 10 in 1 emergency tool that includes: rulers (inches and centimeters), screwdrivers (large and small flat-head), a bottle opener, rip saw, pry, protractor, file, and key ring. At least one of these features is sure to appeal to customers and clients.
6. KeyStack Key Organizer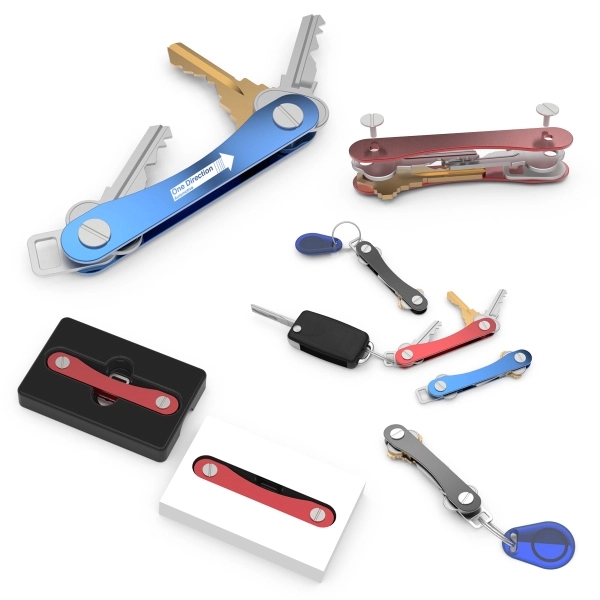 House keys, room keys, car keys – you probably have a lot of keys. It's also likely that you don't really know where to store all of them. You like to keep them together, but they look disorganized on a keychain.
The KeyStack key organizer stores keys in one convenient place. The sleek organizer allows consumers to fold the keys out when they want to use them, and then fold them in for storage when they're done. This is an organized solution to keep all of the keys in one place.
7. Beagle Two-Way Tracker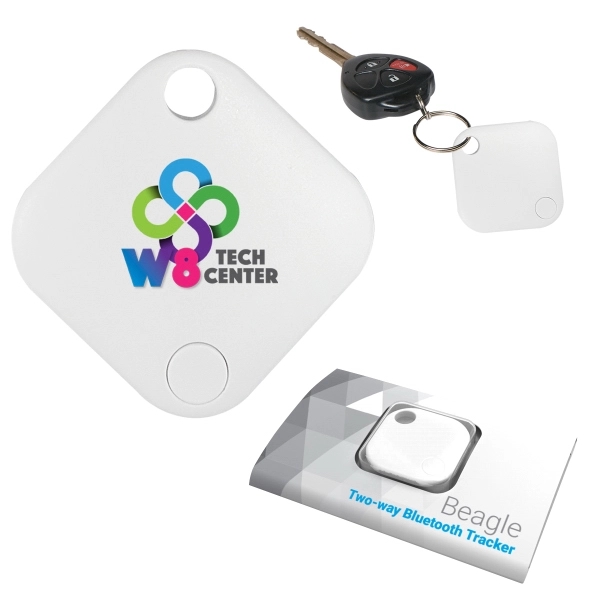 When you make a stop during your car ride, it can be easy to lose your phone, purse, or keys. Traveling is overwhelming at times, and we can lose sight of our valuables when we're distracted.
If you've ever had experienced that moment of panic when you're looking for your keys or phone, the Beagle Two-Way Bluetooth Tracker is a giveaway you'll love. The tracker works two ways. Attach the Beagle device to a set of keys, and a phone can help locate the device and keys if they're lost. The device can also trigger an alert to help find a lost phone.
8. Snap-IN Cord Organizer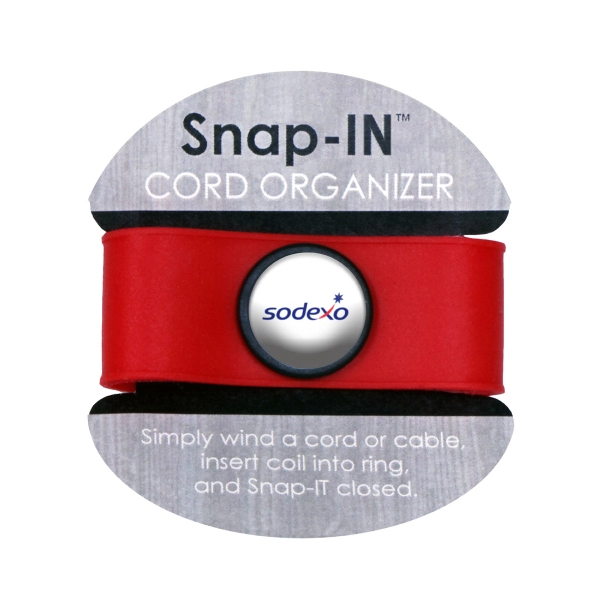 You're about to plug your phone into your USB car charger, so you reach into your bag for your cable. Unfortunately, when you pull the charging cable out of your bag, you find a tangled mess. Aren't you sick of untangling cords every time you need to charge your phone or use your headphones?
The Snap-IN cord organizer is the solution for tangled up messes. Just wind the cord into a coil, insert into the ring, and then snap it closed. The organizer is perfect for traveling because it easily fits into a bag or small space.
9. ATOM Wireless Earbud Headset
Passengers in the car seem to have it easy when they're traveling for business. Most of the time, they can sit back and relax while the driver controls the vehicle. Though this is true, sometimes it can be boring to sit in the car for hours as a passenger. There's not much to do, but listening to music is always a great option.
The ATOM wireless earbud headset is a perfect giveaway for anyone who's going on a trip. When fully charged, these earbuds get up to 3 hours of audio, 4 hours of talk time, and 40 hours of standby. The best part is, they're easy to store and you won't have to worry about a tangled up mess.
10. Leak Proof Tumbler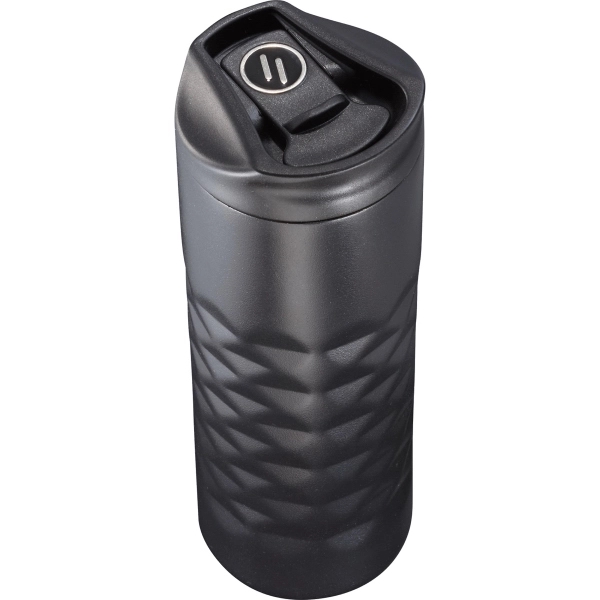 Remember that time your coffee spilled all over you when you hit a bump in the road? Chances are, you weren't using a very durable travel mug.
A quality tumbler is necessary for anyone who is on the go. The Leak Proof Copper Vacuum Tumbler is ideal for traveling because it keeps drinks hot or cold for hours at a time. Stainless steel and designed with an intricate geometric cut, this tumbler is high-quality and trendy. It's also leak proof, which means it can handle a few bumps in the road.
Moving Forward
As a marketer, you can show customers and clients that you were thinking of their needs with thoughtful giveaways. Travel promotional products are the perfect example of this, and they're casual enough to be given away any kind of event. You can help your customers and clients have a safe and happy car ride by giving away any of these 10 travel promotional products.