Companies are often looking for ways to effectively promote their brand at a low cost. Some of the most effective promotional items I recommend are promotional tote bags. These low cost products are so popular among consumers because they are practical. One of the most popular uses for these promo items is toting groceries to reduce plastic bag waste.
Take a look at my list of high quality promotional tote bags below to boost your marketing strategy.
1. Branded Non-Woven Shopper Tote Bag
Here is one of my top recommendations for clients looking to order tote bags. The branded Non-Woven Shopper Tote Bag is inexpensive, durable, and simple. Made of non-woven water resistant polypropylene, this bag is a great starter point for a company that has never utilized promotional tote bags before.
2. Custom Laminated Non-Woven Big Grocery Tote
If you're looking for a spacious, sturdy tote, this is your bag! The custom Laminated Non-Woven Big Grocery Tote is larger than the average promotional tote bag, with a front pocket and reinforced handles. You also have a lot of imprinting freedom with this big bag; you can prominently display your logo or brand message on the front pocket. Another great feature of this bag is its water resistant laminated material which makes it easy to wipe clean.
3. Promotional Top Sail Cotton Boat Tote
Cotton canvas tote bags are generally more expensive than polypropylene, so I recommend picking these kinds of bags to use as employee gifts or giveaways if you have the budget. The promotional Top Sail Cotton Boat Tote is a stylish canvas bag made of 100% natural cotton material. Imprint your logo in multiple colors directly on the front of the bag.
4. Personalized Non-Woven Budget Shopper Tote Bag
This compact shopping tote is perfect if you're looking for cheap and simple. The personalized Non-Woven Budget Shopper Tote can work as a trade show hand out, or just a simple giveaway at the office. This hand washable promo item comes in a wide variety of colors and gets the job done.
5. Customized Laminated Non-Woven Small Shopper Tote
The customized Laminated Non-Woven Small Shopper Tote is a great choice if you're looking for style. Chic and small, this bag is perfect if you want to hand out gift bags with merchandise at an event. Your clients will be able to keep this bag around for a long time due to its usefulness and durability.
This style is also available in a larger size here.
6. Logoed Non-Woven Tote with Accent Trim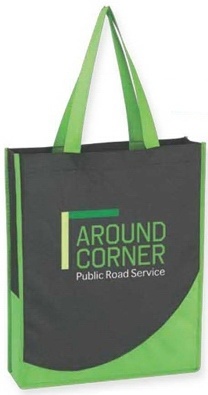 Display your brand image on sleek design with the logoed Non-Woven Tote with Accent Trim. Choose from over twenty colors to ideally personalize this tote. Made of non-woven, coated water-resistant polypropylene.
7. Branded Clear Casual Tote Bag
Mix things up with the modern looking clear casual tote bag. Your logo will appear prominently on the unique clear material. Pick from nine different trim colors so this promotional tote bag matches your brand's style.
8. Personalized 100% Recycled PET Laguna Zippered Tote
If your company is promoting that fact that you're dedicated to preserving the environment, this is the promotional tote bag for you. The personalized 100% Recycled PET Laguna Zippered Tote is entirely made of post-consumer recycled material. Made for user functionality, this bag has awesome features such as a zippered main compartment, a pen loop, and 11 inch handles.
9. Promotional Fun Tote Bag
I chose the promotional Fun Tote Bag to be featured in this list because I like it as an employee giveaway! Urge your employees to use this bag as an everyday item. It has a top zippered closure, 26" web handles, a mesh side pocket for water bottles, and a split ring for keys and carabiners. Your employees will be happy while increasing your brand exposure.
10. Custom Essential Organic Cotton Carry-All Tote
Here's another bag for eco-friendly companies, the custom Essential Organic Cotton Carry-All Tote. The 100% certified organic cotton that this bag is made from came from safe and organic farming techniques that excludes harmful insecticides and toxic pesticides that pollute the air. I also like this bag because it has handles unlike any other; they are called soft cotton cording handles.