In 2019, we worked with over 200 colleges and universities, helping them solve the challenge of finding promotional products that will create a lasting impression for students and create brand ambassadors.
Who are brand ambassadors?
Your students! Students love promoting their school pride with products they actually use, not just some cheap pens that will be misplaced or thrown away. They are driven by the latest trends and retail-quality products - products that are useful and will last.
It's clear that in 2020, promotional products will play a bigger role than ever before in college branding, because students will use, share, and display these products throughout the day. Everyone else sees their cool swag, and wants it, too - it's brand activation that creates demand for your giveaways.
Now, armed with data and research about the products students really want, we're sharing our updated list of in-demand giveaways that will drive booth traffic, create demand and evoke emotion.
1. H2go Neo Water Bottle
Prospective college students want sustainable promotional products, which is why a reusable water bottle that replaces single-use bottles are a popular item this year. Options abound in the promotional drinkware category, so it's worth taking some time to pick out the right kind of bottle for your audience.
For college fairs, we like this H2go Neo bottle because it's light and durable. The distinctive shape and the stainless steel and silicone accents of this plastic water bottle also help set it apart from other promotional water bottles.
2. MomoStick Phone Grip
Young people love their phones, so cell phone accessories are a good pick for college fair giveaways, right? That's true to a point, but in order to make sure your item connects, it's important that the cell phone accessory is relevant to prospective students and compatible with their devices.
We like MomoSticks because they are the ultimate cell phone accessories: they combine the benefits of a phone holder, stand and car vent mount. They are also compatible with most phones and phone cases. AND they're compatible with wireless charging, and don't block the signal from Qi wireless chargers.
3. Fanny Pack
Fanny packs are back on campus, and for good reason. After a lull in use after some oversaturation in the 80's, young people are again wearing these fun and practical accessories.
For college fairs, this hipster budget fanny pack is a good option because it's inexpensive and popular. It comes in seven base colors with space for a custom imprint on the front in order to match your school's brand standards.
4. Custom Branded Socks
You'd think that apparel items don't fit the price point for college fair giveaways, but think again! Branded socks are a promotion that is increasing in popularity. College students are known for lounging around while watching Netflix in comfy clothing, so give them an addition to their relaxation wardrobe.
5. Highlighter and Pen Combo
"Think beyond the pen" is always great advice for schools that want to stand out to prospective students at college fairs. But standing out among other schools that offer pens doesn't mean you have to give away something that's expensive or too "out there."
There's a reason pens are such a popular promotional item: they're small, inexpensive, and extremely useful. If you're going the pen route, look for something that's different and memorable, like these pen-highlighter duos. Your prospective students get two tools for the price of one, and you get to choose the grip color and show off your school's brand with the full-color wrap imprint.
6. Branded T-Shirt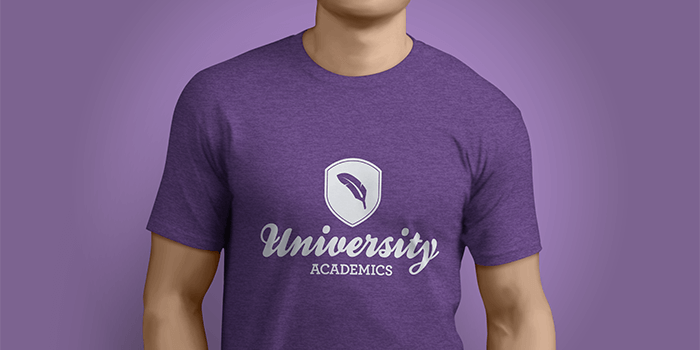 T-shirts are the perpetually popular giveaway, so show some school spirit with a custom branded college t-shirt! Your t-shirt design can be classic and simple with your school's name and logo. Or, you can inspire prospective students with an upbeat design like your school's mascot.
Our top pick for the best t-shirt for college fair giveaways is the Tultex Unisex Poly-Rich Blend Tee. This unisex shirt is flattering on both men and women and is made from a comfortable, super soft fabric that students will love to wear.
7. Mint and Lip Balm Combo Pack
This lip balm and breath mint combo is a promotional product that prospective students are sure to keep in their backpacks. And they will reach for it and appreciate your school whenever they need relief from stale breath or chapped lips.
The lip balm is SPF 15 and the mints come in peppermint, wintergreen, or cinnamon. Both lip balm and mints come in tubes with full-color labels so there's plenty of space for your school's name and messaging.
8. Drawstring Bag
Bags are a good promotional product at college fairs because they're useful and because they immediately demonstrate their usefulness by holding all the other swag that students are picking up at the college fair. But because they're useful, promotional bags are also a competitive category, so it's important to pick distinctive bags.
These zippered mesh drawstring bags are one good option. With a zippered front pocket and mesh accents, they're a cut above the minimalist bags that other colleges hand out. Be sure to tuck a brochure or a smaller promotional product into the zippered pocket so students stay engaged with your school's messaging when they get home and unpack their new bag.
9. Qi Wireless Charger
Tech promotional products for young people perform best when they are stylish and feature new technologies. These Nano Chargers check both boxes. They feature a bold minimalist design and feature wireless charging. Any Qi-enabled smartphone (which is nearly all of them built in the last few years) can be placed on the face of a Nano Charger to charge wirelessly through the magic of magnetic resonance.
10. College I.D. Holder
Nothing makes prospective or newly-admitted students feel more welcome and connected to your campus than receiving a branded campus I.D. holder. These four-card ID holders are a good choice for students because they hold all the essentials, including that all-important student I.D. card. An attached ring makes it easy to attach keys or strap the ID holder to a backpack or lanyard.
These college fair giveaways updated for 2020 bring attention and drive traffic to your booth. There's no better way to capture the attention of high school students than by offering useful items that positively represent your school. To take it to the next level, take a look at why college orientation giveaways are equally as important once the students are accepted.