Throughout the years, we've worked with hundreds of colleges and universities, helping them solve the challenge of finding promotional products that will create a lasting impression for students, and create brand ambassadors.
Who are brand ambassadors?
Your students! Students love promoting their school pride with products they actually use, not just some cheap pens that will be misplaced or thrown away. They are driven by the latest trends and retail-quality products - products that are useful and will last.
In 2023, promotional products play a bigger role in college branding than ever before. As online learning continues to be a popular trend among college universities, students still want a way to show up their school spirit, even if not personally on campus. The result? Your school's brand reaching places it's never reached before. Investing in the right college giveaways will also help unite students, teachers, and prospective students, filling in the gaps left without personal connections and giving you a new and unique opportunity for brand activation.
Now, armed with data and research about the products students really want, we're sharing our updated list of in-demand giveaways that will create demand, evoke emotion and bring students together .
1. Branded T-Shirt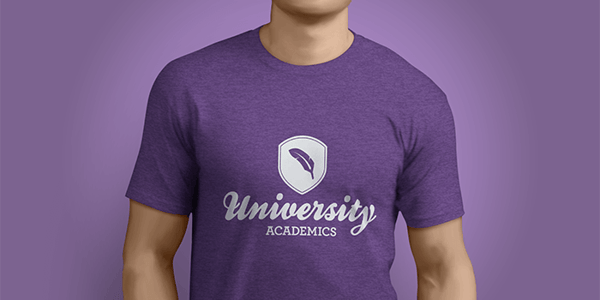 Despite whether your campus is learning remotely, or physically together, branded t-shirts are a great option to spread school spirit. Consider choosing a t-shirt that is both comfortable and versatile. Your t-shirt design can be classic and simple with your school's name and logo. Or, you can inspire prospective students with an upbeat design like your school's mascot.
Our top pick for the best t-shirt for college fair giveaways is the Bodie Short Sleeve Tee. This unisex shirt is flattering on both men and women and is made from a comfortable, super soft fabric that students will love to wear. It's also available in twelve trendy colors, ensuring a look to enhance your school's brand.
2. Mask Lanyard

If your school is open for in-person learning, you know that safety and protection are two big focuses of this school-year and beyond. Masks are a requirement for many, and will likely be for months to come. But you can take your school's branded face masks a step further, by providing students with this unique Mask Keeper lanyard. It provides an easy way to keep masks on hand at all times, and helps to reduce contamination by keeping them away from dirty pockets and bags. Just fasten your mask with two bulldog clips on the ends of the lanyard, and wear it safe and secure around your neck.
3. Custom Scrunchies

Nostalgia is the latest trend among teens and the early 20's crowd. With it comes the return of the scrunchie. Look no further than the ever popular Instagram influencer, VSCO girl, and you'll notice that scrunchies are a style must for this generation. So tap into this fun and useful trend, by creating a custom scrunchie that reflects your school. Students will be anxious to add this giveaway item to their wardrobes.
This full-color scrunchie is the perfect option for a college fair giveaway as it's both trendy and inexpensive. It comes fully customizable, with full-color, full-bleed CMYK printing to match your school's brand standards.
4. Pennant Flags

Pennant flags can help bring the university feel to your students while they take online classes from home. They can even be easily sent to prospective students who might not be able to physically tour the campus.
Simple and traditional, but yet full of branded school spirit, this pennant flag can be fully customized to match your school's look. With the ability to print full-color and full-bleed, current students, teachers, and even applicants will love hanging these on their walls at home or even around their high schools after committing to your school.
5. Custom Branded Socks

You'd think that apparel items don't fit the price point for college fair giveaways, but think again! Branded socks are a promotion that is increasing in popularity. College students are known for lounging around while watching Netflix in comfy clothing, so give them an addition to their relaxation wardrobe.
BONUS: Complete the look with a custom gift box
Add an even more personal touch and give your socks an even higher perceived value. Socks can be packaged in a completely custom display box designed with your branding, logo, and messaging to create a showstopping display at your next college event. Just ask about custom packaging options when ordering!
6. Insulated Mug

College students often run on caffeine. That's why an insulated mug is a smart giveaway item sure to be used by students and teachers alike. Consider choosing a mug that's easy to transport, and designed to keep drinks warm for extended periods of time.
One of our favorites is the NEO 10 ounce Vacuum Insulated Cup, which features double-wall construction and includes a press-on lid for easy use. It's proven to keep drinks hot for at least five hours, and cold for up to 15 hours. Students and teachers will enjoy their hot cups of coffee all morning long.
7. Branded Backpack

Branded backpacks are a visible promotional item that students need, making them a great option for college fair giveaways. They also can be used to hold all the other swag items students might be picking up from other tables, or collecting from your own school. But with so many different options out there, it's important to choose wisely and pick a distinctive bag that will make your school stand out.
This Mason Backpack is one of our favorite options. With a zippered main compartment, a side mesh water bottle pocket, and padded shoulder straps, it's a cut above the minimalist bags other colleges might be handing out. This on-trend backpack also has color-blocking details and a silicone lash tab.
Be sure to tuck a brochure or a smaller promotional product into the zippered pouch so students stay engaged with your school's messaging when they unpack their new bag.
8. Journals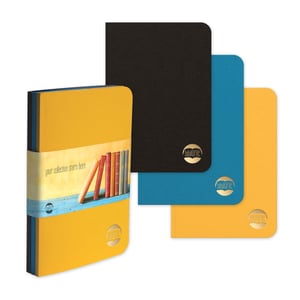 Even in the tech world, writing journals are still preferred by many. In fact, for younger generations, they've become quite the trend. Many college students are turning to Bullet Journaling to stay organized and keep to-do lists, calendars, and schedules all in one place. In fact, bullet journaling has spread as a trend across social media, with over seven million Instagram posts containing the hashtag #bulletjournal.
Consider keeping up with this trend by investing in a journal that will fuel your student's bullet journaling desires. Since it can be done on any type of notebook, blank or lined, we recommend going with something stylish, sleek and modern. Three journals included in one, this Bright Notes Jotter Pad is a great option for students and teachers alike. It includes three different writing pads, which can be customized differently or all the same, with a one-color foil imprint on each cover. It also comes with a 2.5 inch graphic wrap which encloses all three books. Choose between red, yellow, blue, natural, black or brown.
9. Hardy Sport Bottle

Prospective college students want sustainable promotional products, making a reusable water bottle that replaces single-use bottles a great college fair giveaway. Options abound in the promotional drinkware category, so it's worth taking some time to pick out the right kind of bottle for your audience.
For colleges, we like this Hardy 30-ounce Tritan™ Sports Bottle because it's both light and durable. It's designed for those with the most active lifestyles - college students. With a single-wall Eastman Tritan™ plastic construction and a unique tethered twist-on lid, this bottle will keep students hydrated while on-the-go, and set your school apart from other colleges handing out promotional water bottles.
10. Highlighter and Pen Combo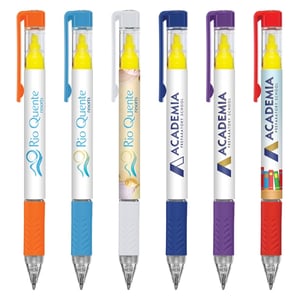 "Think beyond the pen" is always great advice for schools that want to stand out to prospective students at college fairs or through recruitment packages. But standing out among other schools that offer pens doesn't mean you have to give away something that's expensive or too "out there."
There's a reason pens are such a popular promotional item: they're small, inexpensive, and extremely useful. If you're going the pen route, look for something that's different and memorable, like these pen-highlighter duos. Your prospective students get two tools for the price of one, and you get to choose the grip color and show off your school's brand with the full-color wrap imprint.
Key Takeaway
These college fair giveaways updated for 2023 bring attention to your school, bring students together both virtually and physically and help you stand out among other colleges. There's no better way to capture the attention of high school students than by offering useful items that positively represent your school. To take it to the next level, take a look at why college orientation giveaways are equally as important once the students are accepted.