Editor's Note: This post was originally published in August 2014 and has been updated with fresh ideas to inspire your college fair marketing.
In the two years since we first published this article, we've worked with countless colleges and universities to help them choose the ideal college fair giveaways their prospective students will love. Now, armed with even more knowledge and research about the products students really want, we're sharing our updated list of in-demand giveaways that will get your school noticed.
What does your brand stand for?
Giveaways are the perfect opportunity to communicate your school's brand and message. Students love cool and useful swag, not just some cheap pens that will be thrown away or misplaced. Since promotional products are proven to drive booth traffic, stock your booth with useful, unique items to attract students and leave a memorable, lasting impression.
And now, I'm excited to present my updated list of unique college fair giveaways that will drive booth traffic and making an outstanding impression on students.
1. Petite Loop Lanyard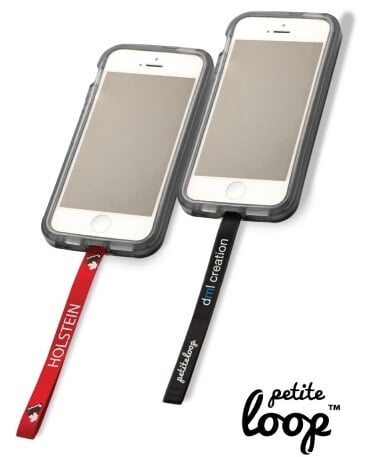 Promote your institution directly from your student's smartphones! The petite loop lanyard prevents accidental drops while being a trendy smartphone accessory. The satin ribbon screen-printed with your logo rests between the actual smartphone and the case, creating a secure loop for smartphone users to hold on to.

2. Sling Grip
College students love their smartphones, so why not give away something they can use with their beloved tech item? The Sling Grip attaches to the back of any phone or phone case with a removable adhesive to prevent you from dropping your phone while you use it.
I think this promotional item is a no-brainer for college fair giveaways. Students will value the Sling Grip because of its usefulness. In addition to being useful to students, this product presents the ultimate opportunity for branding. Think about it - your full color logo will be present wherever the student brings their phone. That's a great way to increase your brand awareness with such a simple item.
3.
Grip Cable Organizer
If there's one thing that hinders a student during the semester, it's a messy desk. Give students the opportunity to organize with the Grip Cable Organizer. This handy desk accessory helps keep charging cables, headphones, and other cords neat and tidy in the event of a messy work space. This unique item is something that students probably don't already have, so use it to your branding advantage. Imprint your full color logo on the front of the organizer so it's ever-present in the mind of your recipients.

4. PopSocket
Here's another career fair giveaway that capitalizes on the popularity of smartphones. Like the Sling Grip, the PopSocket directly attaches to the back of any mobile device with a washable gel. The PopSocket functions as a media stand or a photo or texting grip. Students will love the convenience of this product - it can be lowered or extended to serve its desired purpose.
5. Smart Wallet for Mobile Devices
One of our most popular promotional giveaway products happens to be ideal for a college fair giveaway. The branded Smart Wallet attaches to the outside of any mobile device and is perfect for storing driver's license, credit cards, gift cards, and cash. Another benefit of the Smart Wallet is how easy it is to transport back and forth from college fair to college fair. As a flat lightweight giveaway item, the Smart Wallet is small enough to travel easily while being innovative enough to leave a lasting impression.
6. Highlighter Stylus Pen
People want promotional giveaways that are actually useful to them, otherwise they're a waste of time and space. That's why this multi-function writing instrument will impress students - the Highlighter Stylus pen is a highlighter, pen, and touch screen stylus all in one. Students will only need this writing instruments when it's time to hit the books. What a great way to delight college fair attendees with a single product!
7. Vent Phone Holder
Not only does this item promote safe driving, its a convenient item that students will use. The vent phone holder clips to car vents to make for hands free GPS navigation. This device is compatible with any type of smartphone that features a GPS system. Your logo will appear on the holder right next to where the phone is positioned, so your brand will be top of mind during this product's use.
8. Wood Tone Sunglasses
Here's a creative twist on a traditional promotional product: wood tone sunglasses. These chic sunglasses are made from the same plastic material as any other promotional sunglass set, however, it is printed with a wooden tone to make for an authentic wood appearance.
The great thing about promotional sunglasses is that they're not just a toy, they're a quality product made for consistent use. These sunglasses are FDA approved and provide UVA and UVB protection from the sun.
9. Branded Sticky Book
Show that your college is an academically-driven school with this helpful study tool: the branded sticky book! High school and college students alike will find this cute book that includes over 100 sheets of sticky notes and page markers very helpful when cramming for finals! Plus, they will be reminded of your college every time they use it because of your custom messaging on the front of the product.
10.
Socks
You'd think that apparel items don't fit the price point for college fair giveaways, but think again! Branded socks are a promotion that is increasing in popularity. College students are known for lounging around while watching Netflix in comfy clothing, so give them an addition to their relaxation wardrobe.
In this case, socks don't have to be a boring gift. This promotional item provides endless opportunity for creativity with multiple color and pattern options to choose from. You can make an apparel item that's completely customized to your brand by creating a unique design with your logo.
These college fair giveaways updated for 2016 bring attention and drive traffic to your booth. There's no better way to capture the attention of high school students than by offering useful items that positively represent your school. To take it to the next level, take a look at why college orientation giveaways are equally as important once the students are accepted.
Looking for even more creative college giveaways? Get more ideas in these 3 recommended articles: