Here's what we did:
Designed a Virtual Event Gift Strategy
Our Brand Activation Team met with CSTA to understand their personas, goals, and aspirations for the event, resulting in a comprehensive presentation with recommendations tailored to their needs. This presentation included various elements, such as:
Promotional products designed to humanize the event

A custom-designed swag box

Award ideas

Kitting and fulfillment options

Drop-ship and mailing timeline
Designed a Virtual Event Engagement Strategy
We came up with specific recommendations for an overarching social media campaign connected to their virtual event and their virtual event gifts. What's more fun than opening a swag box when you're stuck at home?
We worked with CSTA to craft a plan to engage their attendees. The end result was received with enthusiasm that took over CSTA's social media feed: an eye-popping box design, thoughtfully designed postcard, and various useful swag items inside tailored to their personas.
Designed a Virtual Event Swag Box
Our design team came up with specific recommendations and provided two unique options for CSTA to choose from. The box design, collateral, and items inside their virtual event kit all tied back to the CSTA brand guidelines.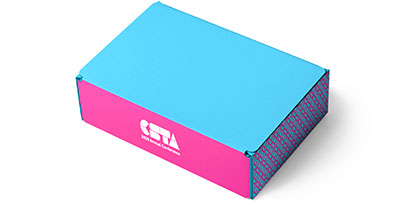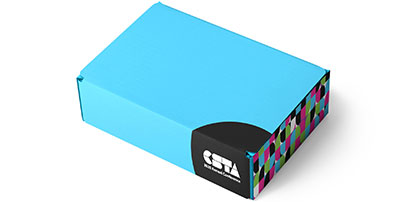 Execution and Fulfillment
To reach CSTA's member audience on a personal and human level, we had the crazy idea of sending personalized boxes to every attendee's home. Shipments of 2,000 virtual event swag boxes seemed like an impossible task when we first came up with the idea and started working with CSTA.
Fortunately, we have relationships with various fulfillment partners and were able to help with sourcing, producing, and kitting all the items needed for their virtual event. The execution and fulfillment were handled entirely by DMG.