Corporate gifts shouldn't be boring. Gone are the days where a simple pen or standard mug with a logo slapped on is enough to make your brand stand out. As consumers, we crave bold styles and unique products. So why should our customers and prospects be any different?
That's why we're so excited to announce we're now offering products from the retail brand, Slowtide - a unique, artistic, and sustainable towel and blanket product line. Inspired by the love of nature, travel, and comfort, Slowtide offers fashionable and premium quality towels and blankets that make a statement. When combined with your logo, they create a unique corporate gift idea that will activate your brand in a bold way.
Behind the Slowtide Brand
Founded in 2015 by three friends, Dario Phillips, Kyle Spencer, and Wylie Von Tempsky set out to create a brand to reflect their lifestyle. Recognizing the trend growing among younger generations, they saw an opportunity to bring creativity to a category that lacked it: towels.
But it wasn't just about creativity. Slowtide's founders wanted to blend design and functionality and create a product that was useful, unique and that left an impression. This mission is aligned with the strategy of a unique corporate gift and is what makes the retail brand a welcomed addition to the promotional product industry.
Slowtide goes beyond just product creation. The company has a deep commitment to the environment and holds a strong value in social responsibility. Because of this, they create all their products with cotton certifiably sourced through the Cotton LEADS program. Plus, all the polyester in the towels and blankets they offer is made from 100% recycled post-consumer waste, typically from plastic water bottles. The company also supports community causes and mission-based organizations, with the goal of facilitating change through the community with outreach, education, and donation.
All in all, Slowtide is an up-and-coming sustainable brand whose products will resonate well with Millennials and Generation Z. When it comes to corporate gifts, both generations value sustainable practices, bold design, functional items, and individuality. So if you're looking for a truly unique corporate gift idea, it's worth exploring what Slowtide has to offer.
4 Unique Corporate Gift Ideas Inspired By Slowtide
Slowtide currently offers five different unique corporate gift options that all can be embroidered with a custom company logo. Between fitness towels, cozy fleece blankets, and quick-dry beach towels, there's something for everyone. And as a lightweight and compact product, you can easily combine a Slowtide towel or blanket with a high-quality drinkware item to create a truly unique corporate gift for your target audience. So let's take a closer look at each Slowtide product to help you decide which is most aligned with your target persona.
Slowtide Active Essentials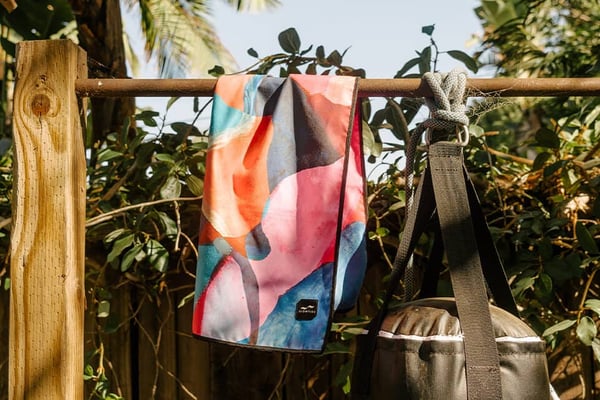 One trend you can count on with your younger personas is health and wellness. Fitness, especially among Millenials, is a growing priority. And among a generation who likes to stand out by being original, Slowtide's active essentials and fitness towels offer a unique corporate gift perfect for young professionals. Currently, there are two different products to choose from.
This quick-dry fitness towel is made for the gym. With super soft and super absorbent material, made from 100% post-consumer waste, it's an excellent option for those who frequent the workout room, yoga studio, or even golf course. It's 13 by 31 inches, making it the perfect grab-and-go size, ideal for wrapping around the neck or quickly wiping off the face. It also has a hanging loop to easily hang and dry when finished using.
What makes this towel really special is its unique design. Choose from five different bold colors and patterns. Clients, employees, or prospects will truly appreciate the individuality that comes with the designs. Plus, with an embroidered logo right on the corner, you can align your brand with this high-quality corporate gift.
Slowtide also offers a quick-dry towel in a standard towel size, 30 by 60 inches. Not only is this quick-dry towel fast drying and highly absorbent, but it's sand-free. Take it to the beach, to the park or outside on a hike, and never worry about tracking sand into the house again. It comes in four very unique and bold patterns that have double-sided print. It also features the same loop for easy hanging. Embroider your logo on the corner of the blanket for a brand-focused look.
Get Cozy with Slowtide Blankets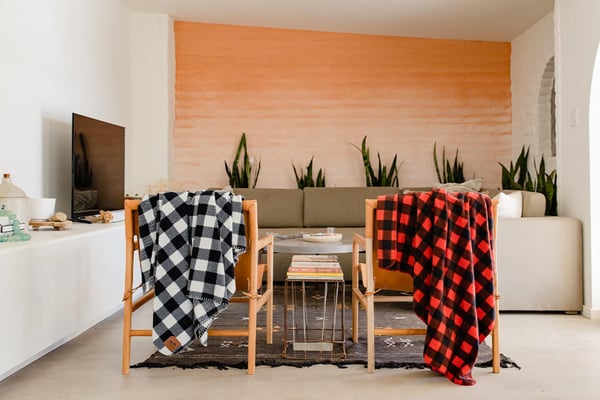 The stay-at-home trend isn't going anywhere. With more and more people working remote, cozy and comfortable decor is becoming a necessity. Blankets are in high demand, yet it's an easy gift to get wrong. Plain and simple blankets can honestly be kind of boring. But go too bold, and you risk not matching anyone's home decor. That's why we love Slowtide's cozy blanket collection. With several different patterns to pick from, Slowtide uses more neutral colors that make a statement but blend with any decor. Here's a look at the two styles available.
The Slowtide Throw Blanket is a 100% Turkish towel blanket. We love it because it's super lightweight and can be used as a cozy solution all year long. Plus, its grab-and-go size makes it a practical beach or outdoor blanket, but at 19 x 15 x 16 inches, there's still plenty of cozy to go around. It's made with Turkish-style chambray and has a beautiful fringe and hem detailing. And let's not forget the sustainably sourced cotton that all Slowtide products are made from. This throw blanket comes in two different gray-toned patterns and can be embroidered with a custom logo on the blanket's corner.
Taking cozy one step further is this Slowtide Fleece Blanket. It's made using primarily plastic bottles transformed into premium polyester fibers. It has a soft brush finish and is still lightweight. Yet, it's the perfect blanket to snuggle up to after a long, hard day. It comes in both bold colorful patterns and more standard neutral colors, and it even features a reversible design. The blanket is 19 x 15 x 16 inches and leaves plenty of room to snuggle in. You'll want to embroider it with your custom logo in the corner for a true, brand-focused look.
Enjoy the Journey with Slowtide Camp Blankets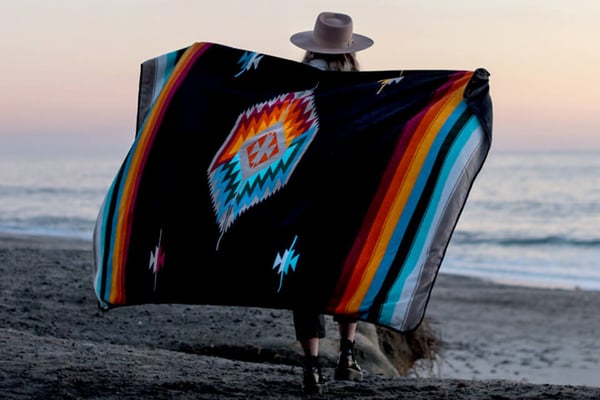 Finally, Slowtide is all about encouraging the adventurer in all of us. They offer more durable options, perfect for those who love camping, hiking, or just spending time outdoors. We love that these blankets aren't just design-focused, but they're functional and made to last.

This blanket is made for the outdoors. Whether it's camping, hiking, or just attending a music festival or concert, its durable material, and functional design make any outdoor trip more enjoyable. You'll never have to worry about dropping or losing your phone on the ground either. It has a sizable cell phone pocket complete with a zipper on the corner. Stash all your valuables, and rest assured they'll stay secure. The blanket is durable and made with water-repellant material. And just like all their products, it's 100 percent eco-friendly, made with post-consumer waste. It comes in two very bold, vibrant patterns. Plus, unlike the other Slowtide products, you have two imprint options to choose from, either an embroidery or heat transferred logo on the blanket's corner.
Make Unique Corporate Gifts Stand Out with Slowtide Towels & Blankets
Younger generations can sometimes be challenging to target with the right gift. With so many different trending products out there, how do you choose something that's unique, useful and high quality? Slowtide towels and blankets allow you take advantage of a premium retain brand, and make it your own. By customizing one of these artistic, bold and innovative towels or blankets, you'll give a unique corporate gift that stands out and delights even those hard to reach generations.
Create your very own virtual sample of each Slowtide product in our collection below. And of course, if you have questions, our team is standing by to help you turn these ideas into your own unique corporate gift.