Let's talk about customization. It's taken the apparel world by storm.
Nearly half of U.S. adults are interested in buying and wearing customized clothing. And that number is only expected to grow, with millennials the highest among age groups willing to invest in a customized product.
The rise in customization has fueled a new trend - custom branded sneakers and shoes. People no longer want to have the same generic white kicks as their friend or coworker. They want to make a statement, and they want a product that tells a story.
So let's give them a promotional product they want. Let your customers tell your brand's story with custom branded sneakers and shoes. By putting a message behind the design, you'll create advocates out of your clients and employees. They'll spark conversations with their shoes which will have more and more people gravitating towards your brand.
So what styles are trending this year? Let's take a look at the top 10 custom branded sneakers and shoes you'll want to invest in.
Top 10 Custom Branded Sneakers and Shoes Trends to Activate Your Brand
With so many different customization options when it comes to custom footwear, it's important to find a style that fits with your brand and audience. We'll break down each trending shoe to help you decide which is best suited for your company.
1. The Cruiser Custom Branded Shoe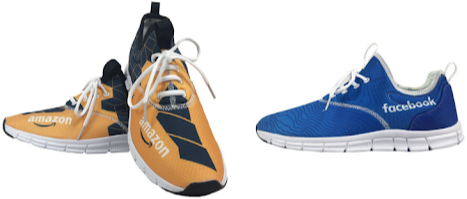 Good sneakers are versatile. These Cruiser Custom Branded Shoes are just that - perfect for any age, classy enough for the office, and casual enough for an outdoor workout after hours. With a fully customizable decoration area, customers or employees will make a statement while wearing these shoes. Once you've chosen your color and design, you can add some pop by choosing between black or white laces and trim to match. Made from UV-protected polyester material, you can be sure your custom creation will last. The Cruiser also comes in men's and women's sizes truly making them the every persons shoe.
Because these shoes are suited for any age, you might consider designing several different styles to target different demographics, audiences, or specific personalities. With no purchase minimum, your free to experiment with the customization that appeals most to your prospects.
2. The Drifter Custom Branded Shoe

The ultimate comfort sneaker, the Drifter Custom Branded Shoe is perfect for the client that's always on their feet. With a light-weight and breathable design, these shoes will form fit to the foot like Cinderella's slipper - perfectly. Designed to be a comfortable, convenient slip-on shoe, the Drifter comes lace-free with a sturdy heel loop to make it easy to pull on.
Incorporating loved versatility, these shoes are sleek enough for the office and sturdy enough for the outdoors. With a grooved outsole that provides excellent traction, clients can wear them on outdoor adventures with no slipping worries. And because they don't skimp on comfort, these shoes will quickly become a wardrobe staple.
You'll want to go big and bold when branding these shoes. With a full dye-sublimation process using PMS matching, your design will span the full shoe, making a true statement for your brand. Plus, the top-quality dyes utilize UV protection to ensure slow fading over time.
Again, consider your audience with the design you choose. These shoes will appeal to both the younger and older generations, so you have lots of flexibility with your branding options.
3. The Slip-On Custom Branded Shoe
You can't go wrong with a classic slip-on shoe. Consider giving these Slip-On Custom Branded Shoes to those that might want to blend in a bit more. Featuring a dignified look, they are suitable for the office while remaining trendy enough for a weekend outfit.
Made from high-quality canvas and featuring a cushioned footbed, these shoes are made to be worn all day. The UV protected fabric will keep the design you choose fresh and sharp for years to come.
With no purchase minimum, it's easy to get personal with your customization. Consider branding them with an employee's name or a custom pattern or design to give them the audience appeal you are looking for.
4. The Scoot Custom Branded Shoe
Similar to the ever-popular Converse brand, these completely customizable Scoot shoes offer style mixed with functionality. They're versatile, classic, and can be branded just the way your audience wants with a full shoe decoration. With a white stand-out sole design and black detailing around the edging, the Scoot Custom Branded Shoe is made to be bold. They are made with UV protected canvas material and come with long easy to tie laces.
This modern take on a classic shoe is designed to tell a story wherever your audience goes. So be sure to get creative with your branding. Use the full-color design to make your employees, prospects, or customers truly stand out while activating your brand.
5. The Flyer Custom Branded Shoe

In the fashion world - nostalgia is in. With vintage throwbacks trending in both the promotional world and the fashion industry, it's no surprise that these Flyer Custom Branded Shoes are a big hit. Resembling the iconic Converse high-tops, these shoes will bring their wearers back to the Good Decade of the '90s. They come with a distinctive white rubber toe cap and lace closure with metal eyelets. A black rim lines the shoe's sole, creating a bold separation from your chosen design. The upper and tongue portions of the shoe can be customized differently, giving you a retro two-toned look for your brand.
These shoes will appeal to a younger and more creative audience. Consider gifting them to Millennials or Gen-Zers to give your brand the most exposure.
6. The Midwest Custom Branded Shoe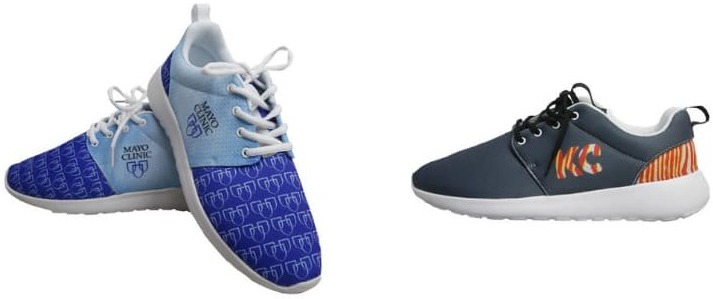 Made with three different and customizable UV protected polyester layers, the Midwest Custom Branded Shoe gives you the opportunity to create one of the boldest designs yet. The shoe itself is a classic and straightforward take on a sneaker that provides all-day comfort, especially ideal for those constantly on their feet. Accented with your choice of white or black laces and a finger heel loop, these shoes offer a snug fit that can even be utilized during a workout or on the sports field.
These are an excellent choice for clients, employees, or customers of any age. With a full dye-sublimation design that can integrate multiple colors and tones, you'll have a complex and daring look that will truly set your brand apart while delighting your prospects.
7. The Classic Custom Branded Boot
If you're looking for an all-weather shoe, the Classic Boot is a customizable option that's great for outdoor work or in-office wear. They're made with a leather-like polyester material designed to hold up even in wet weather. Offering a larger branding area, this boot gives you the space to showcase what you're all about.
Treading on the bottom for non-slip walking makes these boots great for outdoor lovers. The material is UV protected to ensure a lasting branded design. With black accents, black shoestrings, and a rubber sole, your clients will love showing these off all year long.
8. The Slide Custom Branded Sandals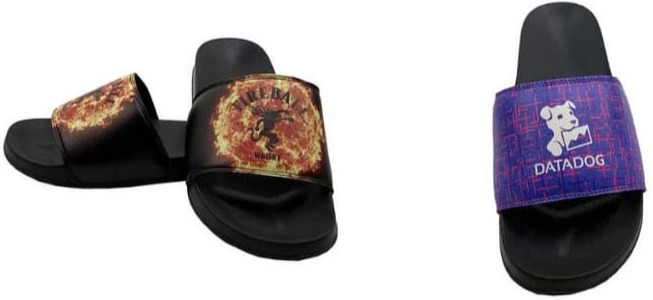 Easy slide-on sandals are a must in every closet. Convenient and always there when you need to run a quick errand, the Slide Custom Branded Sandals are one of the best gifts you can give. Did you know slides are actually the recommended sandal by doctors? They are said to prevent heel, knee, and back pain and shin splints. They also feature a hard and ribbed sole, which can help to minimize injury while maintaining stability.
These Slide sandals offer a large strap for customized branding with a full-color print. Choose between a black or white sole. They come in both men's and women's sizes and are great for both outdoor and indoor wear. Made with high-quality UV protectant material, you can rest assured your design will maintain its lasting color for the shoe's lifetime.
9. The Custom Branded Slippers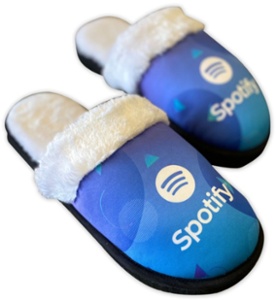 Provide your clients or employees the complimentary gift of comfort with personalized, high quality slippers. Convenient and cozy, the Custom Branded Slippers are the best promotional giveaway for making your clients or employees feel comfortable and right at home.
With a faux fur lining for maximum comfort and a large surface area for personalized branding, these slippers are sure to be a much loved home staple. For those itching to see their personalized promotional product in action, these custom printed slippers are backed by a custom design team that can create your mockup in 24 hours or less. The ½ inch thick, hard foam gripped bottom provides durability and sustained comfort, perfect for getting the mail or walking a pet. They come in both men's and women's sizes and are perfect for clients, employees, or customers of any age.
10. The Custom Branded Clogs
Finally, the last and maybe the least expected custom sneaker and shoe trend is the custom printed clog. Yes, you read that right! Made widely popular by Crocs, these fun foam clogs are making a huge comeback as they are a versatile and unique way to display your brand's, client's or employee's personality. According to Thinknum, Crocs products have remained among the top 100 best-selling clothing items on Amazon since 2017, and the ranking continues to improve. The sustained market interest of clogs indicates a strong consumer preference making clogs the perfect choice for a custom promotional product.
These Custom Branded Clogs come with an adjustable strap that can be moved to the front or the back depending on the end-users preference. Completely waterproof, these shoes are the perfect fit for those who love outdoor activities but hate ruining their fresh kicks. They come in both men's and women's sizes and are perfect for clients, employees, or customers of any age. Take advantage of full-color capabilities and custom picture/pattern design options to display the unique personalities and differentiators that make your employees, prospects, or customers stand out.
Meaningful Connections with Custom Branded Sneakers and Shoes
The custom trend is here to stay. In fact, as we welcome the new year the demand for personalization is expected to grow. This gives companies a unique opportunity to start viewing their promotional products and marketing tactics as more than just a method to convince, but as a tool to build relationships.
Custom sneakers offer a one-of-a-kind, personal experience that customers crave and employees will be proud to wear. Our team is standing by to help you design the perfect custom shoe to activate your brand and delight your audience. If you're ready to build more meaningful relationships with your prospects, consider reaching out to us to request a free sample of one of these trending shoes. It's time to tell a story with your brand, and we're here to help you do it.