So picture this: You're standing at your company's career fair booth, looking at a sea of blue-suited job seekers.
How do you make an impression that lasts? What is your secret weapon to winning over the best candidates?
The answer is a well-thought-out giveaway strategy.
Here are twelve practical and useful career fair giveaways to help you recruit top talent at your next event. But first, let's briefly discuss the benefits of career fair swag.
Why are Career Fair Giveaways Important?
According to Talent Board, 82% of job seekers say that receiving a memorable giveaway at a career fair positively influences their perception of the company. And it's not just about the initial impression – 77% of candidates are more likely to remember a company based on the quality of their giveaways.
Here are a few additional benefits of career fair giveaways:
Brand Awareness Beyond the Event - When attendees use or wear your giveaways in public, it extends your brand's reach beyond the event itself.
Engage Potential Candidates - Job fair giveaways can act as conversation starters, leading to more in-depth discussions about what your company does and the roles you're hiring for.
Showcase Company Culture - The career fair swag you choose reflects your company's culture and values. For example, eco-friendly products show you prioritize sustainability.
Demonstrate Appreciation - Recruitment giveaways show appreciation to attendees for their time and interest in your company, which can create a positive association with your brand.
12 Best Career Fair Swag Ideas to Attract Top Talent
Attracting top talent requires more than a polished booth and a warm smile. HR managers, recruiters, and event coordinators need a mix of unique promotional products that job hunters actually want.
Whether you're looking for something creative and fun or more practical and useful, here are 12 of the best career fair swag ideas to recruit potential hires.
1. iFold Phone Stand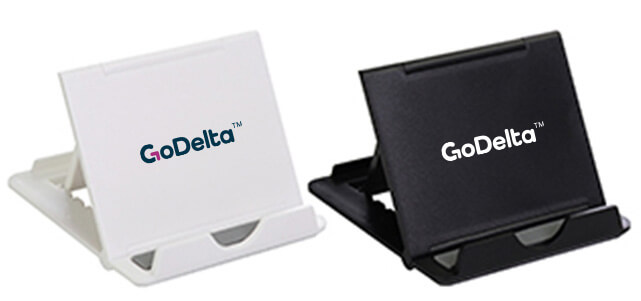 Add your logo to this versatile folding phone and tablet stand with six adjustable positions, perfect for watching videos or video chatting on the go. Its small size makes it easy to slip into a pocket, purse, briefcase, or backpack, making it the perfect travel companion for all career fair attendees, from recent graduates to experienced professionals.
2. Zipsip Neoprene Can Cooler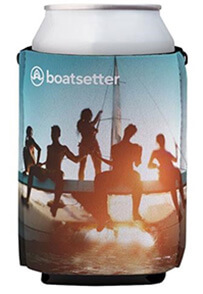 With its insulated neoprene layer, this can cooler is perfect for job seekers to have on hand at career fairs, job interviews, networking events, and beyond. Available in a variety of fun, vibrant colors, this career fair giveaway item is a true conversation starter for all those attending the event. Not only will attendees appreciate the thoughtful gesture, but they'll also remember your company every time they reach for a refreshing drink.
3. Dual Sided Microfiber Cloth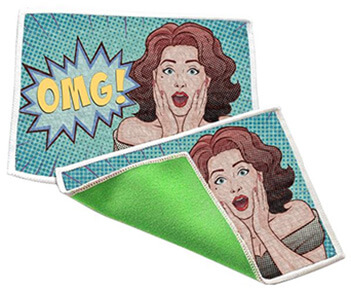 The modern job seeker uses phones, tablets, and laptops to navigate career opportunities. This dual-sided microfiber cloth is an excellent career fair giveaway item that will keep your recipients' devices clean and polished. This item has a large imprint area with plenty of room to feature your logo or contact information for easy reference. And the best part is it's reusable and washable, making it an eco-friendly and economical choice.
4. McHenry Wireless Charger

Effective networking in the digital age requires technology, and technology needs power. This wireless charger is the perfect way to show your brand to potential candidates who rely on their devices. The sleek and stylish charger features a built-in LED light that changes color to indicate the charging status of the device. It's also compatible with all Qi-enabled devices, so you can be sure that your recipients will be able to use it.
5. Cooling Towel

Branded cooling towels make memorable career fair swag as they help attendees stay refreshed throughout the long event. It's made of a lightweight, breathable material that will keep your recipients cool and comfortable all day long. The 12" x 36" towel is machine-washable and can be customized to display a logo, messaging, and artwork for maximum brand exposure.
6. Soft Cover Layflat Journal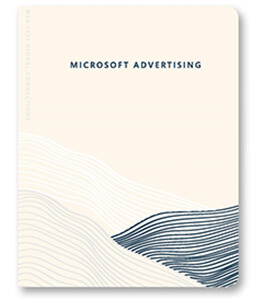 Give potential employees a quality notebook that takes their career planning to the next level. This handy 7"x 9" journal has library-quality Smyth-sewn binding, which allows it to lay perfectly flat. This practical job fair giveaway is the perfect writing companion for job hunters who need to quickly jot down ideas or record valuable information from prospective employers.
7. Next Level Unisex CVC Tee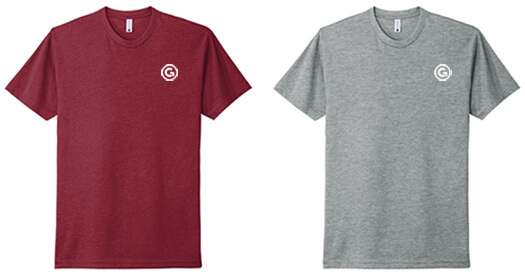 If you're looking for a quality branded apparel item that will stand the test of time, don't overlook a classic: unisex tees. According to ASI's Ad Impressions Study, t-shirts generate 5,053 impressions over their lifetime, with 47% of recipients stating they would keep and wear them for at least two years. This durable and stylish tee features a rib knit neck, shoulder-to-shoulder taping, and a tear-away label for maximum comfort.
8. Marin Stylus Pen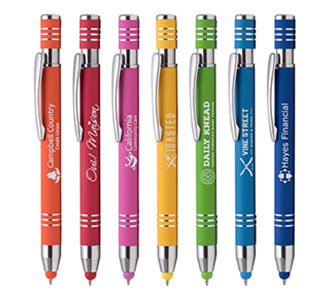 This laser-engraved metal pen is the perfect career fair giveaway for attendees eager to make their mark. The rubberized finish provides a comfortable grip, while the chrome accents and pocket clip add a touch of style. What sets this pen apart is its soft stylus tip, perfect for job fair attendees who need to navigate their electronic devices with precision and accuracy.
9. Comfort Ankle Socks

Give your potential candidates the gift of comfort with ankle socks made with the latest retail and athleisure trends in mind. Designed using premium materials, these socks ensure a truly comfortable fit that will keep your recipients' feet happy, even during the long work days ahead. No more discomfort or annoying blisters to distract them from making those important connections!
10. 3-In-1 Braided Charging Buddy
Don't let your potential employees' career fair experience be marred by dead batteries and missed opportunities. Hand out this sleek charging buddy that can charge an iPhone, Android, and tablet all at once without multiple outlets. This innovative and convenient tech accessory is a must-have for on-the-go job seekers.
11. Neoprene Roll-Up Tech Case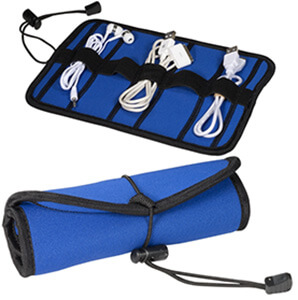 This folding 5.5mm neoprene tech case is the perfect job fair giveaway to attract your next tech-savvy hire. The case features five slots to store tech accessories, cables, and batteries safely in place. With an adjustable elastic cord closure and locking system, your recipients will have everything they need for a successful event.
12. Waterproof Dry Bag with Window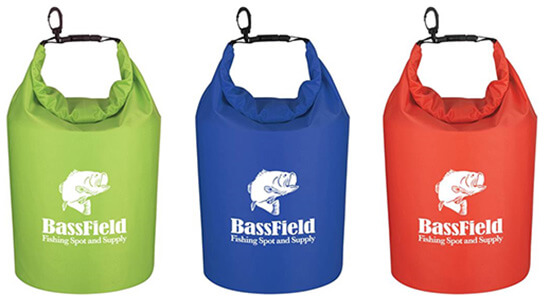 Every job hunter attending a career fair needs to keep their belongings safe and secure, and this waterproof dry bag is just the item to do it! Offering exceptional waterproof protection and a clear window for easy access to the smartphone inside, this bag is the ideal solution for any career fair environment.
Recruit Your Next Hire with Memorable Job Fair Giveaways
Career fairs aren't just for job-seekers to connect with potential employers. It's a valuable opportunity for companies to spread brand awareness through meaningful giveaways that promote their values. The right job fair giveaways will set your company apart from others and help start conversations with prospective employees.
If you need guidance choosing career fair swag, speak to a GoDelta Brand Consultant. We'll work closely with you to select and design the perfect giveaways for your next event.