With the influx of new high school and college graduates looking to break into the working world, there's ample time and opportunities for companies to participate in career fairs. Career fairs are a great avenue for businesses looking to
increase brand exposure and connect with prospective employees, according to Business Insider.

However, making a good impression isn't just the responsibility of the eager job hunters; companies have to stand out, too! A great way to set your organization apart from other businesses is by providing meaningful giveaways that promote your company's culture or purpose.
Take a look at 12 of my favorite items from this list of practical and useful career fair giveaways.
1. Bowie Softy Metal Pen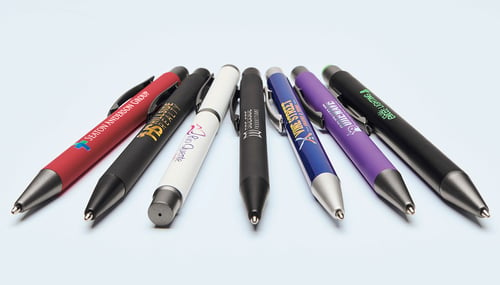 What better product to hand out to job-seekers than a tool that will help them with their search? The Bowie Pen is a stylish pen with a rubberized finished barrel allowing anyone to write with comfort. Plus, another version of this pen comes with a stylus to make surfing on devices a breeze.
2. Flip-Up Lid Water Bottle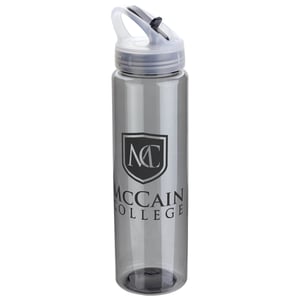 This durable water bottle holds up to 32-oz of water. The screw-on lid with flip-up sipping action makes it easier to drink and creates a convenient carrying ring. Add your logo to the bottle and you have a useful and stylish promotional product.
3. 3-in-1 Flip Power Bank
Power banks keep the work going with the ability to fully charge a smartphone. This power bank has dual lightning and android connectors, and a Type C adapter hidden inside. With a large surface to place a design on, your brand will surely stand out.
4. Packable Tote Bag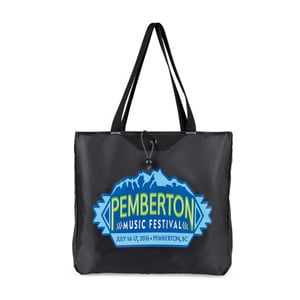 Your brand is carried everywhere with this highly useful tote. It's packable, portable, and perfect for on-the-go. This tote has shoulder straps and a bungee to secure items when stored away. Plus, it's great for career fair attendees to carry around important brochures and paperwork.
5. 4-in-1 Keychain Charging Cable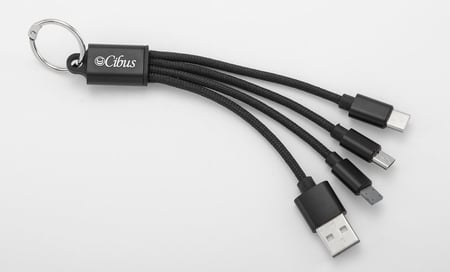 This simple compact 4-in-1 charging cable keeps wires organized. It's compatible with all modern phones and has a keyring to take it—and your brand—everywhere.
6. Custom Knitted Dress Socks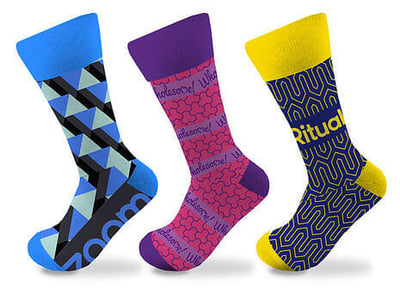 These socks will make a great impression at any career fair with their style and comfort. They're fully customizable to make your brand more than a logo with a unique design that's also budget-friendly.
7. Straw with Wheat Case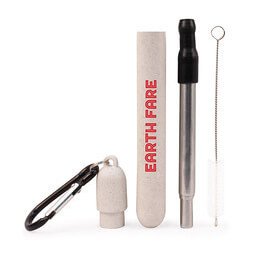 Environmentally-friendly promotional items are great for showing that your company values sustainability, and a metal straw with a wheat straw case is one of the best. It extends to fit any size drink and comes with a rubber tip to make drinking more comfortable. The customizable carrying case also makes it easy to carry around.
8. Notebook with Phone Pocket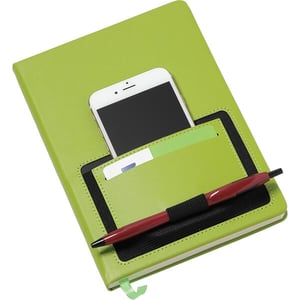 Career fair attendees will love the multifunctionality of this notebook. The 6" x 8" size makes it easy to carry around smartphones or business cards in the convenient front pocket.
9. TekBooklet with Square Credit Card Mints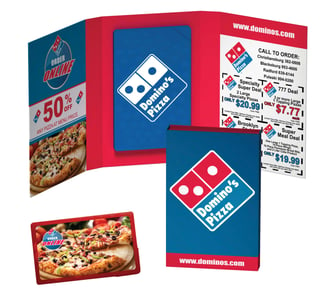 This 2-in-1 product is sure to raise brand awareness. The TekBooklet includes a fully customizable full-color decaled imprint of your company's message and comes with sugar-free mints attached to the card in a convenient flip-top plastic container. It's a pamphlet and a promotional item all in one.
10. 3-Port USB Hub
We all carry multiple devices these days. This 3-port USB hub is the perfect way to charge multiple devices at once. Much like a power strip, it allows you to plug multiple devices into the same charger. Plus, with plenty of room for your logo and plenty of color options, your branding will display clearly. Show potential job candidates that your company is focused on technology and innovation with this great giveaway.
11. Microfiber Cloth
Help career fair attendees keep their favorite devices and accessories streak-free with this useful branded microfiber cloth. Perfect for gently cleaning everything from glasses to cell phone screens, this cloth has plenty of room to display your brand. Plus, each cloth comes neatly packaged in an individual sleeve, making this the perfect portable career fair item.
12. Clip Clap Bluetooth Speaker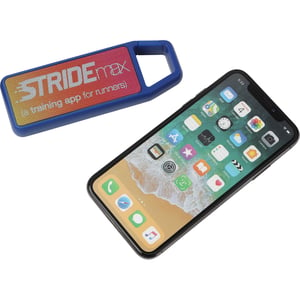 This speaker will "Wow!" prospective employees with quality sound in a tiny form. It plays audio from any Bluetooth-enabled device with a working range of up to 33 feet. With the built-in clip, it's easy to bring music—and your brand—everywhere.
Key Takeaways:
Career fairs aren't just for job-seekers to connect with potential employers. It's also a chance for companies to spread brand awareness through meaningful giveaways that promote their values. Giveaways will set your company apart from others and help attract valuable prospective employees.