Solution: The Right Gifts that Reflect a High-Quality Brand
When searching for high-quality promotional items that reflect the value of Bowe Digital's services, it was important to find new, forward-thinking, and trending products. As a digital marketing agency, any giveaways they invested in needed to reflect the innovative minds behind the Bowe Digital brand.
Our team came up with unique items for the marketing agency to hand out at tradeshows, as client gifts, and even as employee engagement incentives. Some of the branded items Bowe Digital invested in were:
When it came to employee engagement, one of the most successful gifts that set the Bowe Digital brand apart was a customized Mr. Boom boombox.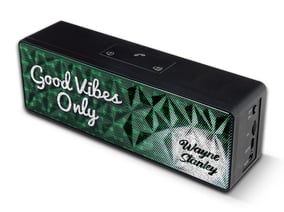 "We personalized each one with each of our team member's actual name on it, and people lost their minds over it. They weren't even that expensive; it was definitely worth the investment." Wayne said.
All the swag and promotional products purchased by Bowe Digital were used either as giveaways at live events, booths at trade shows, gifts for clients, virtual event swag, or even as sponsored items.
To promote further brand engagement, Bowe Digital got creative with their swag items. Our team worked together with them to send out beach kits, including branded sunscreen, aloe vera, and customized sunglasses. The kit included a CTA asking recipients to post photos with their swag items under a branded hashtag, and the winner with the best photo would receive a free T.V. In return, Bowe Digital created a personalized brand connection with their customers, while receiving user-generated content that could be used in future marketing campaigns.
Our team continues to work with Bowe Digital to come up with creative ways to promote their brand beyond just a branded swag item. Through creative contests, high-quality customized gifts, and strategic messaging, Bowe Digital has created a unique name for itself, even among the highly saturated industry of digital marketing.