It takes a special person to be a teacher. You often hear them called superheroes. And honestly, I can't think of a better label.
Not only are they an integral part of a child's life, but they've been thrown curve ball after curveball in recent months. From remote learning to new safety protocols, they've navigated it all in stride, keeping students as their first priority and allowing you that extra hour to answer those emails or get in a quick sip of coffee.
Teachers appreciation week offers a unique opportunity for everyone to say thank you to the special teacher in their life. But choosing a gift that teachers actually like, one that stands out and shows how much you appreciate all that they do, isn't always a simple task. Teachers get a lot of odds and ends from students throughout the years, and while they likely hold a special place in their hearts, these gifts don't always get much use.
So what are some of the most used and appreciated teacher appreciation week gift ideas that teachers will actually like and use? Here's what we recommend.
1. Gifts for Life on the Go
Teachers pack a lot into each day. They don't have the luxury of stopping whenever they want to hit the office breakroom. So teacher appreciation week gifts that keep them hydrated, caffeinated, or just plain satisfied during the school day will always be used and appreciated.
Basecamp Zion Mug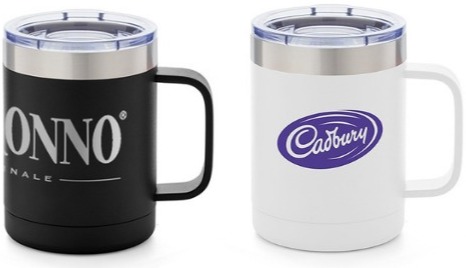 Here's an idea for those coffee loving teachers. This mug will keep their coffee warm all morning long with no need to take a trip to the microwave. Made with 18/8 powder coated stainless steel with copper lining and a double-wall, vacuum insulated construction, it has a top of the line temperature regulating design. It can hold up to 15 ounces of a hot, or cold beverage, and is the perfect size to fit right under a Keurig coffee machine. With a push-on lid including a silicone gasket seal and sliding lock, it will keep beverages contained and safe.
Personalize it to make it extra special. Choose between a black, white, graphite or blue mug and a Chisel It or Silkscreen imprint.
Insulated Tumbler with Straw

Slightly bigger, and designed more for hydration, is this Nayad Trouper insulated tumbler with straw. This makes it easy for a teacher to grab and sip during class time. Made from stainless steel, this tumbler holds up to 22 ounces and also uses double-walled insulation to keep beverages at their optimal temperature. The lid is screw on and includes the built-in straw.
These tumblers can make a bold statement for teachers who love color. They come in 10 different fun and bright colors that all can be personalized with a school logo or imprint of your choice.
Cereal or Yogurt Tumbler

Keeping teachers fueled throughout their day is a great way to show appreciation. Often teachers will skip breakfast or lunch, as they dedicate their day to their students. This Chill Yo 2 Go is a yogurt tumbler that teachers will love packing their snacks in.
It features a built in double wall of freezable honeycomb non toxic gel which freezes in only one hour. This container can then be filled with yogurt or milk or really anything you want to keep cold. The top has a storage container that can be used for fruit, whole grain cereal, nuts, raisins, or any other small snack. It's a great container for fresh snack combos like veggies and dip, milk and cereal, yogurt and fruit, or crackers and dips.
The Chill Yo 2 Go yogurt tumbler comes in fun colors like pink, blue, lime, purple, black or red. It also comes with a sturdy built-in melamine spoon and matching silicone grip band. Make it truly a gift by personalizing it with your school's logo or other imprint of your choice.
2. Gifts for the Classroom
You can't go wrong with giving a teacher a gift they can use in the classroom. Whether it's a teaching tool for their students, or supplies for their own organization, teachers will love the usability and functionality.
Air Plant
This Air Plant is a tiny, easy to grow plant that doesn't need soil, and absorbs its nutrients and water from the air. They are extremely low maintenance, and a busy teacher doesn't have to worry about watering or caring for it. Yet, they can use this plant to teach their students about nature, plants and growth.
This plant comes in a natural wooden planter which can be customized to your own unique school or teacher. Choose a full color imprint that includes a fun quote or message of thanks. Teachers will love showcasing this Air Plant gift in their classrooms.
Wireless Charging Desk Organizer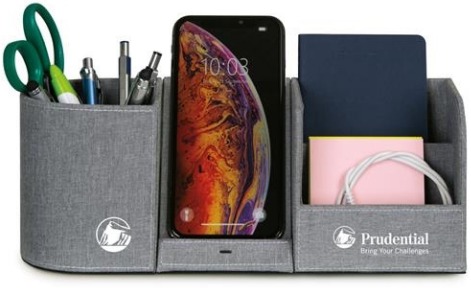 Teachers will appreciate this dual purpose desk organizer, which also serves as a wireless charging hub. The organizer is made up of three pieces that can be detached and used separately. They also are magnetic, which gives teachers the flexibility to use this on a whiteboard or filing cabinet. And if being used on a desk, the anti-slip rubber feet will keep the organizer from slipping. The wireless charger is compatible with all QI-standard wirelessly-charged phones, which includes most modern day smartphones.
Choose between heather grey or a bold black. Plus, customize it with a standard imprint for a look and feel that your teachers will appreciate.
Wireless Charger with UV Sanitizer
Germs are everywhere in schools. Even with the added post pandemic protections, teachers are always at high risk of catching colds and illnesses from their students. That's why this wireless charger and UV sanitizer combo is a thoughtful teacher appreciation week gift idea.
It's both a cleaning case and a wireless charger that will kill most germs found on daily use items. It can switch between two cleaning modes, either a quick 90 second clean or a deep 5 minute clean. The built-in 5 wireless charging pad will work with any QI-standard wirelessly charged phones. Customize it with a personal logo or message using a pad print or digital top imprint.
3. A Way to Destress
Teachers have a lot to deal with. Now more than ever, their jobs are stressful and often filled with unknowns. One of the best teacher appreciation week gift ideas can simply be an item that gives them a way to destress. Whether it be on their own or with coworkers or friends, here are a few gift ideas that promote relaxation and a much needed break from teaching.
Apple Stress Buster
This cute stress ball shaped like an apple, can easily be paired with another gift to compliment a thoughtful teacher appreciation week gift. Teachers can use it in the classroom when they've had a particularly stressful day. It also can just serve as a reminder on their desk that their school appreciates how hard they work, and understand that they have a stressful job.
This soft and squeezable stress ball is made of polyester and contains a thermal rubber ball filled with gel-filled beads. They actually provide a gently and soothing massage every time you give it a squeeze. The stress ball can easily be customized with a school logo or message with either a pad print or silkscreen imprint in a variety of different colors.
Wrapsody Wireless Headphones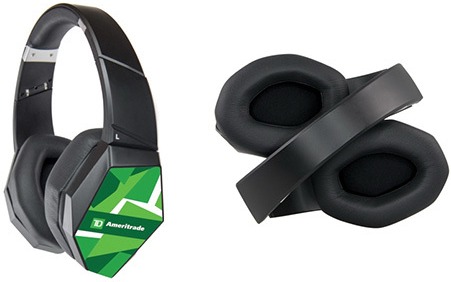 Giving the gift of music is a great way to help teachers shake off some unneeded stress. These Wrapsody wireless headphones are a premium gift that will show any teacher truly how much you appreciate their hard work.
Equipped with omnidirectional bass, an advanced microphone, and 85% noise cancellation capabilities, these bluetooth headphones are truly top of the line. They fold up to easily fit into a book bag or purse on the go, plus offer 10+ hours of playtime. These headphones also come in luxe retail packaging that are perfect for teacher appreciation week gifts. Included in the gift box is a carrying bag, aux headphone jack cord and a micro USB charging cable.

With a full color imprint on the ear pieces, you can truly customize these to appeal to your teachers and their tastes. They will surely appreciate this method of relaxation and enjoy flashing their school branded headphones while they're at it.
Gin & Tonic Virtual Cocktail Kit
This is a great gift that taps into experiential marketing. Teachers will love the experience this gives as well as the item itself. Help teachers connect with their coworkers or friends, while taking an evening to themselves to destress and relax with this Gin & Tonic cocktail kit.
It includes everything your teachers would need (minus the hard stuff) to make and enjoy their own Gin & Tonics. Complete in a carry on tin includes a recipe card, bar spoon, a ½ ounce jigger, tonic syrup and a linen coaster. The kit will make two Gin & Tonics, while the recipe and spoon also gives it lasting use. Customize the tin's lid with a special teacher appreciation week message for a gift all your teachers will appreciate.
4. Something Sweet
Finally, you really can't go wrong by giving teacher's something sweet. Everyone loves a treat, and after a long, hard day in the classroom, teachers love an indulgence every now and then. Teachers appreciation week is a great excuse for those sweet treats to come out.
Home Style Cookie Basket
This basket of two dozen home style cookies makes a simple yet sweet gift teachers will love. They'll enjoy taking these home to their families and sharing your appreciation beyond the classroom.
These cookies are made with home-style chocolate chunk recipe. They are all individually wrapped to stay fresh. The included basket adds a premium touch, made from cork like material with a faux leather trim and tied together with a burgundy ribbon. Add a message of appreciation or the personalization message of your choice to the bow, and you have a teacher appreciation week gift that will go a long way.
Keepsake Gift Tin with Sea Salt Caramels
This is a perfect gift that you can use to combine something sweet with a heartfelt message of appreciation. If your school has a theme picked out for teacher appreciation week, consider using it to brand this keepsake gift tin. The container can be customized with a 4.5 x 3 inch full color digital print or silkscreen imprint. You could even brand it with a class photo to make this gift extra personal.
The tin comes complete with 6 pieces of delicious sea salt caramels. The tin itself measures 5 by 3.5 inches and is the perfect size to fit into teacher mailboxes or on their desks.
Gummy Bear Cube
Teachers often get overwhelmed with chocolates. They're easy to find and pretty generic. So think outside the box with this Gummy Bear Cube. It comes as a clear cube that measures 2.35 X 2.35 inches and is filled with 4.2 ounces of gummy bears. What's more is the cube can have lots of other uses after the gummy bears are gone. Teachers can use it on their desks as an organizer, or at home as a storage container. The label that wraps around the cube can be customized with a 4-color process technology. Get creative and brand it with a fun teacher appreciation week message or theme to show teachers how much they are valued.
Send a Message of Thanks to Teachers
When choosing teacher appreciation week gifts, think hard about what your teachers like and enjoy. The best gifts will cater to their personal interests. Think about gifts that make their everyday lives easier, make teaching easier, or just give them some enjoyment in a sometimes chaotic environment.
Teacher appreciation week is an important time, but don't just consider these gifts for one week out of the year. Teachers help shape the minds of our future, and honestly they should be appreciated every single day. Any of these gifts will bring delight to a teacher in your life, and can be one small gesture of thanks to the huge impact they have on our children and generations to come.