Welcome to my 2022 updated list of creative promotional items. We updated this blog based on our customers' ordering, trending products shared at virtual events, and in-depth research on what your customers want.
There's no better feeling than making a customer say, "Wow, I've never seen that before!" when they see a promotional product you're handing out.
Promotional handouts should showcase your company and brand. To stand out and make a positive impact, think creatively about the promotional items you give away.
10 creative promotional items: Updated 2021
Here's my handpicked list of creative promotional items that will help your brand make an impact.
1. Hydration Charging Station Stainless Steel Bottle
2. Magnetic Laptop Aluminum Cell Phone Holder
3. Ambient Light Wireless Charger
4. Neck Warp
6. LVL Key Ring
8. ClutchSlide
9. Pine Tree Growables Planter
10. Robo-Cube Puzzle Fidget Toy
Let's take a look at what makes these promotional items so creative!
1. Wireless Charging Stainless Steel Water Bottle
Water and technology. Two things we can't live without. This wireless charging stainless steel bottle ensures you always have both. The 22-ounce stainless steel bottle has an ABS plastic base, which includes a wireless charging pad. Just unscrew it, and pop on your device, and charge on the go. It comes in black and can be customized with your organization's logo right on the bottle.
2. Magnetic Laptop Aluminum Cell Phone Holder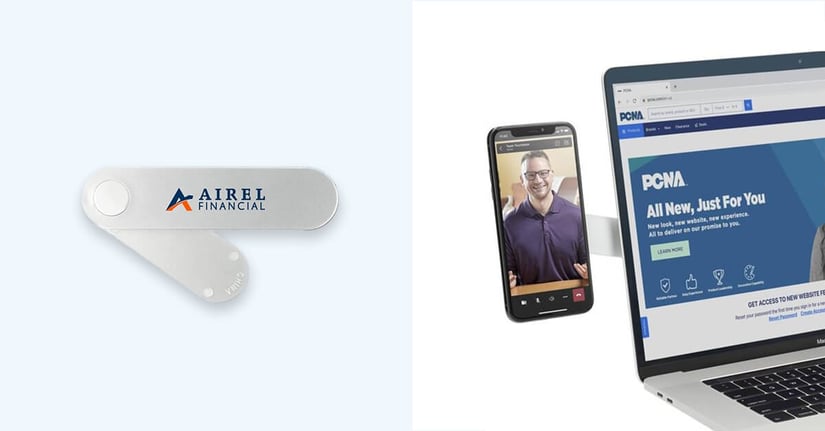 Did you know the average American picks up their phone 98 times per day? Here's a creative way to reduce that number. A mobile desktop phone holder! This phone stand clips right into the back of your laptop or computer monitor to keep your phone accessible at all times. The magnetic design can hold up to .6 pounds, strong enough for even the heaviest iPhone, the 12 Pro Max. Plus, with a slim design that's only .11 inches thick, this mobile desktop holder is easy for hybrid workers to throw into a bag and take with them as they transition offices. Add a color print pad imprint to maximize brand awareness, and you'll have a creative promotional product that recipients will love to use.
3. Ambient Light Wireless Charger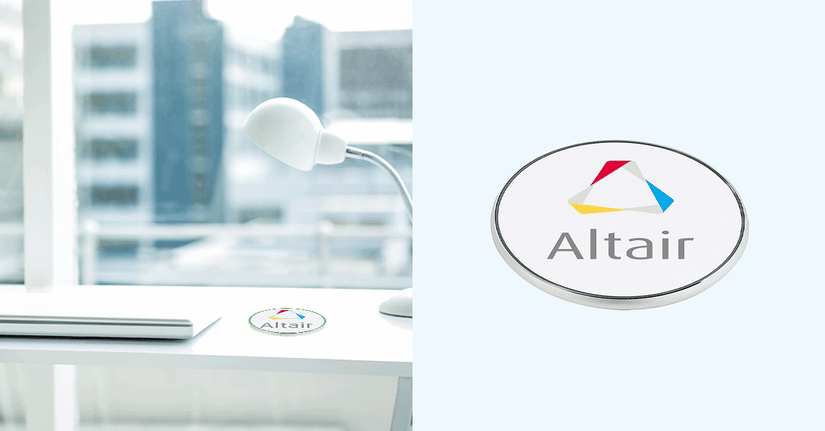 Here's a fun and creative way to light up your brand. This wireless charger has a beautiful rim that lights up to show the status of the charge - green for fully charged and blue for charging. It works with any Qi-enabled devices and also includes a Foreign Objects Detector, alerting the user if any metal items are placed on the charger. The aluminum casing allows for easy heat dissipation and durability. It comes in black or white and includes a full-color brand imprint for a bold brand-forward look.
4. Neck Wrap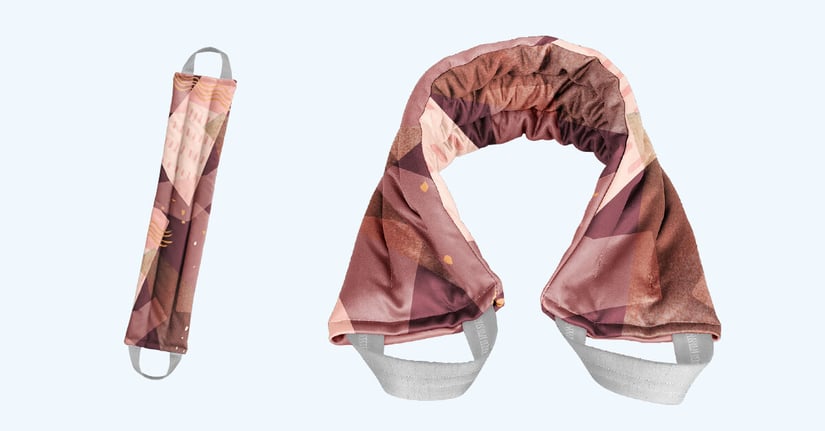 Give the gift of rest and relaxation with this creative promotional product. Heated or cooled, the Neck Wrap feels amazing against your skin while providing a spa experience right from the home. It's made to help melt away tension or cool you down after a particularly stressful day. What we absolutely love about it, though, is the full bleed four-color process imprint. Make this product truly your own by adding a creative design in brand forward colors, and you'll delight recipients in a truly memorable way.
5. Full-Color Pocket Picnic Blanket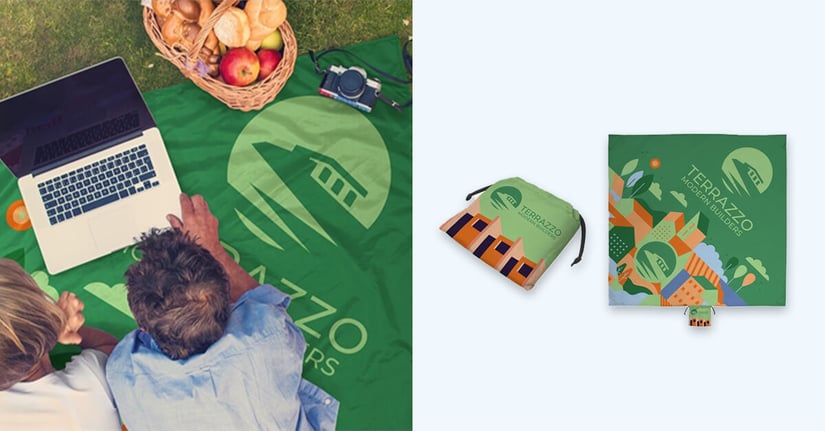 If you've ever been stuck carrying around a blanket at an outdoor event, you'll definitely appreciate this product. It's a full picnic blanket that folds into a convenient 7.87 x 7.87 inch pouch that easily fits inside a pocket or purse. It even has weighted corners to help it stay put on even the windiest day. It's made with durable ripstop polyester making it the perfect blanket to survive any conditions. And, with 100 percent customizable full-color printing, even on the pouch, you'll make a bold brand impact wherever this blanket goes.
6. Vegan Leather Key Ring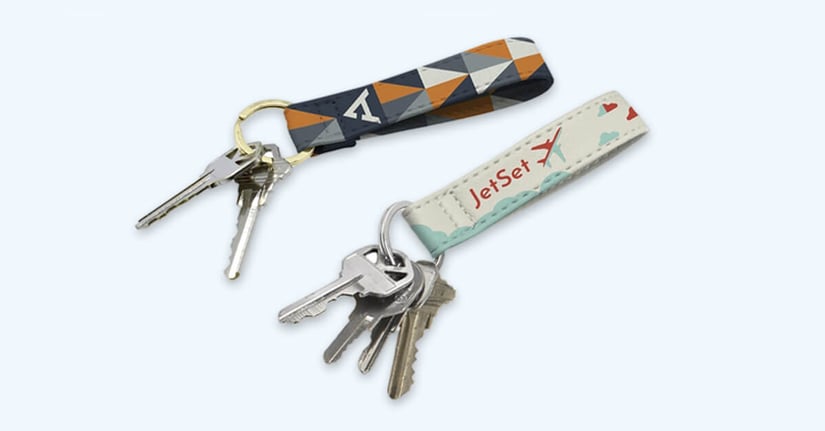 Here's a one-of-a-kind gift creative promotional product that looks and feels premium. Crafted with high-quality crosshatch vegan leather and printed in vibrant full color, this key chain ring makes for a high-end yet low-cost giveaway that will be used again and again. Take advantage of the full-color imprint option and create a unique design that recipients will always remember.
7. Spot Bluetooth Finder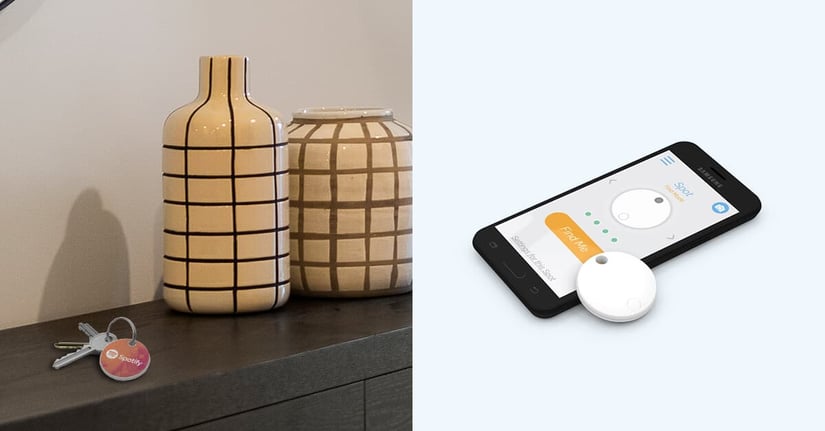 Here's a useful item that everyone needs. The Spot Bluetooth finder helps you keep track of important items that are easy to misplace. Attach it to things like your keys, and pair it with your phone. You'll then be able to use the Spot app to track the item and even set up notification alerts when you're about to be separated from an important item. This way, you'll never leave your keys behind again. Add a digitally printed imprint on the Spot, and you'll have a fun and creative promotional item that activates your company's brand.
8. ClutchSlide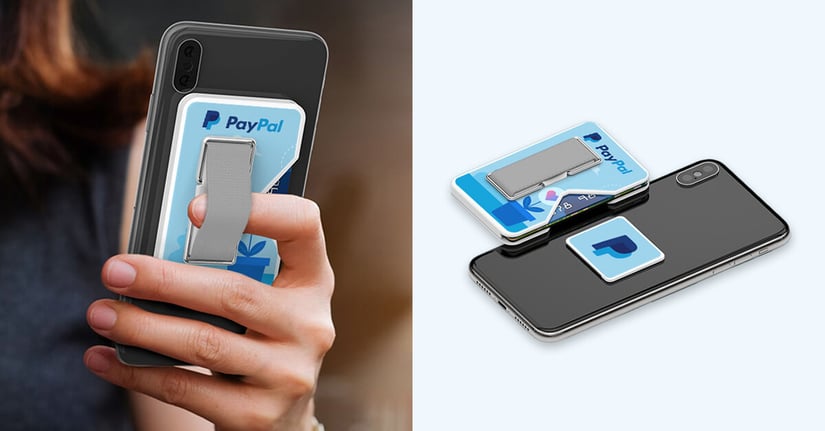 A cardholder, phone strap, and phone stand - all in one? Too good to be true? Nope! The ClutchSlide does it all. Measuring 3.57 x 2.25 inches, it features a branded plate that adheres to the back of any phone. The ClutchSlide then fits onto the plate securely. This removable aspect makes sure you can still charge your phone wirelessly. Safely store essential cards in the included card slot, which offers protective shielding against external information theft. The elastic strap secures the phone to the user's hand, preventing accidental drops. It also offers a fold-out stand that will prop up devices at the perfect angle for hands-free viewing. Add your name or logo using a four-color process digital imprint, and package it all in a white gift box for a creative gift idea.
9. Pine Tree Growables Planter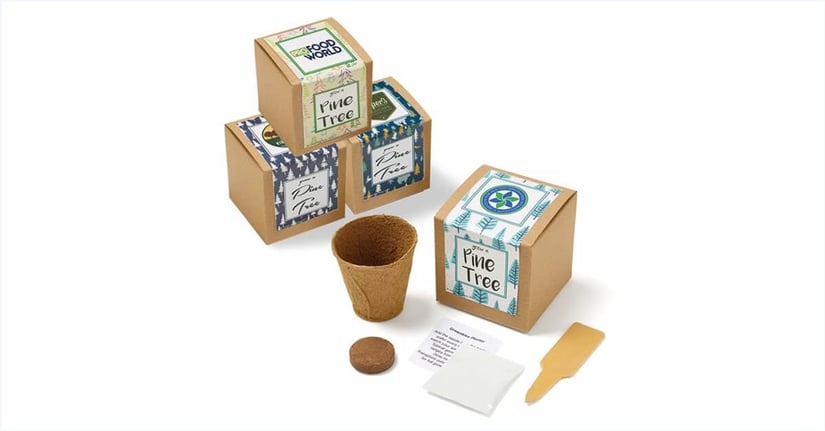 Here's something you can probably count on clients not having. A pine tree planter! It's a fertile fiber pot that is 100 percent organic, sustainable, and biodegradable. Made of spruce wood and manufactured without glue or binders, it's ready to be placed in outside soil and grow. Water, air, and roots will penetrate the walls, meaning no need for drainage holes. The kit includes a soil pod, seed packet, wooden stake, and instructions. It comes inside a recycled kraft gift box that can be customized with a full-color imprint of your own, or you can choose from of the four stock label designs.
10. Robo-Cube Puzzle Fidget Toy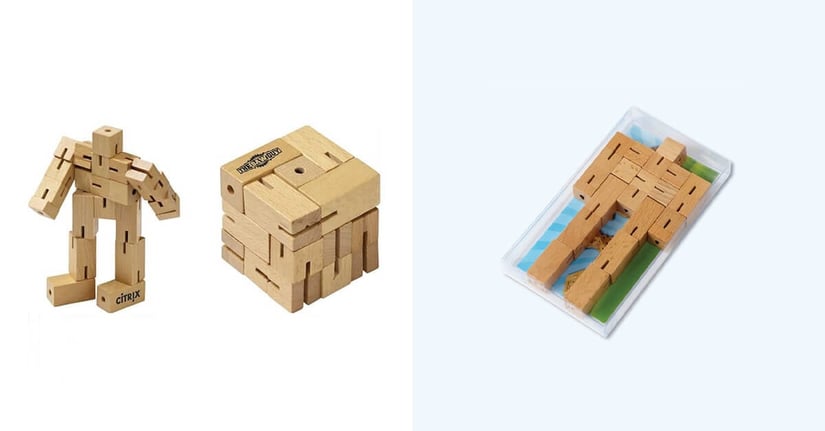 Here's a fun fidget toy that clients or employees will appreciate. Inspired by Japenese Kumiki puzzles, this 7-inch robot can be turned into a cube or any creative shape and back. It's made from genuine hardwood that comes in a natural, black, or silver finish. Add a printed logo to the puzzle itself and the clear gift box it comes in, and you'll have an all-around fun and creative promotional product that clients won't want to put down.
Activate Your Brand with Creative Promotional Products
Your brand will stand out with these ten creative promotional products. When you think outside the box to find items that delight, inspire, and protect your customers, you'll make a lasting positive impact!