So, you've got a dilemma. You've been assigned the daunting task of picking out promotional items to effectively market your company. You realize that there are thousands of different promotional products to choose from. How are you going to tell which ones will work, and which ones will be a flop? You want to be sure that your investment will be worth it.
But there's no need to worry! I've come up with 10 simple promotional product ideas that are classic crowdpleasers for marketers in a pinch. The following items are simple and useful enough to appeal to everyone.
1. Branded Cherry Revo Ball
Brighten up your campaign with this fun marketing giveaway. The branded Cherry Revo Ball is a flavored lip balm packaged in a unique, spherical shape. People love the sleek look of silkscreen imprinting, and round shaped lip balm has become extremely popular in the past couple of years. Choose from multiple flavors like watermelon, tangerine, pomegranate, and more. GET IT HERE.
2. Custom Whizzie Spotter Tie
Give people a promotional product they can definitely make great use of. The custom Whizzie Spotter Tie is a luggage tag that doubles are a wire organizer. Imprint your logo on the plane shaped top. GET IT HERE.
3. Promotional Mini Ear Buds
Everyone loves music. 63% of global consumers use electronic devices to listen to music, according to Nielsen, which is why your clients will love this custom product. Promotional Mini Ear Buds work with any electronic, music playing device and comes in a logoed case that your customers will use to transport this useful item. GET IT HERE.
4. Personalized Peppermint Zero Calorie Breath Mints
Give people a chance to freshen up with the personalized Peppermint Zero Calorie Breath Mints. This product comes with a modern, silver packaging and allows for a full color process imprint. This product is a cheap best seller. GET IT HERE.
5. Customized Sanell Hand Sanitizer
Hand sanitizer is a popular giveaway that people tend to keep around. Mobile and small, the customized Sanell Hand Sanitizer allows for full color process, pad print, or silkscreen imprinting in multiple colors. GET IT HERE.
6. Logoed Alligator Clip
Give people a household item that they'll definitely use. The logoed Alligator Clip can be used to hold notes and photographs. It has a magnet on the back so it can be easily hung on refrigerator. GET IT HERE.
7. Branded Petite Loop Lanyard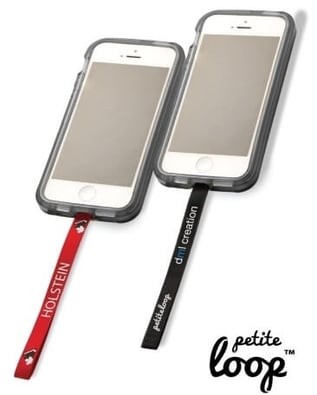 Though simple in nature, the Petite Loop Lanyard is an innovative promotional product that is surging in popularity. The imprinted satin ribbon rests in between your smartphone and case to create a loop to help recipients avoid dropping their smartphone. Pick from a variety of ribbon colors to align this product with your brand.
8. Custom USB Mini Car Charger
It's always smart to give out technology related promotional products because people hang on to them! The custom Mini USB Car Charger has been featured in a couple of our past blogs because of its popularity among consumers. GET IT HERE.
9. Promotional Non-Woven Hit Sports Pack
This cheap drawstring backpack is perfect way to expose your logo to the world. The promotional Non-Woven Hit Sports Pack has a large imprint size of 8" x 9" that will make your logo highly visible. GET IT HERE.
10. Personalized Stain Remover
Everyone should carry around this handy product in case of accidents! This personalized Stain Remover is marker shaped and uses cleaning materials to get rid of food and liquid stains. GET IT HERE.