It's no secret that smartphones have completely dominated the mobile phone industry in recent years. The numbers are absolutely astonishing. There are 169 million smartphone owners in the U.S., according to Tech Times.
Of the astronomical number of smartphone users, the Apple iPhone has become the world's most popular smartphone for the first time in about three years, having sold 74.8 million iPhone 6 smartphones in the fourth quarter of 2014, according to CNN. I see this as a huge opportunity for companies to generate brand exposure. The best way to do so is with promotional products for iPhones.
Use the iPhone promotional products below to connect with customers through a gadget they love.
1. Custom Phone Cases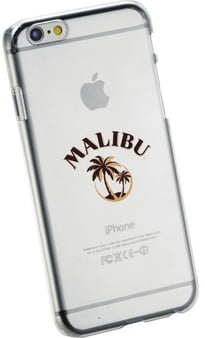 Phone cases that are sold in cell phone provider stores or other retail stores are often times very expensive, so your customers would love to receive an iPhone case free of charge. 91% of people have their mobile phone on them 24/7, according to Hubspot. So, using this product is a win-win situation: your clients get a useful product, and your brand name or image will be exposed to countless people because the majority of users have their phone on them at all times.
I have received a lot of orders for the case pictured to the left, the hard shell case for the iPhone 6. It's been a hit so far!
2. Branded Compact AC-to-USB Adapter
Your iPhone owning client is for sure going to love this product! I always find products like the branded Compact Ac-to-USB Adapters easy to lose, which is why your customers will adore this item. They are essential for iPhone owners who want to charge their device by plugging it into the wall. Display your brand image on a product that iPhone owners use multiple times a day. How's that for repeated brand exposure?
3. Promotional MFI Certified Tripwire
On t
o the MFI Certified products! I know what you're thinking: what the heck does "MFI Certified" mean? All it means is that Apple has authorized the product manufacturer to include their MFI logo on the item, which means "Made for iPhone, iPod, and iPad." So, the promotional MFI Certified Tripwire is sure to be a hit with iPhone users! This retractable charging cord extends 30".
4. Customized Compact USB Car Charger
We've covered home chargers, so what happens when you need to charge your phone in the car? The customized Compact USB Car Charger can charge your iPhone while you're on the road; it works for any USB powered device! This product would make a perfect trade show or corporate event giveaway. Print your logo on a product that users of the world's most popular smartphone will love.
5. Personalized Deluxe Swivel Dashboard Phone Holder
Smartphones have the awesome ability to work as a GPS, so many iPhone users use their device for directions while driving. Make using your smartphone as a GPS safer with the personalized Deluxe Swivel Dashboard Phone Holder. It allows you to use your phone as a GPS hands free for safe driving. Your logo will appear on the suction cup stand that sticks to the dashboard. This is a truly useful product that iPhone users will appreciate. The unique swivel ability allows users to position their iPhone to make viewing easy. It fits all iPhone models because it has an adjustable width. GET IT HERE.
6. Logo 4-in-1 Charging Buddy
Now you can charge multiple Apple devices at once with this MFI Certified product! The logo 4-in-1 Charging Buddy plugs into a USB port and is able to charge four Apple products, like iPhones, iPods, and iPads at once. I find these iPhone promotional products especially interesting because of the wide range of customization options they offer. You can choose the colors of the charging cords to match your brand image and style.
Your logo will appear on the top, clip-like part that from which all the cords extend. You have the option to print in multicolor to accurately represent your brand. GET IT HERE.
7. Branded Portable Charger
Help out special clients if they ever get in a pinch on-the-go with the branded Portable Charger! This power bank has the ability to charge the iPhone 4, 5/5S, and 6. Has a battery life of up to 6 hours. GET IT HERE.
8. Custom Cubic Bluetooth Speaker
Sync up your iPhone with the custom Cubic Bluetooth Speaker for hours of music. This high definition speaker is perfect for home, office, or outdoor use. It can sync devices up to 30 feet away for convenient use. This promotional product would be a great employee incentive or gift for music lovers. This item comes in blue, red, green, black, or white as the main product color. Your full color logo will be printed on the top near the speaker. GET IT HERE.
9. Promotional Selfie Stick
Promote your brand with one of the world's hottest products at the moment, the promotional Selfie Stick! This clever device is designed for users to take "selfies" with their smartphones. You simply place your iPhone in the clamps and extend the pole to take the perfect picture. The clamps are adjustable to fit any of the iPhone models.
As for imprinting your logo, this product includes a full color process decal directly on the pole. Your logo will appear directly above the handle. GET IT HERE.
10. Logo Phone Stand and Screen Cleaner Combo Keychain
This item is perfect if you're looking for cheap iPhone promotional products! Use the logo Phone Stand and Screen Cleaner Combo Keychain as a trade show giveaway. This product is great for iPhone users as it works to clean any model's screen and serve as a stand. I would definitely put this keychain on my car keys for everyday use.
This product comes in white, lime green, blue, red, and purple. GET IT HERE.