Welcome to my 2020 updated list of creative promotional items. We updated this blog based on our customers' ordering, trending products shared at virtual events, and in-depth research on what your customers want.
There's no better feeling than making a customer say, "Wow, I've never seen that before!" when they see a promotional product you're handing out.
Promotional handouts should showcase your company and brand. To stand out and make a positive impact, think creatively about the promotional items you give away.
10 creative promotional items: Updated 2020
Here's my handpicked list of creative promotional items that will help your brand make an impact.
Touch Tool

Reusable Face Mask and Hand Sanitizer Kit

SimplyFit Cooling Towel Mini Kit
Antibacterial Pen
Quick Charge Data Blocker
The Inversa Inverted Umbrella
11-oz BlueTUNES™ Speaker Bottle
Slate Tote
2-ply Face Mask
Wireless Charging Mouse Pad
Let's take a look at what makes these promotional items so creative!
1. Touch Tool
The TouchTool keeps hands from touching commonly used public surfaces to reduce the transmission of germs. Let the Touch Tool open doors, push buttons and do the dirty work for you. The Touch Tool has six uses from carrying bags to touching buttons and opening doors - this tool does it all!
2.
Reusable Face Mask and Hand Sanitizer Kit
Get all the essentials to keep you safe in this convenient kit. The RuMe Reveal Quart bag comes with two reusable face masks and a 2-oz bottle of hand sanitizer. Brand all four items to keep everyone safe and spread brand awareness.
3. SimplyFit Cooling Towel Mini Kit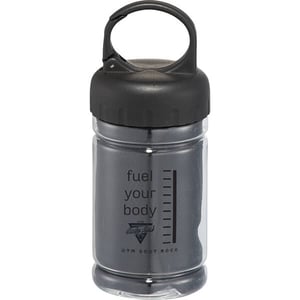 The SimplyFit Cooling Towel MiniKit is a two-in-one soft, quick-absorbing cooling towel rolled neatly inside a mini water bottle.This promo item creates a complete package that's perfect for aligning your brand with fitness, wellness, and an active lifestyle themes. Choose a towel color that reflects your brand and print your logo on the water bottle.
4. Antibacterial Pen
This antibacterial pen stands out from the crowd by guaranteeing 99.9 percent protection against bacteria when used. Customize your brand with this pen that comes in six bright colors and stop the spread of germs.
5. Quick Charge Data Blocker
Protect phones from unwanted data transfer with our super-handy and quick charging USB data blocker. Plug the blocker into any USB port and the charging cable into a phone for a safe and fast charge. It's even faster than our original USB data blocker and is available in blue, black, and silver.
6. The Inversa Inverted Umbrella
The Inversa Inverted Umbrella is designed to open and close in reverse, keeping the wet side of the umbrella contained. The intelligent design makes it easier to open and close from inside doorways and cars, so you'll always stay dry. With a matching fabric carrying case and shoulder strap, the Inversa Inverted Umbrella is a thoughtful and creative promotional item.
7.
11-oz BlueTUNES™ Speaker Bottle
Make some noise and put your brand in the customer's hands with an 11-oz BlueTUNES™ Speaker Bottle. Made of Tritan™ material, the matte black colored bottle features a capacity of 11 ounces, a spill-resistant screw cap, and a wireless Bluetooth speaker with a 30 ft. range. Also included is a 300mAh lithium rechargeable battery, a 90 minute play time, and Micro USB input cord. Customize each bottle with a brand name, logo or advertising message for maximum exposure with every sip and song played!
8. Slater Tote
The Slater Tote is the perfect bag for on the go with its versatility; carry it as a tote or a backpack! The Tote is made from a durable 600d polyester and the perfect travel companion.
9. 2-ply Face Mask
This 2-ply face mask is perfect for everyday use to protect yourself and others. This face mask is comfortable to wear with an over the ear design. A fully sublimated exterior features your branding and design. Stay safe and promote your brand!
10. Wireless Charging Mouse Pad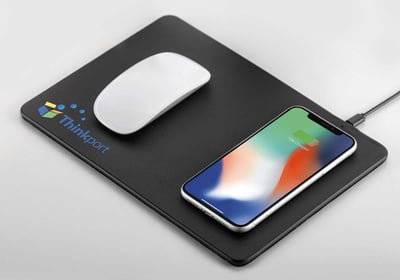 The 2-in-1 wireless charging mouse pad conveniently charges your phone at your desk. The mouse pad has a large imprint area for branding while still functioning with any wireless charging device.
Activate your brand
Your brand will stand out with these 10 creative promotional products. When you think outside the box to find items that delight, inspire, and protect your customers, you'll make a lasting positive impact!