Being a marketer isn't always easy, especially when you run into roadblaocks. New data shows that marketing teams are facing some pretty big challenges, and in a world where buyers are blocking out more sales and marketing messages than ever, it's becoming even harder to overcome those challenges.
Here are the top 3 biggest challenges marketers are facing today--and what to do about them.
Challenge #1: Generating Traffic and Leads
Generating website visitors that convert into leads is one of the most important parts of our jobs as marketers—and also one of the most challenging.
Marketers reported that generating website traffic and leads was their number one challenge. This makes sense, since 66% also said that their top inbound marketing priority was growing their SEO and organic presence.
There's a natural correlation between growing an organic web presence and generating leads; after all, the web content we produce is geared towards attracting and converting website visitors.
So, why are marketers still struggling with this part of the equation? There are two potential reasons.
The first reason has to do with the type of content marketers are creating. A HubSpot study shows that the type of content consumers want to see today isn't necessarily the type of content marketers are actually producing. Marketers are prioritizing blog articles and eBooks while consumers are more likely to engage with videos and social media posts.
The second reason is that marketers and salespeople aren't on the same page about what a qualified lead looks like. While 59% of marketers report that inbound practices are the source that provides the highest quality leads, only 22% of salespeople agree.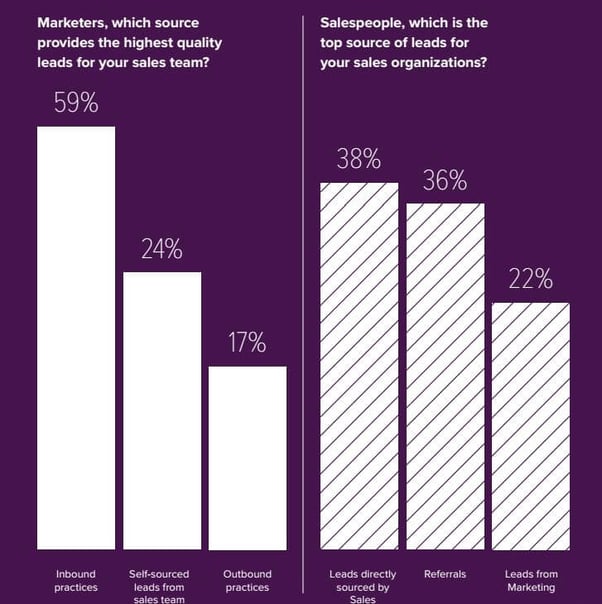 Solution: Align with sales to create more relevant content
The key to attracting the kinds of traffic and leads your sales team really wants is to get on the same page about what a qualified lead looks like. Once you are aligned with the sales team about who your ideal buyer really is, you can start creating more targeted content to attract those personas.
Also, when you're creating marketing content, be sure to pay attention to the content formats that most often attract your buyer personas. Spend your time and resources on the content formats that get the best results, not just the types that are easiest to create.
Challenge #2: Proving the ROI of Marketing Activities
The second biggest challenge reported by marketers in 2016 is proving the return on investment for their marketing initiatives. Often, the rest of the team isn't exactly sure what Marketing actually does. That's probably because marketers find it difficult to effectively show how the company is benefitting from all their hard work.
Solution: Set goals and learn how to measure them
The first step in proving marketing ROI is setting goals. This is important because it provides a point of reference for decision-makers. Setting smart goals is the most effective way to relate your marketing activities back to the overall objectives of your company.
But it's not enough to simply set goals—you need to be able to measure your progress toward those goals. That's why you should invest the majority of your time and marketing dollars into tactics that are able to be measured such as email marketing, social media, blogging, and content offers—all elements used in inbound marketing.
Companies need to invest in marketing automation tools that help marketers calculate ROI. 72% of organizations that feel their marketing strategy is effective are organizations that calculate ROI. Conversely, only 49% of organizations that don't calculate ROI feel that their marketing is effective.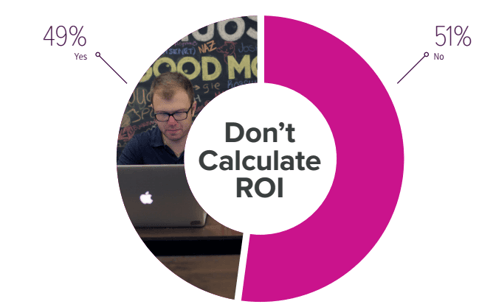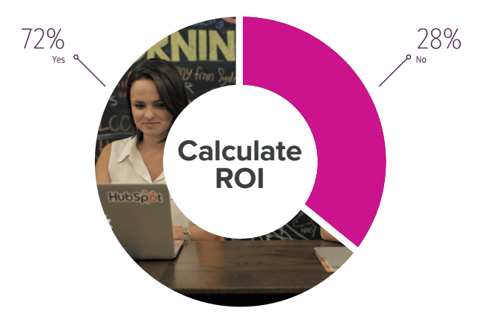 Challenge #3: Securing a bigger marketing budget
It's a fact we all know: good marketing takes money. In fact, according to recent research, B2B companies spend as much as 10% of their revenue on marketing.
And yet marketers today are reporting that they find it difficult to secure enough budget to accomplish all the initiatives they'd like to run.
Solution: Solve challenges #1 and #2
There's actually an obvious connection between the first two items on this list, and the challenge of reporting ROI—the more return on investment marketers can prove, the higher their budget will be. Effective strategies obviously product results, and data shows that those who feel confident in their marketing strategy are over 2 times as likely to get higher budgets for their marketing teams.
"How does your company's current budget for inbound marketing compare to last year's?"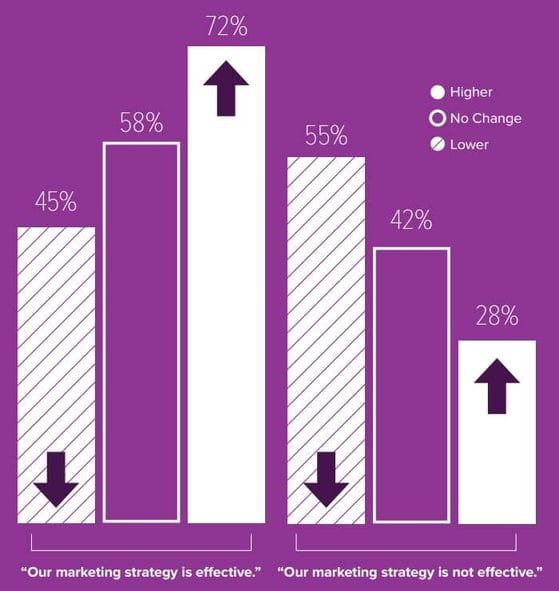 Of course, obtaining a higher marketing budget isn't as simple as it sounds here—aligning marketing sales and proving ROI takes serious work. But the result of putting all of these pieces together? An effective marketing machine that consistently generates quality leads for your business.
Marketers certainly have challenging jobs. But by implementing solutions to the top 3 biggest marketing challenges, we can all look forward to a brighter marketing future.