Email marketers are buzzing after Apple announced the Mail Privacy Protection update coming this fall. This new privacy option will be rolled out in Apple Mail on iOS 15, iPadOS 15, and macOS Monterey sometime between September and November.
Let's take it straight from the source. According to Apple, Mail Privacy Protection "stops senders from using invisible pixels to collect information about the user. The new feature helps users prevent senders from knowing when they open an email, and masks IP addresses so it can't be linked to other online activity or determine a location."
We're not going to sugarcoat it. This update is kind of a big deal. With Apple Mail being the market leading email client, these changes will have an impact on any email marketer's strategy. That's why we want to take a closer look at what exactly these changes mean, and how email marketers can prepare for Apple's Mail Privacy Protection.
How will Apple's Mail Privacy Protection Work?
Let's start from the beginning. What exactly does Apple's Mail Privacy Protection mean and how will it work for users?
Once launched, users who open the Mail app for the first time on iOS 15, will automatically be shown this new popup option.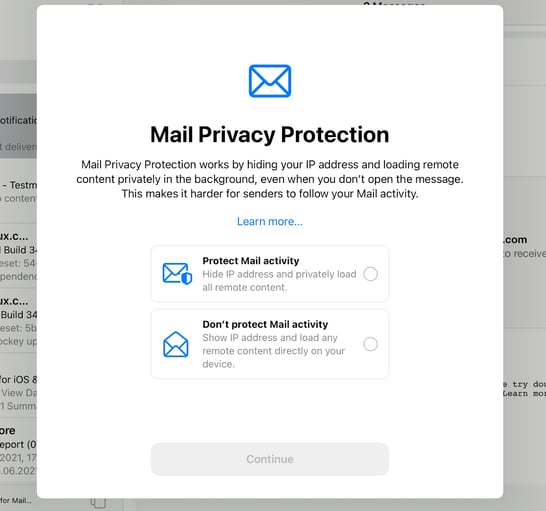 They'll choose between, "Protect Mail activity" or "Don't protect Mail activity". This is good news in the sense that the privacy update won't be turned on by default. Users will have to opt-in. But, remember when Apple launched the iOS 14.5 app privacy update a few months ago? Only 17 percent of users have opted to allow tracking.
We can pretty much expect to see this same trend, if not a higher opt-in rate when Apple's Mail Privacy Protection is launched. Think about it. If given a choice to have your mail and privacy protected, wouldn't you take it?
So if a user opts-in, what happens? Here's what you can expect:
Emails sent to an Apple mail server will be automatically opened by Apple Mail upon delivery. Apple will pre-load message content to a proxy server before a reader even opens their emails.
Content is then downloaded privately in the background.
All emails are opened by Apple Mail, even if not opened by the actual user. This means you won't be able to tell who actually opened your emails or when and where they opened them.
It's important to note this will only happen through the Apple Mail server. Users who use a Gmail or Outlook app should not be affected by Apple's Mail Privacy Protection.
Effects of Apple's Mail Privacy Protection on Email Marketers
So what does this all mean for email marketers and their campaigns? Your metrics are going to look a bit different, and your results are not going to be the same. Here's a high-level look at what you can expect:
Inaccurate Open Rates
The biggest thing we'll see from Apple's Mail Privacy Protection is inaccurate reporting on open rates. Because Apple Mail will now open your emails upon delivery, your email will be marked as open, even if the user didn't open it. With open rates being a driving performance indicator of an email marketing campaign's success, this is pretty big. But there are other ways to measure the success of your emails—more on that below.
Disruption to Automate Campaigns
Most marketers rely on automation to streamline their email campaigns. But when emails are marked "read" or "opened," even when they aren't, automated campaigns will be affected. Open rate and open date are some of the most common workflow triggers.
Send Time Optimization
What about those tools you use that monitor email open behavior to determine the best time to send an email? Yes, those will be affected too. Without correct open rate data, it will be hard to adequately optimize your send time.
Renengament Campaigns
Are you targeting users who interacted with your brand at one time or another? Do you rely on open rate as a data point? If so, you'll have to reanalyze these re-engagement campaigns and come up with another data characteristic to base them on.
Email List Hygiene
Finally, the health of any email list will be put in jeopardy if marketers aren't careful. Many email databases rely on open rates as a measure of engagement. In order to keep email lists up-to-date, you'll have to shift your strategy. Chad S. White, author of Email Marketing Rules puts it this way: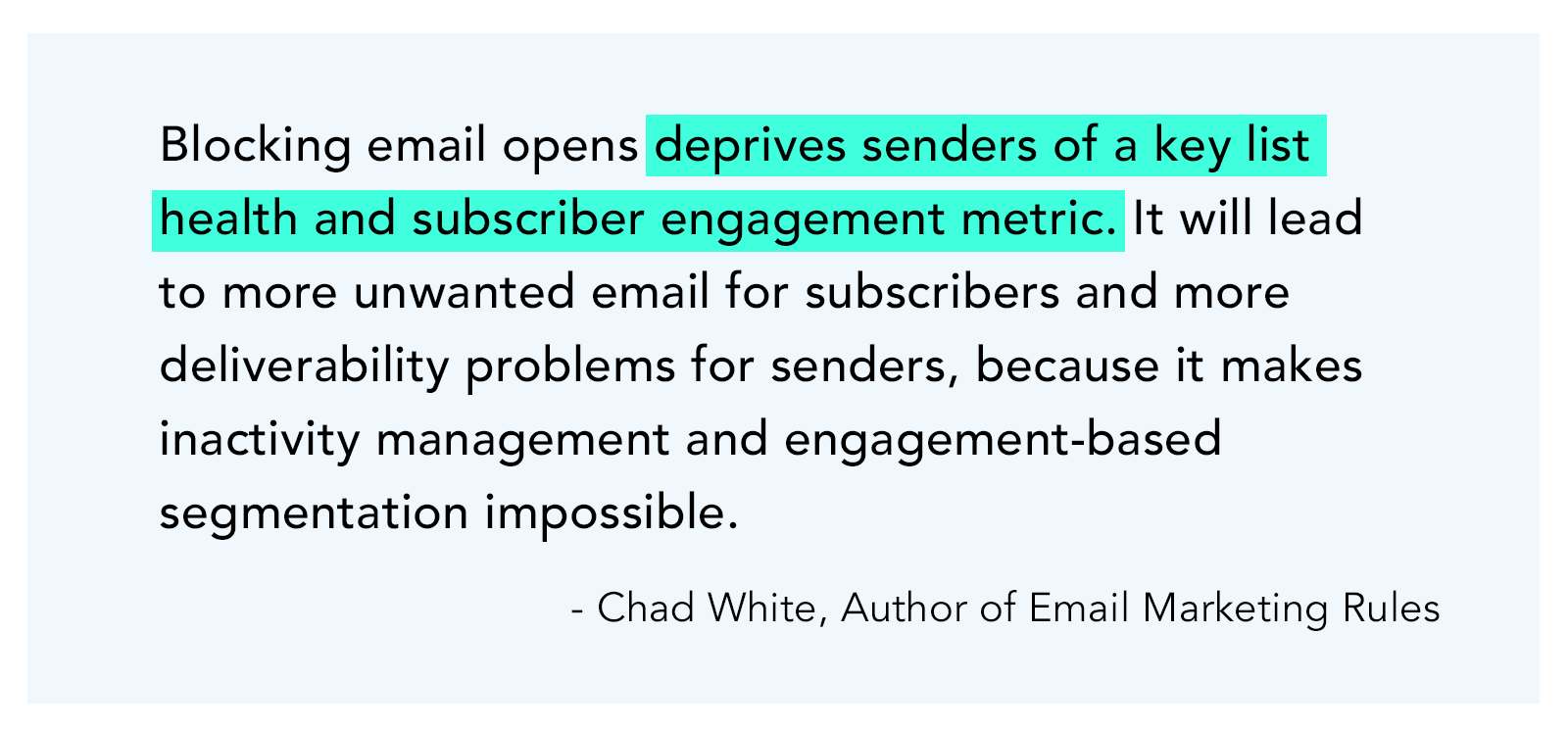 Email marketing is going to be different once Apple's Mail Privacy Protection rolls out. There's no doubt about that. And sure, there might be a few challenges for email marketers to overcome, but by educating yourself and preparing for these changes now, there's a way to rise above them. And email marketers will become much stronger because of it.
How Email Marketers Can Survive Apple's Mail Privacy Protection
So let's talk about how you can take these changes in stride, and pivot your email marketing strategy to ensure success. Here are 8 things you can start doing now to not only survive Apple's Mail Privacy Protection update but thrive as an email marketer.
1. Analyze Your Audience
First and foremost, before you go shifting up your whole email strategy, figure out how many people in your database are actually using Apple Mail. This will give you a clear idea of what kind of impact you individually can expect from Apple's Mail Privacy Protection.
To be frank, even if you don't have very many Apple users in your database, you're still going to want to consider adapting your strategy. Chances are you'll see Apple users continue to grow. So if you don't put policies into place now, you'll be behind the curve. On the flip side, it does give you a bit of peace of mind to know that you're not necessarily racing the clock on your email marketing strategy. You'll have time to evolve your strategy slowly while learning from other marketers.
But if a large portion of your audience is iPhone and Mac users, it's time to make some major changes before this fall.
2. Prioritize Click-Through Rate
Open rate is no longer an accurate metric to base email campaign success on. The good news is it's not the only metric available from an email send. If you haven't already, start shifting your key performance indicator of campaign success to click-through rate (CTR). This will accurately tell you how many recipients have clicked on links in your email, not taking into account the open rate.
3. Create an Audience of "Real Opens"
While you have access to the data, you can create a list of contacts in your database who you know are non-Apple email clients. This information is available on most email marketing platforms. You can then use this audience, and be confident that the open rate is accurate once Apple's Mail Privacy Protection update is live. This won't be a long-term fix, as this list will change over time. But it can give you valuable insight when the privacy update is first launched.
4. Create More Engaging CTAs
You already should have been paying attention to your email call-to-actions (CTAs). But with CTR now being the major performance indicator of your email success rate, your CTAs need to be stronger than ever. Here's a quick list of CTA best practices:
Make them stand out, whether that's with design or location. It should be clear where your readers are supposed to click.
Use clear, actionable language.
Make sure all your CTAs send users to a

landing page designed to convert

.
5. Don't Wait to Implement Send Time Optimization Software
If you haven't started using a sent time optimization tool yet, it's time to start. You probably think it's odd we'd recommend such a thing right before open rate data is about to disappear. But here's why we recommend it.
Send Time Optimization tools analyze prior email open rate data to deliver emails at the exact time of day and day of the week that contacts are most likely to be checking their email. If you start implementing this tool now while you still have access to open rate data, you'll be able to lock in reliable send time recommendations.
6. Be Strategic About Live Content in Email
Live content has been a rising trend in email marketing. It's a way to make your emails more engaging and relevant. But when Apple's Mail Privacy Protection update is launched, marketers will have to be careful about how they use it.
Because the privacy update opens emails immediately, loads remote content, and caches images post download, live content won't be used in real-time. Instead, Apple mail users will be seeing static images of what was once live content. Things like countdown clocks, account dashboards, real-time inventory, calendar invites, or live poll results won't be displayed the same way.
So you have two options. You could continue to use live content in your emails, yet separate it between Apple users and non-Apple users. Or, you could come up with another engaging, and relevant way to capture the attention of your email recipients. We'll leave this decision up to you, but it goes without saying, you'll need to be more strategic about the live content you use.
7. Maintain List Hygiene with Broader Engagement Metrics
At this point, you might be feeling pretty good about conquering Apple's Mail Privacy Protection update but still slightly concerned about how you're going to keep your email lists up to date. Sure, it's going to be harder to determine what email subscribers are actively opening your emails. It might even look like all or most of your subscribers are opening and engaged with all your email sends. And we know this will be a skewed metric.
But that doesn't mean you should stop inactivity management. Open rates might be inaccurate, but other metrics should still tell a true story about your contacts and their engagement. Broaden these metrics, and pay special attention to the following to gauge activity level amongst your subscribers:
Email clicks
Website visits
Social media engagement
Account activity
Mobile app activity
Offline purchases or interactions
8. Update Workflows and Re-engagement Campaigns with New Triggers
We've talked a lot about shifting the metrics you track when evaluating email marketing success. It only makes sense that once you determine these metrics, benchmarks, and performance indicators, you'll need to go through and update any workflows that they might be associated with.
Update any re-engagement campaigns you might have running or automated workflows based on certain trigger points. This will dot the is and cross the ts of your email marketing strategy as you prepare for Apple's Mail Privacy Protection update.
Start Preparing Now for Apple's Mail Privacy Protection
This is not the end of email marketing. Sure, Apple's Mail Privacy Protection update seems like a major setback for marketers. But setbacks and changes are just part of working in the digital space. It's part of the fun and exciting world of an ever-changing industry.
So before you throw in the towel on your email marketing campaigns, take a deep breath and prepare to adapt. If you start shifting your strategy now, you'll be much more equipped to conquer Apple's Mail Privacy Protection update and poised to make the pivot when the time comes.
Email marketing isn't over. Like any digital marketing strategy, it's just time for a change.